Garmin Nuvifone G60 Review: GPS Enabled Smartphone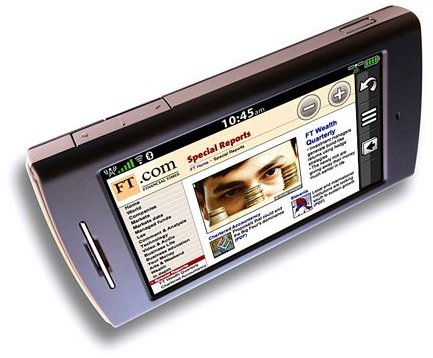 Overview
When you consider Garmin's extensive experience in manufacturing top class GPS devices, the G60 was expected to be a grand success. But, at the same time, it was Garmin's first attempt to market a smartphone and so it's no wonder they couldn't exceed customers' expectations in this regard.
Even after two years of wait, the Garmin Nuvifone G60 looked as though it had been rolled out in a hurry, lacking several important features, which were greatly expected from an electronics giant like Garmin.
Robust Body and Wide Screen
The Garmin Nuvifone G60 comes with a robust build factor, a design which can easily survive a few tumbles and steep falls and it weighs about 4.8 oz. Measuring about 4.4 inches in height, 2.3 inches in width, and 0.5inches in thickness, the Nuvifone G60 is definitely one of the more slim and trendy pocket-friendly devices, though definitely caters to the need of car navigation pretty well (something slimmer would have been better of course).
The Good
Garmin Nuvifone comes with preloaded maps and voice-guided directions by default, eliminating the need to subscribe to any location-based services.
The phone is a Linux-based smartphone offering exceptional navigational capabilities of a high-end navigation device and the basics of a smartphone such as e-mail, document viewing, calendar, wireless connectivity and HTML Web browser. However, several system and UI issues have been reported by users and the reviewers.
The display resolution isn't that great, nevertheless it is clear and bright enough to view maps with great ease even on the move (if you're trying to use the Nuvifone as a navigator).
Operation and Salient Specs
The operation of the Garmin Nuvifone G60 is pretty much based on similar lines of Garmin's countless PND devices.
But, there isn't much to the Nuvifone design, as it doesn't come with too many extra physical keys, apart from the power button that can be found on top of the device, along with the volume rocker and camera activation/capture buttons, which are located on the right side of the phone.
The G60 has a 3.5-inch, 65,000-color touch screen. It also has a decent screen resolution of 272x480 pixels, though it is definitely not one of the sharpest displays that you'll find.
The smarpthones also comes with a 3.2MP camera with auto-focus functionality, and decent music-playback capabilities. But, there are several pitfalls and downsides to the Nuvifone too. So, let us move on to the major cons of the Garmin Nuvifone G60.
Downsides
At first, the Nuvifone looks quite smooth in operation and straightforward enough, but you'll slowly discover its downsides as you use it for a little while.
First up, the on-screen text and images don't look quite as smooth as you'd expect. Secondly, you'll come across a number of navigation problems and inconsistencies that result in a bad user experience.
For instance, the Nuvifone badly lacks a dedicated home key. As a result, if you go deep into the phones sub-menus, you'll have a hard time coming out of them, needing to tap relentlessly on the 'Back' button.
Another weird thing about the Nuvifone is that the QWERTY keyboard format works just in landscape mode so you have to use the ABC keyboard format in portrait mode. This will definitely give you a feeling that Garmin did not give it enough time to test the phone and improve on it before rolling it out into the market.
Even as far as the pricing goes, at $299.99 users may be better off buying any other GPS-enabled smartphone and using the TeleNav Navigator services, not to mention the two-year contract.
Lastly, I became more disappointment because you'll find only the wal charger and no car charger inside the box! (yeah that could be some serious disappointment, if you picked the Nuvifone and set out on a long trip).
Other Goodies
The Nuvifone ships with a vehicle mount (dash and wind-shield, but disappointingly, there's no car charger included in the box as mentioned earlier. It comes loaded with a database of over a million Points of interest (POI) giving category-wise listings of lodges, restaurants, hotels, shopping malls, big landmarks and major entertainment venues in the users location.
What's more, Garmin and AT&T do provide value-added connected services, like Yellowpages.com for carrying out business searches on-the-fly, and to check Flight Status along with vital details like arrival and departure times, gate numbers, and more.
The Nuvifone also supports Ciao, Garmin's location-based social networking app.
Pay More for Extra Services
The Garmin Nuvifone G60 is capable of getting real-time traffic updates, weather information, fuel prices, and the like, but you'll have to pay $5.99 per month for the privilege. However, some good news is that you can try a 30-day complimentary trial to these premium connected services, then decide if the cost per month is worth the use you get out of the services.
Is it Worth Your Buck?
The answer to the above question totally depends upon what you really expect to get out of the Nuvifone G60. If you're planning to make a few calls, use WiFi to browse the net and use the Nuvifone as a navigator, then you may not find much to complain about and it may definitely be worth your money, but if you're an advanced user and expect a lot from a high-end smartphone, you may be a bit disappointed with some of its aspects.
As a whole, the Garmin Nuvifone G60 is a decent option in its segment for sure!
Note: Rather than spending $300 on the Nuvifone, you may also consider buying one of AT&T's GPS-enabled smartphones and adding the TeleNav Navigator service to it.