Planning To Buy Omnitech GPS? They May Be Worth The Money, If Several Major Issues Get Fixed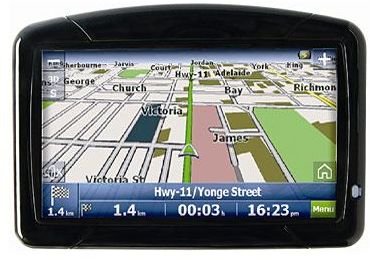 Editor's Note: This article was originally published in 2009. Since that time the company has gone out of business, however Omnitech GPS units can still be purchased from some sources. We left this review up for those interestsed.
What's Offered? Impressive Capabilities Found On The Omnitech GPS
The Omnitech GPS comes with 1.2 million Point of Interests, which is on par with most of the satisfactory GPS units currently available on the market. It also offers a SIRF III GPS receiver that facilitates fast yet accurate navigation, while the 320x240 pixel LCD screen resolution ensures that you can clearly view all the minute on-screen details, as you navigate to your location.
The multilingual text-to-speech prompts are also handy for the non-native English users.
The units 4.3" wide screen display also matches the standards of Garmin, TomTom and other top class GPS units, and there are lots of other good things about the Omnitech GPS unit, though they're not enough to cover-up the problems associated with the companies devices.
The Bad
Omnitech GPS units are known to have start-up hiccups and are also prone to freeze right after you power them up. There's a long list of known problems, including frequent down times and GPS link failures, which have been causing discontentment amongst users and also pushing potential customers away from buying the Omnitech GPS units.
Here are some of the most common issues.
Common Issues
Unfortunately, the Omnitech GPS units are known to have the following issues, which have not been fixed by the manufacturer to date. On account of these major issues a large number of buyers have even returned the Omnitech GPS units to outlets including Staples and this has caused a lot of negativity for the product.
Anyways, here are some of the common issues, reported by a large number of folks who've bought and used Omnitech GPS units.
1. Freeze up at start: The GPS units may work pretty well on the first day you buy them. But, when you turn them off and power them up again, they may tend to freeze at start-up. On several occasions users have reported that the device ceased to work the next time around and they had to get it replaced!
2. Inability to find GPS Satellite Signals For Several Minutes In Busy Arweas: It is fair enough to accept that your GPS unit fails to catch a signal in areas with tall buildings or lots of tree coverage, but the Omnitech GPS units even fail to find a satellite signal in the busiest areas like New Jersey, where there aren't any long trees or massive buildings to obstruct the GPS signal.
3. Screen Goes Black: Another annoying failure of the Omnitech GPS units is the sheer fact that their screen goes black every 2-4 minutes (unless you keep touching it every now and then), just like your cell phone/laptop goes in stand-by mode. However, problem #2 repeats after you touch the screen and bring it back to normal operating conditions. Waiting for several minutes (at least 5-10 minutes every time), may be more than a good patience test.
More Disappointment
Apart from the abovementioned issues, the bigger problem is that Omnitech's official website doesn't provide any fixes, and their support number always rings fast busy. There's only one English support line, and on most cases, you don't get quick responses to your email messages.
Quick Fixes And A Work-Around
To avoid the device screen from going black, keep touching the screen every now and then (which is a quite irritating job in itself).
Moreover, it has been discovered that some of the issues arise when the volume is muted, so you can raise the volume slightly, to make the device work properly.
When nothing works, ask for a replacement – at least Omnitech does give you a replacement for faulty units.
The Bottom-Line
Omnitech definitely needs to improve significantly on the quality of their device to a great extent and the freezing problems need to be badly fixed ASAP.
The overall performance of the Omnitech GPS unit is definitely far better than some of the decent GPS units available in the market when working properly, but the regular hiccups in its operation, starting problems, and permanent hanging-up issues have created frustration and negative impact amongst potential buyers.
If Omnitech could fix these issues, and still market their GPS units at a competitive price, they could easily secure one of the Top 5 spots in the market for GPS portable units.
You may also be interested in more Omnitech GPS Reviews, Garmin GPS Reviews and Motorola GPS Reviews before you make your final decision.
This article has been placed in our archives.