Internet Connected GPS Devices: An Overview of 3 Models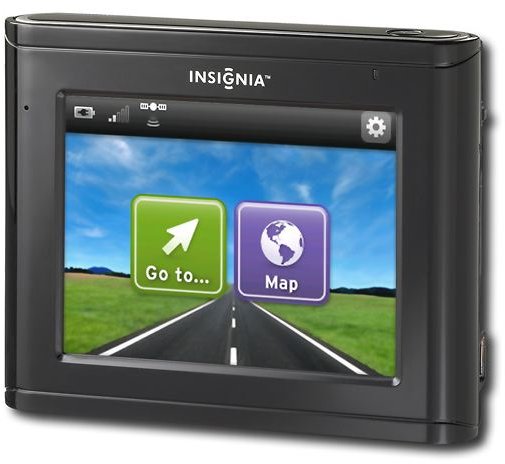 Insignia GPS
Insignia is a "Best Buy" exclusive brand. There are two GPS models with internet capabilities: the NS-CNV10 and NS-CNV20. Both models have a built-in cellular modem with a WAAS enabled GPS receiver. They can show real time traffic updates (through traffic.com) and can perform local Google searches. The models are included with a simple touch screen interface with a main "Go To" and "Map" shortcuts. The interesting thing about the "Go To" section is that it opens up links for programming your home address, search for other addresses or can do a general Google search for restaurants, stores, gas stations or other POIs.
Other features include route planning with text to speech (with turn by turn voice prompts), preloaded base maps of the US, real-time gas prices (through gasbuddy.com), they are chargeable with a USB connection and have an automatic rerouting feature.
The main difference between the NS-CNV10 and NS-CNV20 is the screen size. The NS-CNV10 version has a 3.5 inch screen, while the NS-CMV20 has a widescreen 4.3 inch version. The NS-CNV20 also has the advantage of built-in Bluetooth technology.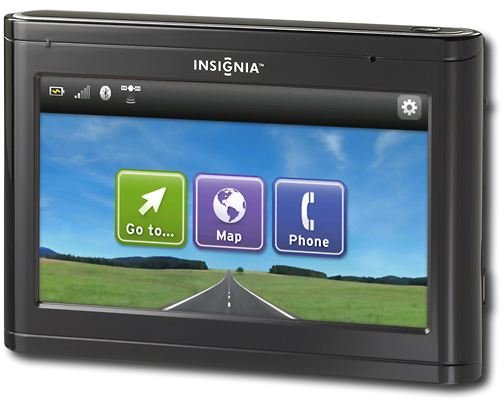 As of 2010, the NS-CNV20 has been discontinued and no longer offered by Best Buy. The NS-CNV10 is available through their website for $60. Best Buy does offer a year of connection service and map updates for a year when you buy one of this unit. After a year, the connection service will cost you $99 annually.
TomTom XL 340 S
The TomTom XL 340S is another internet connected GPS that you may want to look into. It offers a "Lane Guidance" feature that shows you graphic detail of freeway activity. The "IQ Route" feature uses historical speed and time data from existing TomTom GPS users to calculate traffic information. However, this is not in real-time. To add this feature, you will need to purchase it separately.
Other features include the ability to download fuel prices, access user updated maps from TomTom Share and a text to speech functionality that is adaptable to multiple languages and voices. Additional voices (including those of celebrities) can be downloaded from the web.
Physically, the TomTom XL 340 S has a 4.3 inch WXGA screen with a 2 inch speaker in back of the unit. Most functions are achieved through a touch screen, with the exception of the power button. It has a mini USB port that can connect to a 12 volt charger for data connections. For storage purposes, it has only 2 GB of space with no additional slots. The unit can attach to your vehicle's windshield or dashboard with the use of included suction cup or adhesive disc.
How much does it cost? The TomTom XL 340 S can be purchased from Amazon.com for $119.
Sony NV-U84 GPS
The Sony NV-U84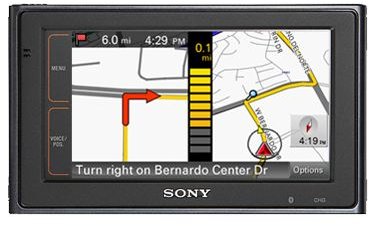 is an internet connected GPS device that offers a "Position Plus" feature that can fine tune navigation in areas that have little to no satellite coverage. Its 4.8" widescreen backlight allows the unit to view clearly even in brightly lit locations.
This device can be used as a photo viewer and for traffic information (with optional subscription to NavTeq TMC Traffic service). It also includes text to speech driving instructions.
With its touch screen it uses a Navigate link for entering addresses and points of interest (POI). The Settings link changes the color of map and other device settings. For added memory it includes a memory stick duo slot. It is charged with an internal battery that can be recharged with a 12 volt power adapter or USB. A "Super Suction Cup" is included for attaching the unit to the dashboard or windshield.
What about price? This Sony GPS can be purchased for about $200.