Affordable Omnitech GPS Models
The Omnitech GPS line is full of affordable GPS devices that present the market with the same level of functionality as those of the leaders in the industry such as TomTom and Garmin. Here are some of the top Omnitech GPS units currently available for sale.
Omnitech 4.3 TFT GPS
The Omnitech 4.3 TFT is mostly recognized for its affordability and functionality. This model includes 1.2 million points of interest (POIs), multilingual text to speech voice prompt, and 320x240 LCD touch screen. Other additional details include a device holder, universal suction mount, cigarette lighter adapter, 1GB SD card ,and travel charger.
Based on user review, most buyers seems to agree that the Omnitect 4.3 has a very strong signal and acquires information from eight satellites faster than most GPS devices in the same price range.
The device also comes preloaded with NAVTEQ maps of US and Canada, and it can quickly calculate routes. The text to speech feature is also praised for being helpful in approaching crossings or situations wherein there are roads that are closely situated.
While many users seemed content and happy with this GPS unit, some users posted feedback on the systmes freezing and screens blacking out.
Thanks to the units overall feature set and a decent price point, this GPS is still worth a closer look for budget minded users.
Omnitech CE00686A
Omnitech CE00686A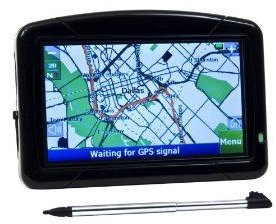 The CE00686A has a long name that is matched by the units long wide screen display. This 4.3 inch touchscreen based device comes with preloaded maps of the "continental United States." The adjustable brightness option on the unit also automatically configures the display for both morning and evening modes.
This GPS gadget also has a one click navigation button that can easily land you on the devices main menu screen.
In terms of actual navigation the devices text-to-speech features proudly present 1.5 million points of interest and 2D and 3D map views. It is also a car based GPS that calculates routes at a shorter time and prompts voice guides for different route alternatives. This interesting GPS device again offers a very attractive price and a handful of useful features to go along with the cost.
Omnitech 15223

The Omnitech 15223 is another pocket friendly gadget that lets you drive in comfort and ease. One strong point of this product is its unusually strong signal acquisition. Another important factor to consider in the devices portability; you can very easily carry this device with you wherever you go. With the combination of these two GPS features, the overall rating for the Omnitech 15223 is good. Most importantly, the price is way cheaper than any GPS brand I've found to date and it is ready for use right after you take it out of the box. It also has bright "wide screen" that gives you a bigger view of the devices preloaded maps.
These three Omnitech GPS models are the most highly reviews and talked about units for the brand. Just remember: because of their low price points, there are a few downsides that users have mentioned, these include some units shutting off on their own, a low number of Points Of Interest (POI), availability of updates, and sometimes unstable speeds. But overall, as suggested by mNY users, these three Omnitech GPS devices are the best deals for this Staples, Inc. provided line of GPS.