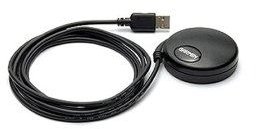 Overview
Different USB GPS Receivers can certainly come with unique features; however several things are common among them. Let us take a look at these common aspects of these USB GPS receivers, before moving on to the specifics of any particular device.
Common Features of USB GPS Receivers
Physical Layout
Most USB GPS receivers are packaged in a plastic housing, have a magnetic base, and cables attached to the unit. The base is usually rubberized so that they may be used on the dashboard of the car to prevent sliding.
Power
Usually, most GPS devices require external power rendered by the automobile, but the USB GPS receivers can run on the power from a laptop via USB connectivity. They can even be connected to PDA phones, but they can't draw enough power from PDAs for satisfactory operation (as PDAs themselves draw power from laptops and hence power up USB GPS devices on their own).
Software and Pricing
Certain models are provided with navigating software, but most of them cost less than $80 and require you to purchase separate software. Even the high end Garmin USB GPS receivers don't cost you more than $100. So, they're a hot choice in the market. But, these devices don't have a separate navigation screen.
Garmin USB GPS 18x OEM
Whether it's a simple GPS navigation unit, a voice-activated GPS unit, a fully featured high end GPS, or a USB GPS, Garmin always stays on top. Looking at the GPS 18x, it happens to be a highly accurate OEM GPS receiver, which has high-sensitivity GPS sensor. It finds use in automotive, electronics applications and fleet vehicle.
It is a high-sensitivity, WAAS-enabled GPS receiver, which comes with 12-parallel-channel, USB 2.0 full-speed versions or CMOS-level serial connectivity, along with an integrated magnetic base.
Hardly 2.4inches in diameter and weighing less than 4oz, the Garmin USB GPS 18x OEM serves as an ideal solution for those applications that require GPS navigation in minimal space.
The Garmin USB GPS 18x also renders raw measurement output data, and comes with a real-time clock and a non-volatile memory, which is often used for storing the configuration information. With so much on the offer, the GPS 18x is a great deal at under $68.99 (current best pricing on Amazon)
Top USB GPS Receivers in the Market
This is a generic article about USB GPS receivers and we're not covering the specifics of particular devices except for the Garmin GPS 18x OEM USB. However, the following list gives you an idea of some of the quality USB GPS devices on the market; the AmbiCom GPS USB, Garmin GPS 18 OEM, Xenarc GPS USB, Canmore GT 730F, Deluo Navstick, DeLorme Earthmate GPS LT-40, Deluo USB GPS Pro+, Garmin GPS 20x, Globalsat BU 353, Maptech Zenstar III Navibe GM720, Holux GR-213, Maptech iGPS, Garmin GPS 18x OEM, Navisys GR-300, Rikaline GPS 6010, Rikaline GPS 6010 X5, Pharos iGPS-500, and the UT-41 USB GP.
The Bottom-Line: Where do USB GPS Receivers Fit
So, you must be wondering who should really buy USB GPS receivers. Well, when you consider the performance of the USB GPS receivers, they easily match the handheld GPS devices/car-dedicated units since they're placed on dashes of the vehicles. As a result, they get clear view of sky, and there's minimal obstruction in the GPS signals received from the satellite.
Moreover, these USB GPS receivers are extremely handy and are a great option for those who always carry a laptop in the car. Even considering the pricing, the USB GPS receivers cost well under $100, and are extremely light on your pocket. USB connectivity ensures that they can be carried around anywhere and connected onto any PC/laptop/netbook effortlessly.
However, they don't have any screen, and can't be used like any other GPS device for direct navigation. They're the ideal solution for applications requiring small GPS devices occupying negligible space.