iPhone GPS Apps: Learn about the Best iPhone GPS Applications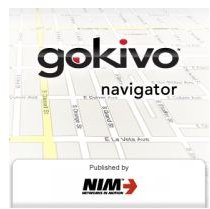 Problems with built-in GPS devices
The new iPhones come packed with features. One of those features is global positioning satellite receiver, commonly known as a GPS. But, with Apple's entry into the GPS market, the number of GPS applications for the iPhone have skyrocketed. So, how do you figure out which one to buy? Well, we've done the research and narrowed it down to the three that we like best.
Before we go into the list, there are a few things that you should be aware of when you go to start using your GPS software. GPS on your iPhone will never have the same power as a stand-alone GPS unit. Plus, you need to get a cradle to keep it on your car window or dashboard so that it can consistently get a signal. It also needs to be high enough for you to see it while you are driving.
Gokivo Navigator
That being said, there are great options for your GPS software. The first one to mention is from Gokivo. Gokivo Navigator provides turn-by-turn directions on maps that use both Yahoo and Google Maps to find destinations. This software also allows you to see if there are traffic obstructions and will give you alternative routes to get around it. The traffic information is
constantly updated for you.
The software will also speak street names so that you know where you are going. The application is a pay-as-you-go service. So, it's $9.99 per month, and you only pay for the months that you need. You can also download maps to your destination as you need them.
G-Map
The next service is G-Map. G-Map also offers real-time traffic for the United States and Canada. What's nice about this service is that you get to see exactly how heavy the traffic is. If it's too bad, you can get routed around it. The traffic information is automatically updated.
This service also speaks street names as part of its guidance system. It will speak aloud all of the directions to a destination so you can watch the road as opposed to your GPS Unit. The software is around $20.00 from the Apple applications store.
TomTom iPhone app
The final one is from a more familiar name, TomTom. The TomTom iPhone application is a $99 download. And, for that one price, you get over a gigabyte of maps for the United States, Canada and Puerto Rico. You can also set your voice commands to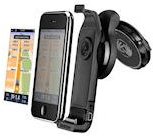 be in either a male or female voice in one of the following accents: American, English or Australian.
The stand-out feature of this system is the ability to interface with your contact list. You can easily get directions to your friends' and families' homes. TomTom is also selling a car kit for $120, which comes with a GPS chip that allows for better reception and provides GPS navigation to iPhones without GPS built-in.