Keeping Track of Alzheimer's Patients - GPS Shoes - A Solution to Help Keep an eye on Children, and Other Wandering Individuals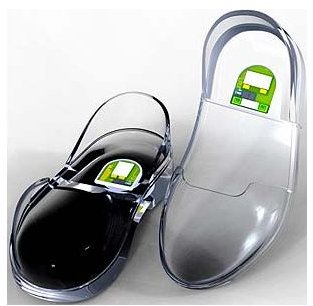 Blue GPS Shoes
The Blue GPS shoe is the creation of Isaac Daniel. It is equipped with Bluetooth connectivity. Using Quantum Satellite Technology and ID Conex (a monitoring service), authorities can track down an individual within a yard of their location. The user wearing the GPS Blue shoe can input up to five cell phone contacts into their personal cell phone, and then push a button to activate a link to those individuals. When needed, users can then push a "locate me" button on the shoe to send a signal for help.
Once the signal has been activated, specially trained ID Conex employees pass the information to registered contacts or law enforcement agency. Phone calls will then be made to the appropriate cell phone numbers. This product sounds promising. However, individuals who are using this GPS device to monitor their friend or loved one may be concerned about unauthorized people getting access this information. Although the information is carefully monitored by ID Conex and mainly used for emergency situations, it includes a feature that can post tracking information about users wearing the GPS footwear on Facebook.
Currently, the Blue GPS shoe is available in Latin America for $150 a pair. As of July 2010 the Blue GPS shoe has yet to be released in the United States. They are rumored to cost $325 per pair. The tracking service will be about $20 a month.
The Ambulator
The Ambulator is another kind of GPS shoes that will be available for purchase in the near future. It is a promising product for individuals that have loved ones with Alzheimer's or other debilitating mental diseases. How do they work? A small transceiver trans-receiver is placed within each shoe. The users wearing the them do not need to be made aware that they are wearing the GPS device (like for Alzheimer's patients), which will give you peace of mind. Tracking information can then be relayed a monitoring station through a cellular network. Friends and loved ones can login to the official website to obtain detailed location information or receive text alerts to their cell phone. Another great feature is the "Geo Perimeter" option which allows you to set markers around a location. If your elderly relative suffering from Alzheimer's or other loved one breaches this area, you can be notified right away.
The Ambulator is the brainchild of the GTX Corporation. The company received a US patent for this technology in September 2009. They are working with Aetrex Worldwide in China to produce the shoes. Atrex Footwear will then manufacture them for retail distribution. The shoes will be available in 2010. Price will be $200-$300 as well as a monitoring monthly fee of $18.
Resources
Navigadget, https://www.navigadget.com
GPS Shoe, https://www.gpsshoe.com/
GTX Corp., https://www.gtxcorp.com/
Aetrex, https://www.aetrex.com/