SD State Geocaching Listings - Places to Geocache in South Dakota

South Dakota Game Fish and Parks
The SD Game, Fish and Parks Department has several entire web pages devoted to geocaching in the state.
This listing gives an overview of geocaching such as what to expect and what you will need to begin geocaching. It also provides listings of geocaching sites in SD state parks, including each location, the latitude and longitude and even the elevation if available. On another page of the site, you can find listings of places to go geocaching in the state of SD, along with links to those specific locations if they have their own website.
There is a section on where to obtain a GPS unit, including units that are available on loan from the state of South Dakota at no charge. Another section provides information for school groups who want to try geocaching. Finally, you can download and read information about how to use a GPS for geocaching.
South Dakota Travel and Tourism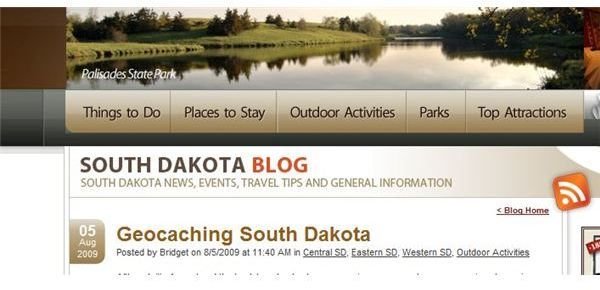 The state of SD Travel and Tourism blog has several entries regarding geocaching in South Dakota. This listing provides ideas about incorporating geocaching with vacationing in the state. There are also several links provided, including one for an introduction to geocaching and one for geocaching events being held in the state of SD.
South Dakota Office of Tourism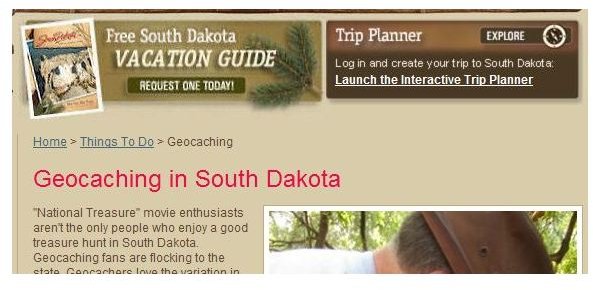 The South Dakota Office of Tourism offers a geocaching page on its "Things to Do" website. This listing does not provide as much detail on geocaching in the state of SD as do the two prior listings. However, it does give a concise overview of geocaching as well as information on why geocaching is popular in the state and the different types of terrain SD offers to geocachers.
Nebraska/Dakota Caching
The Nebraska and Dakotas Geocaching Reviewers Blog is a blog that provides general information about geocaching, the review process and geocaching rules affecting Nebraska, North Dakota and South Dakota. Readers will find geocache listing tips, issues that can arise, park policies for SD and other states regarding geocaching, geocaching on Native American reservations and military areas and more.
The site also provides links to general geocaching websites and local organizations, such as the Eastern South Dakota Geocachers Web Site.
For more information on geocaching, check out the Bright Hub collection of articles including What is Geocaching? and How to Pack the Perfect Geocaching Backpack.