Handheld GPS Surveying Unit – Benefits of GPS Surveying

An Overview of GPS Surveying
Traditional surveying involves plenty of labor apart from just the expenses of conducting the survey. The amount of money and labor involved increases with the complexity of the terrain. If the terrain is uneven and contains bunkers, water holes, and other obstructions, it becomes very difficult for the surveyors to collect accurate data for proper end use. These methods are time consuming as surveyors have to make several trips to the same place for gathering, recalculating, and double checking the data. In addition, if the weather is poor, the surveyors have to wait until it becomes normal, further delaying the surveying process. These problems are on the top of the priority list of federal agencies involved in surveying.
Studies conducted by the Federal Highway Administration (FHWA) over the last five years to meet these priority shows that GPS technology can significantly increase productivity while cutting down on costs. Several other research agencies across the US have also proved that, with the accuracy of GPS signals, the survey can yield better results in less time. GPS surveying also works irrespective of weather conditions. In addition, no special expertise is required to use handheld GPS surveying instruments, which is different from the conventional machinery for surveying.
A study conducted by the Utah Department of Transportation shows that a single person with handheld GPS unit is almost twice as fast as the entire survey crew. The study concluded that using GPS surveying requires fewer setups than conventional surveys. They gave an example: A single GPS survey handheld unit recorded 5,511 topographic points in thirty working hours. The same project using conventional survey equipment took 120 working hours to collect only 1,500 topographic points. With these results, it is very clear that a handheld GPS survey unit is the future of surveying.
Handheld GPS Surveying Units
There are several handheld GPS surveying units on the market. To avoid confusion as to which GPS surveying instrument to buy, first decide on the essential features you want and then go for additional features for further enhancement of your GPS experience. While the major player in the field of GPS surveying is Trimble, there are scores of other GPS vendors that sell handheld GPS surveying instruments. While Garmin is also one of the leading GPS vendors, it has no dedicated GPS surveying device. Instead, it offers some add-ons that can be used with its normal, low-priced GPS handhelds that help with surveying.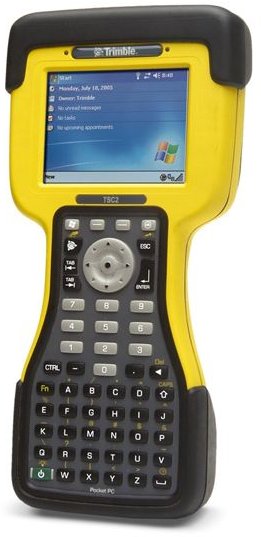 Trimble TSC2 Data Collector
The Trimble TSC2 features a full keyboard for controlling the GPS total stations located on-site. The piece operates on MS Windows Mobile OS facilitating sending and receiving documents on the go. Learning is easy with the easy-to-use interface. Primarily used for measurements and stakeout operations, this handheld GPS surveying unit can compute large data in split seconds and helps with modeling the surface thereby allowing the surveyor to create a precise map of the area under survey. Other features include a touchscreen, adjustable contrast with backlit LCD screen, 512 MB memory, 516 MHz processor, integrated WiFi, and Bluetooth for quick access to the Internet and local networks.
Garmin GB Discoverer
The Garmin GB Discoverer is basically an extension that is compatible with most of Garmin's GPS handhelds. Once you select any basic GPS handheld with navigation features (such as Dakota 20 and Oregon), you can get the Garmin GB Discoverer to help you with surveying, too. The module is a joint effort of Garmin and Ordnance Survey mapping that produces precise topographic maps in both raster and vector maps. All you need to do is to download the Garmin GB Discoverer to your GPS navigation handheld, preferably one from the Dakota series, to get unlimited maps of any area covering the entire UK.
In short, this means that Garmin offers you surveying as an additional capability to your existing GPS handheld, thereby avoiding the need to purchase a specific GPS survey handheld. You can use all the features of the Garmin GPS handheld such as the Lane Assistant or Golf GPS along with surveying facility.
Besides, you can spend some time on the Internet to study the different models and makes of handheld GPS survey unit available for sale, both new and used, thus saving on the costs.
See Also:
This post is part of the series: Application of GIS in Geological Mapping - GPS and Surveying
This article series offers information on the applications of GIS in Geological mapping. It also covers GPS in surveying. Surveying using GPS is now easier than manual methods. This series aims to shed light on GPS surveys while also discussing some GPS survey equipment.