GPS 3D Building Views by Using Google Earth and your GPS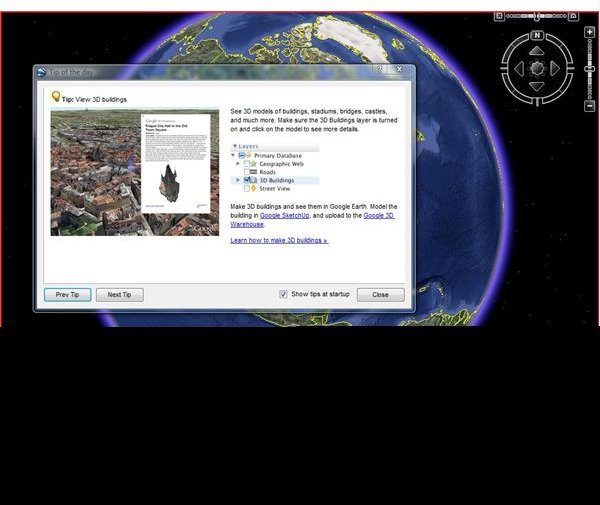 GPS 3D Building Views
The singularity is supposedly coming and the machines are closing in. Someday, virtual reality and the human brain's version of reality may become virtually indistinguishable. The technology that fits in a microchip now will someday fit in a human cell. However, until we get there, by my guess crossing a proverbial bridge that looks startlingly real by virtue of a computer-generated hologram, we must be satisfied with the scientific leaps that brought us to GPS 3D building views.
When you're driving through an unknown city, it is extremely helpful to see the buildings on your GPS screen appear as they do in real life as you are passing them. That way you get to orient yourself and get your bearing by using the gigantic landmarks in the area. In much the same way mountaineers use the distinguishable peaks and ridges out in the wilderness to figure out which stretch of the middle of nowhere we happened to be standing in.
Google Earth 3D Building Panoramas and a Compatible GPS Device
You may already be familiar with the software Google Earth which has satellite imagery for anywhere in the world. Google isGoogle 3D Buildings basically a modern day Genghis Kahn that succeeded in conq
uering the world by generating a photographic representation of every corner of the world as seen from the hovering satellites in space.
The basic version of Google Earth can be downloaded free so that you can engage in the irresistible activities of zooming in on the place that you live, places you want to visit, or sometimes the places you were just a little bit lost in, using their satellite imagery that resembles aerial photography. Now Google Earth has a GPS 3D building views function that enables the user to see three-dimensional digital representations of buildings as you manipulate the image from your mouse to view from varying horizontal and vertical vantage points.
Once you have Google Earth installed on your computer, you can import routes from your GPS device onto Google Earth and then enjoy zooming in and out and scrolling any which way you like on that route surrounded by 3D views of buildings or natural features. From the Google Earth page click on "Tools" and then "GPS" and the import options will appear. You need a GPS device that is supported and a USB cord in order to do a direct import. Between the data under Google Earth "Tools" and the software detailing your GPS device's hardware and software, you can determine if your model can directly import routes, waypoints, and Points of Interest onto Google Satellite Images. Garmin and Magellan have models that are compatible and easily interface with Google Earth.
When Google Earth is up and running on your computer screen, go to the "Layers" heading and underneath that, you will find "3D Building" which you just click on to enable. From there just use your mouse to navigate through a world so much better than the old two-dimensional representation.
This technology is now also available on the screens of the GPS devices themselves. The Garmin Nuvi series is one that comes to mind but if you're in the market, check the specs to see if the mapping software has this capability. And while we are on the subject of mapping software, read up on this vital component of GPS capability in this series starting with Garmin Handheld GPS Maps: Basic Overview.