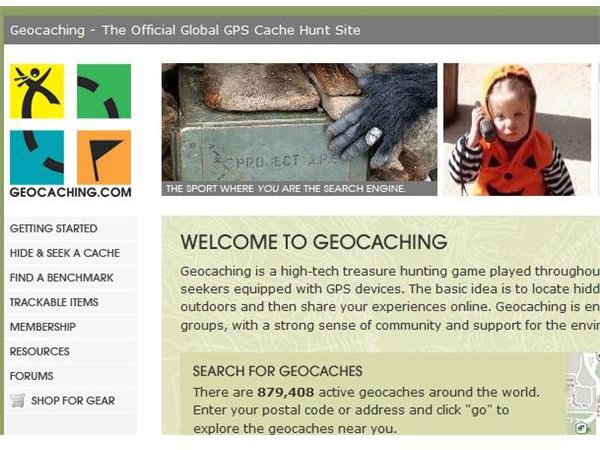 Geocaching.com
First of all; if you're unfamiliar with the exciting GPS device assisted activity known as geocaching, read What is Geocaching? That article gives you a great background and should picque your interest enough to want to know all about where you can do it which you find below.
Geocaching.com is the premier site for finding and logging geocache hunts with literally hundreds of thousands of geocache hunts available. To find geocache hunts on the site, you must start by registering for a membership. A free membership will allow you to search for geocache hunts and share your location, while an upgraded "Premium Membership" lets you organize your favorites, create custom searches, receive notifications of new geocache hunts on your mobile device, search for geocache hunts on route to a destination and more. The Premium Membership is a bargain at only $30 for a year's subscription. However, you may want to try the free membership first to see how well you like it.
Once you have registered and logged in, all you need to do is select Hide & Seek a Cache from the site's menu. You can then search for a geocache hunt by address, zip code, state, latitude and longitude, keywords and more.
Airport Geocaches
If you plan to fly to a destination, are staying at a hotel near an airport or simply enjoy the sites and sounds of jets taking off and landing you may enjoy finding geocache hunts at Airport Geocaches. To find geocache hunts within one mile of an airport in the United States, click on the location on the map or choose to view by the name of the state, and then click the geocache hunt link for details. There is currently at least one geocache hunt available within a mile of an airport in each state, including Alaska and Hawaii.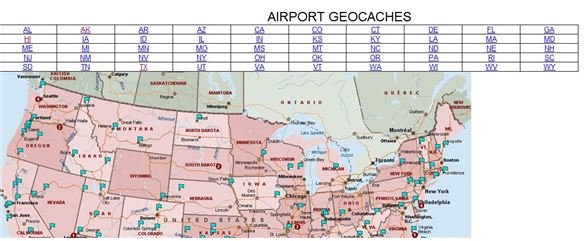 Incidentally, if your planning a trip to Great Britain, read Geocaching UK Scotland - A Bounty of Treasures to Find before you go.
Social Networking Sites
Another way to locate geocaching hunts near you or in a location where you plan to travel is by using the social networking sites you already enjoy. Search "geocaching" on sites like Twitter and Facebook to find bots and groups devoted to sharing geocaches. You can find groups dedicated to certain locations, such as Torontocaches on Twitter or Central Jersey Geocaching on Facebook, as well as more general geocache hunt information with groups such as geobotbnb and Geocaching Community.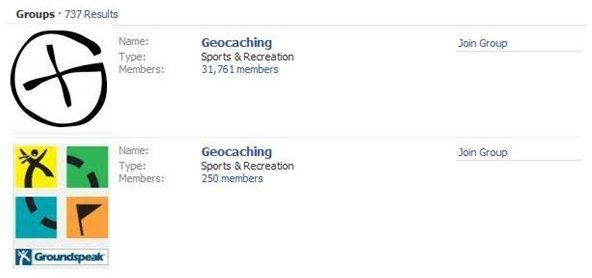 Local Geocache Hunts Online
There are several websites with geocache hunts specific to a state, park, city or other region. Haw Ridge Geocaching Park in Tennessee has its own site for hunts, as does Asheville, North Carolina. Find "top secret" geocache hunts in the San Diego, California area on the Forbidden Zone Geocaches website. Then, of course, there are nation-specific geocache hunt sites such as the Geocaching Association of Great Britain and Geocaching Australia. To learn whether there is a geocaching site specific to your area, try Googling the word geocache along with the name of the city, state or area. You never know what type of geocache hunts you may find!
Check out the ever-expanding collection of geocaching-related articles here at Bright Hub!