Garmin 770 Downloads - Maps & Advanced Configuration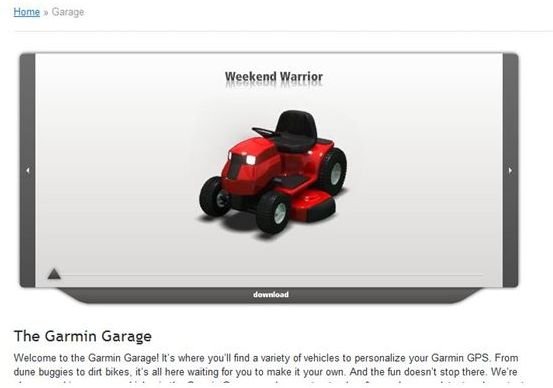 The Garmin Garage
If you are not crazy about the vehicle that represents you on your Garmin 770, head over to the Garmin Garage and find something that is a little more "you." There is a large variety of options from which to chose, such as "Walkin' Scooter," a happy, stout little guy, to "Mud Slinger," a wheelie-popping dirt bike and everything in between.
To download a new vehicle, connect the Garmin 770 to your computer. Find the vehicle you want and click on Download. Click Open from the download window and then click Extract. Once it is extracted, navigate to the Vehicle folder on the Garmin 770. Unplug the Garmin 770 from the computer. Touch Settings on the Garmin 770 and select Map. Choose Vehicle and select the vehicle that you downloaded.
There are other downloads available for your Garmin 770 on the Garmin site, as well. Check out the Bundles page, from which you can select downloads that include multiple vehicles within a specific theme. For example, download the Service Vehicle bundle and you get a wrecker, a taxi, an ambulance, a school bus, a fire engine and a police car.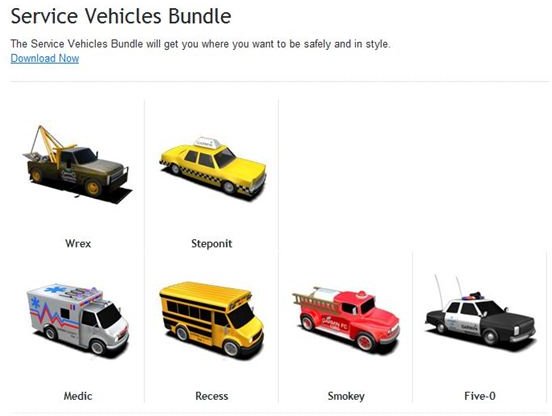 Voices
There are several places to find downloads of new voices for your Garmin 770. On the Garmin website, you can select special, free holiday voices to download.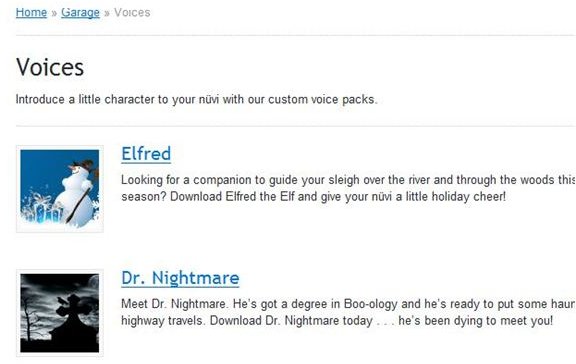 To download a voice from the Garmin site to your 770, connect the nüvi to your computer, and make sure you have the Garmin Communicator installed. (You can download it here.) Click the Install Voice button for the particular voice you want to download and wait. Once it is installed, disconnect your Garmin 770 from the computer. Make sure the volume is up and not muted on your Garmin 770. Touch Settings, select Language and then choose Voice. Select the voice you downloaded and press OK.
Another place to find voice downloads for your Garmin 770 is PigTones. You can purchase single voice downloads with funny, cool or steamy voices such as "Stewie" from Family Guy, the ever-suave Sean Connery, or the not-so-family-friendly "Sadera the Sexy Hot Chick." Voice downloads for your Garmin 770 cost about $13 at PigTones, or you can create your own customized four-pack for about forty bucks. You can listen to previews of each voice before purchasing downloads so you know that you will be satisfied with your purchase.
Want More?
Check out Where to Find Free Maps for GPS - Garmin, TomTom and Others to find downloads of maps for your Garmin 770, and Where to Find Geocaching Software for Your GPS to use your Garmin 770 for fun geocaching hunts.