Free Online Cell Phone GPS Tracker Devices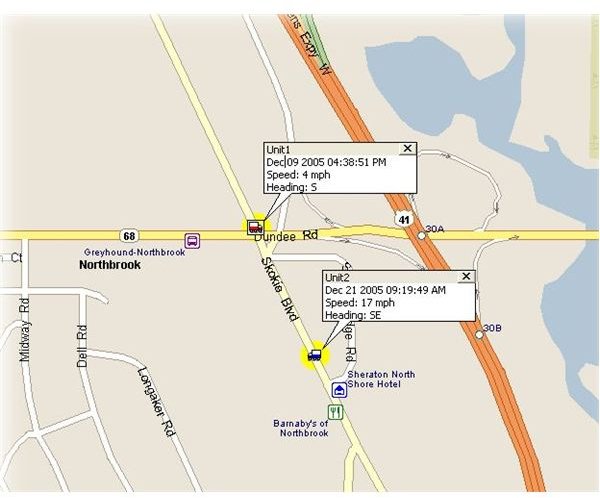 AccuTracking
AccuTracking is a software program that is compatible with many cell phone makes and models. If you have Boost Mobile, a BlackBerry, a Windows Mobile phone or one of the many other GPS-enabled phone models, you can download the free Tracker to your cell phone. The AccuTracking service was initially free. However, they have seemingly met the limit of free accounts and now offer subscription packages that range from $5.99 to $9.99 a month. The first month of the service is free, so you can use the tracker for a few weeks at no charge and determine whether you wish to continue using it.
The online tracker offered by AccuTracking has numerous cool, helpful features. When you log on to the website with the account associated with the GPS cell phone you wish to track, you will be provided with a map with real-time locations. You can check the recent history of locations, which will not only give you the time at the location but also the speed limit traveled between locales. If you have several GPS cell phones, you can use the tracker to watch them all on one account. A feature that many parents might appreciate is the "geofence" capability. You can set up a geofence, which is a virtual boundary for the cell phone user. If the GPS cell phone is taken outside of that boundary, you will receive an alert.
InstaMapper
InstaMapper is an online GPS cell phone tracker that is currently 100% free. After you register online, you install the InstaMapper application to a GPS-enabled cell phone. Then, when you log on to the website, an interactive Google map will appear with the location of the cell phone. The map's details are updated every few seconds, with a moving dot on the map representing the GPS cell phone, so it is pretty close to real-time tracking. You can even embed your location to your personal blog, web page or social networking site, which is a fun feature if you are traveling abroad and your friends and family want to keep tabs on you.
It keeps records for up to 100,000 positions for the cell phone, and offers details such as altitude and rate of speed as well.
BuddyWay
Another free online cell phone tracker is BuddyWay. Simply register at the website and download the free software to your GPS cell phone. The phone's position will be sent to BuddyWay's server, and all you need to do is log online to find out details such as the current location and the length of travel time. Some features that parents of young drivers might appreciate in this tracker include the history of speed limits - including both maximum speeds and average speeds as well as the GPS coordinates that were visited along the way - for those times when your teen is "just going to the library."
If you are traveling, BuddyWay gives you some enjoyable features as well. For example, you can take pictures with your GPS cell phone and use the application to post them online at the BuddyWay website along with a brief note, making it a great way to share your travels with loved ones.
Read more at Using GPS to Keep Track of Your Children and Use Your GPS to Find Your Friends.
References