Handheld GPS for Horseback Riding - Choosing the Right One that Suits Your Needs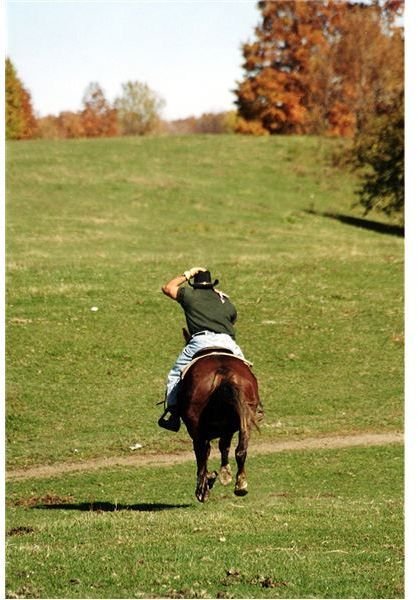 What Can A GPS Do for Horseback Riders?
Horseback riders commonly use a handheld GPS for navigation through various types of terrain with the use of real-time maps. It is small enough to hold in one hand and can be stored easily in a belt or pack when not in use.
A GPS can be used as a tracking device for horses during rides or monitoring them as they graze on their own. The device is attached to the horse's bridle or rider's vest.The information is constantly transmitted to a software server via a SIM card. The user then receives the data from the ride via a handheld GPS enabled device (such as a PDA or cellular phone).
Another use is for treasure hunting (geocaching). For horseback riders, it is called "Equicaching". By using a handheld GPS, adventure seekers can find hidden objects using custom maps to help guide the way.
What Features are Needed?
No matter how often you will use a handheld GPS for horseback riding, having the right features is important. Here are some you will want to keep in mind:
High Sensitivity Chipset
This is a helpful feature when you need to navigate through dense forest or canyon terrain
Waterproof Construction
Weather conditions can vary. Make sure you choose a model that will not get easily damaged by rain or other exposure to water.
Basic Mapping Software
All handheld GPS units need updated maps to give the most current and useful information. Your GPS should be able to download updates via a computer by use of a CD or Internet connection.
SD Card
Useful to store trail travel data and mapping information
Color Map Display
Even if your maps are continuously updated, they are easier to read in a color format. This feature should also include topographical maps for more detailed information.
Other Useful Features and Items
Electronic Compass
Car adapter
Rechargeable batteries
A "SOS" feature that can transmit emergency information to telephone and email (SMS) contacts.
GPS Devices You May Want to Consider
How do you choose a GPS for horseback riding? It may be a bit confusing. Here are some handheld models you may want to look into:
Garmin Oregon 400t
Includes a touch screen interface, preloaded topographical maps (with expanded map capability) and an electric compass.
DeLorme PN-40
This model has pre-installed maps, additional topographical maps on included DVDs, a USB connector, an electronic compass and is expandable with SDHC.
Magellan Triton
It comes equipped with a 2 MP camera, voice recorder, built in maps, flashlight, SD card compatibility and an audio jack.
Lowrance Endura Sierra
This handheld GPS includes a micro-SD slot to store maps, tri-axial compass, high resolution topographical maps and extensive outdoor trail networks.
GPS Tracker Light Tower Personal
This GPS tracking device can be hung from a horse's neck or placed in a carrying back. Locate a horse by calling the tracking device via cell phone. Their location will be transmitted to you via SMS.
References