Best Hand held GPS Water Navigation Units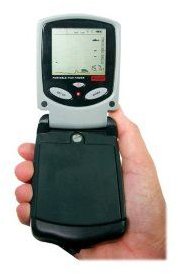 NorCross HawkEye FF3300P Portable Fish Finder
What's so good about the NorCross HawkEye FF3300P Portable Fish Finder is the fact that it is not only a handheld device but it is also mountable on a boat deck or on the ground. You can also hang it on your neck using its adjustable neck strap. The device is easy-to-use as well. You only need to toss the floating transducer into the water and turn it on and you can start viewing what lies in the water to find fish, depth, and bottom structure as well as water temperature readings.
Another great feature of the NorCross HawkEye FF3300P is its pivoting display which you can rotate 180 degrees for an optimal viewing angle. Equally useful is the fact that it has a backlit display enabling you to easily view what's on the screen even during the night time.
Feature-wise, the device boasts of fish size identifier, auto and manual sensitivity settings, audible fish alarm, auto landscape detection, adjustable fishing zone selector, auto depth sensitivity, easy touch programming, and floating sonar sensor with thirty-five feet of cable. Other features include an anti-shock transducer and an adjustable float. (Price: $63.45)
Garmin GPSMap 76 Handheld GPS Navigator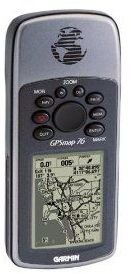 You may find the Garmin GPSMap 76 handheld GPS navigator expensive, but it is certainly power packed with useful features. Topping these features are the device's bright and sunlight-readable displays. It is also equipped with state-of-the-art receivers and microprocessors giving the device a quick and steady fix.
The Garmin GPSMap 76 is loaded with 115 MB of memory, an America Auto route base map, and marine point database as well as USB connectivity, which makes it easy for you to load charts and maps. Its navigation instructions are also shareable through repeaters, plotters, and autopilots with the aid of a dedicated serial port.
Expectedly, this device is also waterproof. It is also compatible with MapSource products such as BlueChart, U.S. Top 24K and City Select. The last one gives detailed streets for turn-by-turn navigation guidance. (Price: $140)
Norcross Hawkeye F33P Fish Finder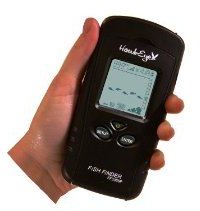 This handheld GPS water navigation device suits the needs of those going on a fishing expedition as well as the needs of family on their way to a long family vacation. This handheld GPS device utilizes an ultra-wide, forty-five degree sonar beam angle that provides accurate readings of depth, fish, and bottom structure. You wouldn't have a hard time using it as the device features an easy-to-use interface. The Norcross Hawkeye F33P Fish Finder can tolerate temperatures of up to zero degrees Fahrenheit and can reach up to 1.5 to 99.9 feet in depth. Other features of this handheld GPS water navigation device include a side scan adapter, easily attachment to broomstick handle, and mounting tabs for mounting the device to canoes, kayaks and boats. As regard to the technology it uses, the Norcross Hawkeye Fish Finder uses algorithmic programming to carry out its readings. This enables the device to have a higher rate of getting true readings.
Other features of the F33P Fish Finder include fish identifier, depth scale and two-stage audible fish alarm. This alarm informs you of what kind of fish is nearby. The device utilizes four "AAA" batteries which can provide up to 20 hours of use and backlit display. (Price: $49.99)