Best Geocaching GPS Units - Geocaching Devices for Mid and Low Budgets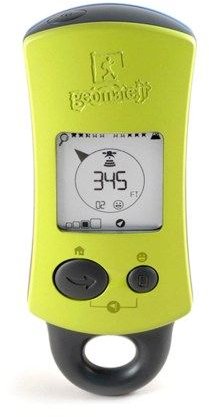 Apisphere Geomate.jr
For a super cheap unit that might be a good option to give to the kids as a great recreational/educational Geocaching device, look no further than the Apisphere Geomate.jr.
At around $70, the Geomate.jr comes pre-loaded with 250,000 geocache stash locations spread out amongst the 50 states of the U.S. The screen is tiny and the waypoint of where you started is all you're going to get but it is water resistant and shock proof. It's as basic and stripped down as you can get, but it's still a geocache dedicated device that will work for you.Of course it's not one of the best all around handheld GPS devices around, but it will certainly enable you to get near that cache, and perhaps you'll like a little extra challenge in getting there anyway.
Garmin ETrex Series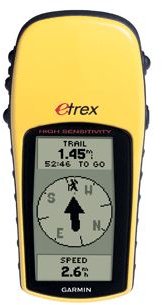 Looking at inexpensive but dependable, and feature laden GPS units that work really well for Geocaching (and perhaps making it a bit more challenging too) we go straight to the Garmin ETrex series.
Go with one at the lower end of this series spectrum if you don't want to spend the big bucks for a GPS, or if you're not sure how much time you'll want to be devoting to scavenger hunting. cheapest Garmin portable GPS that's still an excellent geocaching device The eTrex H is the cheapest Garmin portable GPS that's still an excellent geocaching device because it's rugged, dependable, and lightweight.
The Etrex H lacks mapping capabilities and has a very basic non-color screen. It's got a long battery life and can store up to 500 way points. It's also pretty easy for a novice to figure out. You should be able to find one for about $100.
The Garmin Etrex Legend takes you up a notch with mapping capabilities and a slightly higher price. But it is a superb device, rugged, water resistant, and lightweight. The unit retails at approximately $150, but shopping around you will probably find one cheaper still.
Garmin ETrex Vista CX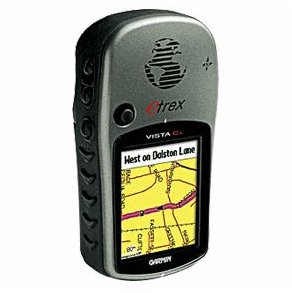 As we enter the market for mid range Geocaching GPS devices, these units come with extensive mapping technology that, for example, lets you see exactly where you are, and includes the ability to upload topographic maps.
With such devices you want to make sure your desired unit can interface with a computer via a USB cord, which is considerably more convenient than manually loading data, as is the only option currently available with cheaper models.
One really good unit in this range is the Garmin ETrex Vista CX**,** which prices out at around $300 and includes a nice bright, readable screen. Included are a barometric altimeter, electronic compass, and a handy 64 MB microSD card with plenty of memory. Connect the device to your computer with a USB cord to load optional MapSource® software to view detailed maps of where ever you're going to geocache. This unit is easy for the novice to figure out as well. It also made it onto the list of reviews of the best hunting GPS devices if you happen to enjoy that hobby too, when autumn rolls around and it's time to fill the freezer with provisions. But if you're just into hunting down the little trinkets found in geocache stashes, it's an outstanding geocaching device.
This post is part of the series: What are The Top Geocaching GPS Units?
This four part series first presents you with an in-depth look at the features and capabilities that make a handheld GPS device unit the ideal choice for geocaching. The remaining articles use that criterion to list several of the best brands and models based on performance and the price tag.