How to Download and Use Free Garmin GPS Voices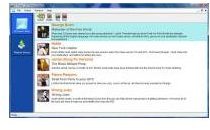 Looking for free Garmin GPS voices to download for your navigation system? While there are numerous GPS download sites, many of them use language that can be confusing if you are trying to get around in the United States. Fortunately, there are a few sites offering English Garmin voices for your device.
Pigtones
_Editor's Note: It appears PigTones is no longer an active site. The below information is being kept for those who may have used PigTones in the past and need instructions for installing voice packs. _ Pigtones.com offers a free software program you can download called TomTom and Garmin GPS Voice. This is a free voice program as well as a POI (point of interest) installer that allows you to personalize your Garmin GPS unit. There are several U.S. Garmin GPS voices, including a comical "Bubba" voice, a "Sexy Chick" Garmin voice and a voice for your Garmin called "Arnie the Governator," presumably an impression of Arnold Schwarzenegger. [caption id="attachment_171593" align="aligncenter" width="933"]
PigTones on GPSInformation.org[/caption] In order to use the voice download, click the Free Download button on the TomTom and Garmin GPS Voice download page. When the File Download dialog opens, click Save and then save the file to your Desktop. Next, you need to install the Garmin Gtones Installer, also to the desktop. Once you have downloaded both, open the Installer and let it run. When finished, open the free Garmin voices you downloaded and they will be added to the Gtones library. Connect your Garmin GPS device to the computer and install the voices from the Gtunes library folder. This download is a "free sample," which Pigtones provides in the hopes that you will enjoy the voices and purchase more from their extensive GPS voice download collection.
Garmin
_Editor's Note: It appears the U.S. Garmin Garage site is no longer active. The link below for Garmin Garage leads to Garmin's Malaysia site, but it appears the voice packs available are the same as for the U.S. version. _ Another place to download U.S. Garmin voices free for your Garmin GPS is on the Garmin website itself. Garmin provides free fun and seasonal voices you can download and enjoy. First, you must make sure that your Garmin has the most current updates installed. You can check for updates on the Garmin Web Updater site. Once your Garmin is updated, head to the Garmin Garage and click on All Voices. (While you are on the Garmin Garage site, you might also want to look at All Vehicles and All Bundles for more fun, free ways to customize your Garmin.)
[caption id="attachment_171595" align="aligncenter" width="793"]
Voices available on Garmin Garage[/caption] Click the voice you want to download to your Garmin. You can then click the Play button for a preview of the voice. If you have your Garmin connected to the computer, you can bypass downloading the voice to the desktop and simply click the Install Voice button. If you want to download it to the computer and install it on the Garmin unit later, click the Download Bundle button. Save the file to your desktop and install the free voice software to your Garmin whenever you want! Check out Garmin Accessories - Expand the Capability of your GPS for even more ways to customize your Garmin.