High Tech Garmin GPS Collar for Dogs: A Device for Tracking Man's Best Friend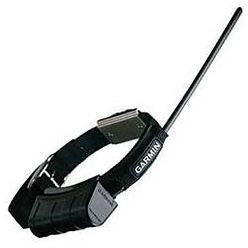 About the GPS Collar
Constructed for rough terrain, the Garmin GPS tracking collar is perfect for hunting, hiking, horseback riding, camping and other situations where dogs may be freely running without a leash. The collar uses two antennas to locate and transmit a dog's location by using GPS and radio signals. The GPS portion is a transmitter which can determine location from GPS satellites. The radio antenna works in conjunction with a handheld GPS unit (that looks like a walkie talkie) which sends it information every five seconds. The handheld unit accurately displays the dog's location on a map and can detect whether or not the dog is on the move or on point. Additional maps can be purchased for the device for more detailed map information.
Although basic radio collars may have a longer distance range, the GPS technology works better and keeps track of dogs even if they go out of range. The handheld GPS device will show you the exact point to where the signal dropped off. You can then move in the appropriate direction until the signal picks up again.
Another good feature of the Garmin GPS collar is that it does not generate any sound. Unlike beeping collars, it allows hunters to work with a bit more stealth and will not startle birds or other animals to your presence.
Garmin Astro DC-30
Released in 2008, the Garmin Astro DC-30 is designed with a low profile GPS antenna that sits on top of the collar and a side mounted whip style antenna for transmitting radio signals. Unlike other types of dog collar tracking models, the design is balanced enough where a counterweight or vest is not needed to keep it in place. For hunting purposes, a single handheld GPS unit can track up to ten dogs.
If you are looking into purchasing, a set with a Garmin collar and handheld GPS unit costs around six hundred dollars. Individual Garmin GPS collars average about two hundred dollars.
Overall Impression
The Garmin GPS collar is a good solution for hunting or any other situation where you would like to track free running dogs. Unlike other types of these collars, the accuracy of GPS allows you to locate up to ten of your furry friends without worry about losing a signal or making any unnecessary sounds.
Additional Articles
GPS Dog Tracking System Considerations
GPS Collars vs Microchip Implants for Dogs
Should you Buy the RomEO Dog GPS Location System?
References
Garmin collar image from Amazon.com by permission.