What is the Best Portable GPS System? Portable GPS Buyers Guide

As with any purchase decision, the needs of the consumer determine what product to purchase. A user who goes trekking on weekends with his friends needs an easy to carry GPS receiver with possibly a 2-way radio. This is much different from a GPS navigator that an amateur aviator will need to use. The aviators choice will not fit the needs of the trekker, in fact it is impossible to carry and power such a device in your backpack. And this is but one example, as GPS units are tailor made for specific fields of use.
In the preceding sections we will look at the best GPS receivers suitable for each purpose and help you with your purchasing decision.
Best Portable GPS for Trekking: Garmin Rino 530 HCx and Magellan Triton 2000
For GPS trekking it is impossible to choose between two current products that offer exceptional range and features. The Garmin Rino 530 HCx comes with a built-in 2-way radio and the capability to see your friends in real-time on your GPS screen (given that they are using similar Garmin Rino products.) The 2-way radio is FRS/GMRS compliant, meaning you can speak with any radio that is compliant with these standards. The other trekking unit is the Magellan Triton 2000 which has 2-megapixel camera and built-in Geocaching features. However there is no radio available.
If I am pressed to choose between the two, I would go for the Rino 530 HCx since a 2-megapixel camera is not enough for today's photographing needs and Geocaching is not my hobby. Of course your choice and preferences will be different.
The Garmin Rino can be purchased for approx US $379 and the Magellan Triton for US $430 from Amazon.com.
Best Portable GPS for Auto Navigation & Travel Companion: Garmin Nuvi 885T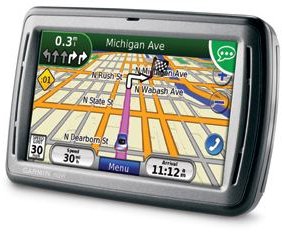 Garmin differentiates itself from the other products by downloading points of interest and Panoramio photos from Google Maps. If you are travelling to, say, Italy and you want to have spaghetti at Alfredo's in Rome, you can find the location from Google maps, photos from Panoramio and send everything to your device. So while others land in Rome, and then have to take the time to search for a place to eat, you can already be sat at Alfredo's ordering your spaghetti! You can download and install maps for your destination, carry your music in a tiny SD card, and use your portable GPS as a fully fledged travel companion. What more could you want?
The Garmin Nuvi 885T comes at US $500 from Amazon.com (MSN Direct included.)
Best Portable GPS for Motorcycle Navigation: Garmin Zumo 550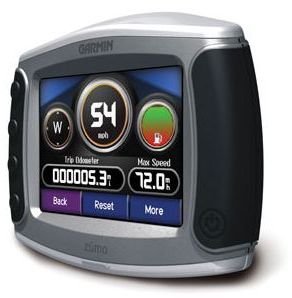 With wireless bluetooth, optional XM Radio services, IPX-7 class water resistance, route sharing, mp3 playing, trip information, fuel gage, glove-friendly touchscreen and much more, the Garmin Zumo 550 has everything a biker could need from a portable GPS?
Everything is packed into the Garmin Zumo 550 which comes at US $661.84 from Amazon.com. And yes, you can detach it from its mount and carry it with you as your ultimate travel companion.
As we have already noted in the introduction section, the needs of portable GPS users differ greatly depending on personal or professional fields of use. Thus it is impossible to advise on one device that suits all purposes. For example, while the Garmin Nuvi 855T and Zumo 550 may be good choices for trekking and travel, the Rino 530 HCx may be more suitable to some as it offers topology mapping and has excellent clip in place fastening. So you must consider all aspects of use.