A Brief Guide to Letterboxing - Geocaching and Rubber Stamps - What Do They Have to Do with Each Other?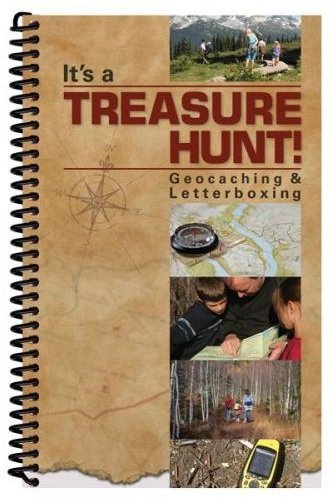 Letterboxing has a history starting in the 1800s, on Dartmoor moor (yes, where Sherlock Holmes solved the mystery of the Hound of the Baskervilles). An article in Smithsonian magazine in 1998 introduced the current version of the sport to North America. Letterboxing itself also has a longer history in the United States.
At Amazon, you can find It's a Treasure Hunt! Geocaching and Letterboxing.
Letterboxing
In letterboxing, you follow clues in a specified geographical area to find a waterproof container with a rubber stamp and a logbook inside. Once you find the letterbox, you use the stamp inside on your personal logbook, and use your own stamp to mark the letterbox logbook. You note the date in the letterbox logbook, along with your trail name, and date your own book, along with any notes about the experience. There are methods on the Letterbox North America site for noting letterboxes you have found or placed, but not everyone follows the same practice.
There are also letterboxes that have cryptic clues or puzzles to solve. And more recently, there have been hybrid letterboxes, where you follow geocaching clues to find its location, but inside are a log and a stamp, instead of trinkets. For more on Geocaching, check out Bright Hub's Geocaching topic. Here you can find an article explaining Geocaching.
A Typical Set of Non Cryptic Clues
Almost immediately you'll be walking a path beside a split rail fence. Count six posts and on your right you will see a trail which is marked with a blue trail marker. Follow the path downhill, walking through a fallen tree which had the center sawed out so the path could be followed. The trail will split. Keep following the blue trail markers, not the red ones. Continue up the hill through the woods and come to a clearing. Remain on the path going back into the woods and immediately you will pass a man high boulder on the left. Go to the far side of the boulder. The box you seek is straight North in a split tree, resting in the cranny. Please cover again with leaves and twigs after you have stamped in. The round trip will be about a half mile.
This would be a very easy letterbox to find. Many, even without more cryptic clues, require you do considerably more traveling to reach your objective.
Letterboxing Supplies
It's easy to get started letterboxing. All you need are a few items:
Pick a trail name. You don't ever want to leave personally identifiable information where anyone can find it- and possibly you.
Make a stamp from an eraser or kit, or find a commercial stamp that is personally meaningful. Both sites mentioned in this article have information on making your own stamp, and links to more expert directions for those who end up wanting to make themselves an intricate stamp.
Get yourself an ink pad from an art store, along with a sketchbook to be your logbook. Eventually, you may want to get a hardbound sketchbook, as it will hold up to travel better. Bring along a pencil or pen.
You will also want to have a compass. One designed for orienteering will work. Don't buy the cheapest kid's model. Some clues involve a lot of compass directions, and you wont want to be off by a few degrees when you start counting your paces.
How to Start Letterboxing
Go to the Letterbox North America site, or Atlasquest.com. Find your state, and the region where you live. You may even find the town you live in listed. Often there will be a letterbox within a few miles of your house and in some areas perhaps several. Most clues will give you directions to a place to park, and a starting location. Print yourself two copies of the clues. It is always a good idea to have a partner, as you will often be walking through woods, and that way you don't have to share. But if you are going by yourself, give the second set of clues to someone, so they know where you are going, in case you are not back when expected. Drive to the starting location, and start following your clues.
You should bring along the same personal equipment you would for a day hike. Bring water, a sandwich or other trail food, a small first aid kit, gear for a change in the weather, and depending on the season, bug spray and sunscreen. Wear comfortable sturdy shoes. Having a map of the area won't hurt, and if you own a cell phone, bring it. Pack your supplies in a knapsack, and don't forget your clues. Many people bring along a spare ziploc type freezer bag in case the materials found in the letterbox need additional protection from the weather, because the original waterproof bag around the logbook might have deteriorated from use.
Letterbox placers generally try to either find a scenic place to put the letterboxes, or have you travel through through attractive surroundings. Relax on your excursion and enjoy the view and the sounds of nature. This is a treasure hunt, but getting to the treasure by following the clues is meant to be almost as much fun as actually opening up the letterbox.
Once you have found a few letterboxes, you may want to place one. There is information on the North American Letterbox site on how to create a letterbox, and suggestions for how to place it and write your clues. Then post your clues on North American Letterbox, or Atlas Quest. Many people check their boxes once a month or so to make sure they don't need upkeep.
Letterboxers keep a running total of their accomplishments. For your first letterbox find you make, your total will be P0F1X0.
P is letterboxes placed. F is letter boxes found. X is stamp prints exchanged with other letterboxers.
Once you get your GPS unit, it doesn't mean you need to stop letterboxing. Often there will be letterboxes and geocaches in the same general area. And carry your stamp, your pad, and your logbook, just in case, because one of the geocaches you navigate to might prove to be a hybrid, where you can leave your mark and get a new stamp in your logbook.
Some geocachers stamp the logbooks of all the caches they find instead of writing their trail name, even if there is no stamp inside the geocache.