Comparison of Cell Phone Navigation vs Portable GPS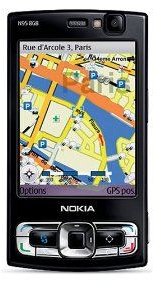 Cell Phone Navigation
Because of the FCC mandated E911 program which required cell phone manufacturers to integrate GPS receivers in their cell phone units, cell phone manufacturers today have made it a standard to have GPS navigation as one of their cell phones' major attractions. GPS-enabled cell phones allow you to view and listen to turn-by-turn directions provided by the cellular provider. Cell phones with GPS navigation features are usually loaded with GPS chips that support A-GPS (or Assisted GPS). However, to use the A-GPS feature, cell phone users must subscribe to their cellular providers GPS-services bundle.
Equipped with a cell phone with the A-GPS feature and subscribed to a cellular provider's GPS navigation services, users can receive driving directions on the their cell phones. These driving directions are fully automated and calculated, so much so that when you miss a turn, the driving directions will adjust accordingly and give you new directions to use to get to where you are heading.
*Example of a cell phone with navigation feature - Nokia N95
Advantages and Disadvantages of Cell Phone Navigation
GPS equipped cell phones offer faster re-routing directions, updated traffic conditions and other location-based features including social networking. In addition, cell phones are affordable even if an A-GPS is included as one of their features. Even the data plans offered by Telco carriers with GPS features are very affordable.
Best of all, cell phone GPS information is quickly and easily updated on a regular basis. On the downside, cell phones have smaller screens so sometimes reading the routes is a pain and the chances of you getting lost is highly probable especially if you are not used to map reading.
Portable GPS
The portable GPS which takes the popular form of in-car GPS navigation systems are specialized gadgets made for the sole purpose of providing you with navigational information. These devices are commonly mounted to your car's dashboard and run software that tells you the right route to take when going from one place to another. The software can be updated to include new routes and traffic conditions. In-car GPS navigation systems are very efficient for as long as you stay on the road. If you start to stray from the road, the GPS system will prompt you to go back, and stay driving on the road. When you miss a turn or get lost, the in-car GPS system will tell you of your conditions right away.
*Photo example of a Portable GPS - TomTom ONE 125 3.5-Inch Portable GPS Navigator
Advantages and Disadvantages of Portable GPS
Portable GPS devices generally have bigger screens than cell phones, so the chance of you reading the directional routes properly is much better. However, the hardware cost is higher than using a cell phone with GPS capability. Upgrading maps and the list of business establishments is also quite expensive, but is a must for portable GPS owners, unless they don't mind getting lost due to outdated information.
Conclusion
After knowing the basics of both cell phone navigation and portable GPS navigation, the question of which system is better still depends on your needs and preferences. Portable GPS devices are starting to feel the competition being posted by cell phones with assisted navigation features. Cell phone navigation is less costly and you can bring it with you anywhere. An added point is the fact that cell phones have other uses aside from GPS navigation.
But we still could not discount the fact that portable GPS navigation is still more reliable and dependable for the simple reason that these devices were built solely for navigation purposes. There may be additional costs, but in the long run, with its reliable and dependable information, the portable GPS device's navigation advantages outweighs its disadvantages.