The Best of the Magellan Handheld GPS Devices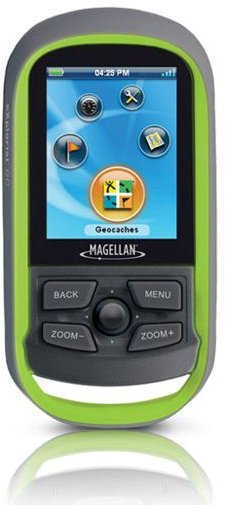 When looking for handheld GPS units, there are two choices on the market. The first is handheld mapping GPS units, and the second is handheld non-mapping GPS units. As you can gather from the title, the mapping GPS comes with built-in maps and also allows uploading of maps for detailed topography. The non-mapping GPS, however, is a little different when it comes to the meaning of the device. These units do not include maps, and are used to get a person from one point to another without worrying about roads or topography. Both have their uses, but if you want to deal with Magellan handheld GPS units, the only choice you have at this time is mapping GPS units.
Magellan offers the eXplorist family of handheld GPS devices for consumers to choose from. The eXplorist series are waterproof, rugged devices perfect for taking on outdoor trips. These devices allow users to take part in backpacking, hiking, hunting, mountain biking and geocaching adventures without getting lost, and to always find their way to their eventual destination.
Magellan eXplorist GC
The eXplorist GC is a perfect Magellan handheld GPS unit for geocachers, and includes a number of features for individuals to track their geocaching finds. The GC unit offers paperless geocaching and users can download more than 20 unique characteristics of their specific cache including difficulty, terrain, spoilers, location, description and more. This is the handheld GP device made specifically for the geocaching community, and has a direct link to geocaching.com. This handheld GPS device can hold up to 10,000 geocaches.
The unit uses two AA batteries capable of 18 hours of constant use for your trips. It is small, waterproof and durable for any type of outdoor adventure. The unit uses both a compass and a map for its navigation duties and includes numerous data fields including longitude, latitude, bearing, a trip odometer and more.
Magellan eXplorist 310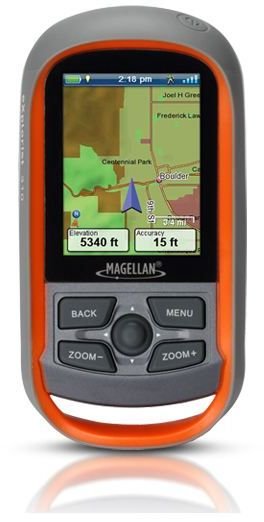 The Magellan eXplorist 310 is an easy to use Magellan handheld GPS, ready to go straight out of the box. It comes preloaded with a World Edition map which includes the United States, Canada, Australia and Western Europe, a perfect tool for backpacking in some of the Earth's most popular locations. The map also includes city centers, urban and rural land use and GPS water features. Much like the GC, the 310 offers a compass and map as well as paperless geocaching. While not as deep as the GC when it comes to geocaching adventures, this one is preferable if your main goal is hiking or backpacking both in the United States as well as abroad.
Magellan eXplorist 510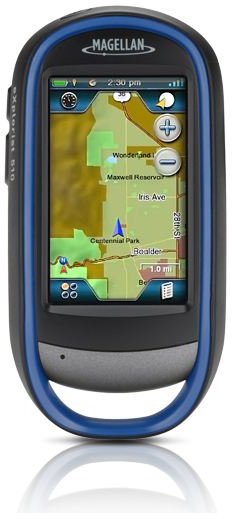 The Magellan eXplorist 510 offers users some extra features including a camera`, microphone and speaker to record all your actions as well as the exceptional Magellan maps, and compass. The camera is a 3.2 mega-pixel device and with it, you can share your images online through geocaching.com. This handheld unit features a touch screen and two large buttons for navigating. The two buttons can be programed to execute your most used functions on the device, as well. Running on two AA batteries, the 510 can last up to 16 hours. The battery power can be conserved by switching the device to suspend, although the GPS tracking still operates in this mode. The unit offers both 2D and 3D viewing of the World Edition map.
Magellan eXplorist 610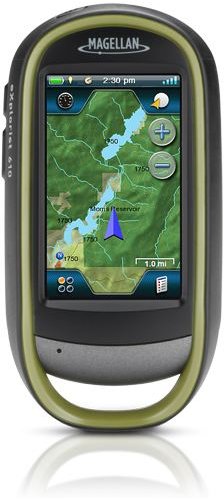 Moving on up the list, the Magellan eXplorist 610 offers much of what the previous models have, including the 3.2 mega-pixel camera, paperless geocaching and World Edition map in both 2D and 3D viewing. This model also offers the Summit Series USA Topographic Mapping option. The map is based on 1:24,000 scale source maps. It includes contour lines, land use areas, trails, waterways as well as points of interest. You can use it to find trailheads, bike shops, fuel stations, potable water sources and more. It also makes sure you know where the public lands end and the private lands begin. The 610 is also available in a Canadian version, substituting the Summit Series Canada Topographic Mapping in that version.
Magellan eXplorist 710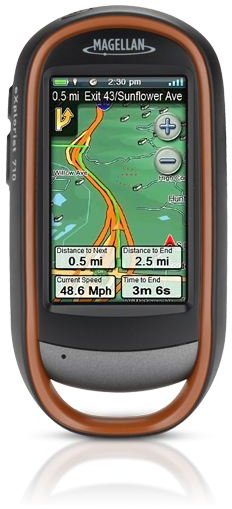 The top of the line Magellan handheld GPS, selling for $549.99 as of July 2011, is the Magellan eXplorist 710. This unit contains everything from the previous versions, including the camera, paperless geocaching, World Maps and Summit Series maps. It also provides the City Series USA Turn-by-Turn Navigation, allowing the eXplorist device to navigate through city streets, giving turn-by-turn directions on your way to escaping to your favorite open spaces. This allows this unit to serve the purpose of a handheld and an automotive GPS device, combining the two into one durable, small unit. The 710 allows you to enter any destination, including address book entries, waypoints, geocaches, and previous destinations.
Magellan has a number of handheld GPS models available for most enthusiasts needs. Whether you are a geocacher who wants the best device to take treasure hunting with or you want to best combo device that can work both in your car as well as the wilderness, Magellan has a device for you.
References
References and images from Magellan corporate website.