GPS Map Conversion Software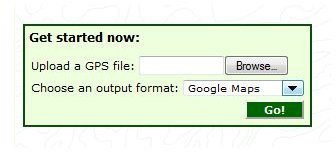 Selecting a Conversion Software
You need route information, tracks and waypoints to find your location. This information, however, is usually offered in one format or another depending on the type of program that you are using. as a result of the variations, you may then need to convert this information into different formats.
GPS map conversion software programs make this process fairly easy. Even better, however, is that most of these programs are free to use. With so many different programs on the market, you may find it hard to choose a specific one, but there are some really good ones on the market to choose from.
GPS Visualizer
GPS Visualizer is an amazingly easy to use program. It feels like a paid program thanks to its extensive features, but it's completely free. This is a multi-function utility program that allows you to perform different types of conversions. The main focus of this software is to convert waypoints and tracks into profiles and maps. It can handle numerous different types of files, including GPX files.
If you just want to convert a GPS file into a map, you simply need to pull up the home page. Next, look about midway down the page to the "Get started now" box. In the Upload a GPS file section, navigate to the file that you want to convert. Then, select an output format. Available output formats include the following:
Google Maps
Google Earth
JPEG Graphic
PNG Graphic
GPX File
SVG Drawing
Plain Text
Elevation Profile
The site also has detailed pages for different files. For example, you can go to the "Convert a GPS file to plain text or GPX" and upload up to three files that you want to convert. Or, you can paste the data that you want to convert, or copy and paste the URL of the web page. You can add information like estimated fields and DEM elevation data. You can also designate how you want the text broken up (tab, semicolon, comma, etc.) and the output units.
This section also has advanced options, including Track and Waypoint options. Once you are done setting your parameters, press the Convert button to start the conversion.
GPS Converter
Another good program is the GPS Converter MC and Renox. This is technically a European program, but you can download it from both the author's and third-party websites. This program is free to try. You can do up to 10 conversions for free, but the full version costs about $50 as of June 2011. That price, however, is only a one-time fee.
What's nice about this program is that it supports a wide variety of formats. For example, it supports the following input formats:
GPX
KMZ
SDF
RTE
CSV
KML
OV2
This program has a really nice interface, and it's not web-based. You can download it to your computer and access it from anywhere, whether you have Internet service or not. There are individual tabs for Waypoints, Tracks and Routes so you can easily and quickly see this information. All of your output formats line the right side of the screen. You simply click the right button for the format. Then, you have the option of saving the file as a new file.
GPSBabel
Another desktop program is GPSBabel. Like the GPS Visualizer, this program is completely free to use. The authors just request that you give them a donation. Unlike the other programs, GPSBabel works on a variety of operating systems, including Windows, Linux, Mac and FreeBSD.
The interface of this program is extremely simple. You select your input information, including the file or device that you are pulling the information from, and the format of the information. Then, select your options: waypoints, routes and tracks. You can select all three if you want to.
Next, select the file or device and format of the output information. If you want save your information directly to a particular device, select it from the list. Once you are done, click Apply at the button. No matter what operating system that you are using, the setup is pretty much the same.
Another nice feature of this program is that it's available in different languages, including Spanish and German. This program works with popular devices like Magellan and Garmin, and a variety of map programs, including MapSource, Google Maps and MTK Logger.
As you can see, you have quite a few options for GPS map conversion software programs. Since most of these programs are free or have free trial downloads, you can experiment with all of them and see which one works best for you.
References