Using the Garmin Nuvi 255W for Geocaching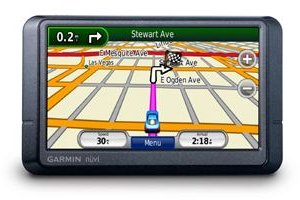 Using the Nuvi for Geocaching
The Garmin nuvi 255W is an inexpensive car GPS system with a 3.81 wide screen. It's relatively small for a car GPS unit, only measuring 4.8 inches wide by 2.9 inches high by 0.8 inches deep and weighing only 6.1 ounces. The unit can easily fit into a jacket pocket or backpack if you want to do more than just navigate around traffic cones.
In fact, one of the new trends is to use the Garmin nuvi 255W for geocaching. Geocaching involves inputting coordinates into your GPS device and searching for a hidden treasure. While the treasure may just be toys or a pencil, the hunt is a lot of fun.
The allure of using the nuvi 255W for geocaching is that you don't have to buy two separate units. You can use one unit for two different jobs: driving and geocaching. Before you can do this, however, you have to get the right software so you can upload cache information and waypoints.
Transfering Data
GeoBuddy and GSAK are two sites that allow you to transfer geocache coordinates and waypoints to your device. You can try both of these sites for free for a limited time period, but you must purchase them after this time period expires.
GeoBuddy is a software program that you just purchase for a flat fee, and it is for strictly uploading the data to your nuvi. GSAK, on the other hand, is a website, and you must register for the site to use the full features. GSAK does more than just transfer data to your nuvi 255W. It also manages that data and converts the data to different mapping formats. You can even output your mapping data into formats like PDA or HTML.
Uploading Data to Your Device
Once you have your software program, you need to locate a cache. Geocaching.com is one of the most popular geocaching sites on the Internet. It has thousands of caches all around the world. Most of the products on the site are free, but you do have to create an account. You can also sign up for a premium account for a fee.
If you plan on doing a lot of geocaching, the premium membership may be worth the $30 yearly fee. This gives you access to the Pocket Query feature. This feature allows you to input information like your location or types of caches that you are interested in, and you receive emails about these caches. You receive information on up to 1,000 caches per day.
This is where organizational software like GSAK can really help. They organize the caches based on certain parameters, eliminating the need to wade through all the available caches. You can also set up filters when you set up your query. For example, if you only want to see active caches, then you would select the "Is Active" option. Once you select a cache, you can then start navigating to the cache with your nuvi.
Problems with the nuvi 255W
There are some major problems with using a car GPS system for geocaching. First of all, the unit is not waterproof. If it starts raining, you need to quickly protect the unit. You should bring some type of waterproof covering. If not, you'll probably have a broken GPS unit by the end of the trip.
Another issue is that car GPS systems don't have replaceable batteries. If the unit goes dead while you are in the middle of the woods, there's no way to replace the batteries, and the batteries only last for about four hours. If you are planning on an all-day geocache adventure, your nuvi's going to die before the adventure is done. You either have to walk back to your vehicle and wait for the unit to recharge. Or, you can try to figure out where you are going without the unit.
The latter is not advisable, especially if you are not on a known trail or if you are not on a trail at all. If you do plan on using your Garmin nuvi 255W for geocaching, consider bringing a backup unit. You can get a cheap hand-held GPS unit that you can take with you for a backup.
In fact, the inexpensive GPS unit may work just as well as the nuvi. Car GPS systems aren't as accurate as handheld units. They don't have an internal compass to direct you where you need to go. You also can't zoom very close into an area to get a better look at it.
If you do still plan on using your nuvi 255W to go geocaching, charge the unit before heading out into the woods, and bring a compass to help you get to your destination.
References
GSAK (Geocaching Swiss Army Knife)
Geocaching.com nuvi forum.
GeoBuddy geocaching software for your Garmin nuvi 255w
Image from Amazon.com