The Best Geocaching Dog Collars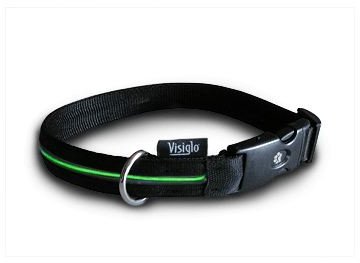 Illuminated and reflective dog help you monitor your dog while you are on a geocaching trip together. These collars are also ideal for other outdoor activities such as hiking and simple dog walking.
Visiglo Lighted Dog Collar
When you are taking your dog out for outdoor activities such as geocaching, there is a possibility that you will find yourself out in the dark. This is why illumination is important for the safety of both you and your dog. For a more convenient lighting option, you can use this battery powered dog collar that is illuminated. It is designed to last long in terms of battery life and performance. This collar is water resistant but it is not waterproof, so keep that in mind if you want to protect the electronics in it from the elements.
Hunter Nylon Collar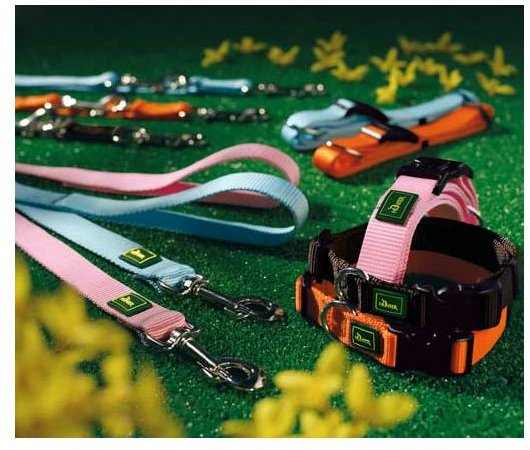 Nylon is a great material for dog collars used for outdoor activities because they are comfortable for your dog while providing you with solid control thanks to its strong nature. This nylon dog collar is enforced with an aluminum clasp that makes it stronger and more resilient. This is ideal if you have a highly active dog. The openness of the outdoors can inspire your dog to be more active, so this dog collar gives you total control while giving your dog a comfortable outdoor experience. You can buy the small collar for $14.85, the medium collar for $16.51 and the large collar for $18.16.
Dog eLites Sports Reflective Flashing LED Collar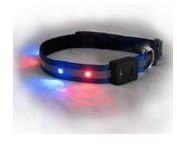 If you combine the two previous collars, you will end up with this one. It is a nylon collar that provides strong security and a comfortable fit for your dog while providing illumination, thanks to the flashing and reflective LED lights. It is not just useful during your geocaching trip, it also looks cool and fun. You get a choice between colors like royal blue, black, red, sage green and amethyst purple. You can buy it for $24.99.
Spot the Dog Collar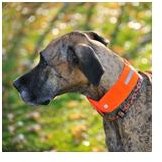 It is easy to lose sight of your dog outdoors during your geocaching sport activity, especially when it has already gotten dark. This is why a reflective dog collar is quite useful. This lightweight nylon dog collar features a soft and comfortable design that is water resistant, machine washable and quick drying. It has an orange 3M reflective strip, giving it high visibility when light is dying. It is also easy to remove or put on thanks to its Velcro fastener. Its edges and seams are all top stitches, preventing it from unraveling even with rugged use. Prices start at $11.95 and increase as sizes increase. The biggest one is XX Large for $15.05.
Nite Dawg LED Dog Collar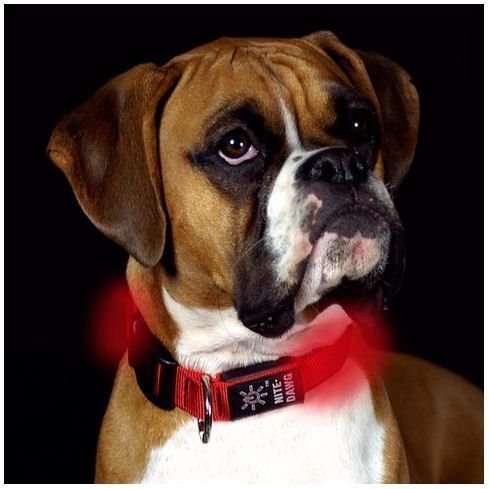 Another recommended light-up dog collar is the Nite Dawg LED collar. It is made of skin-friendly, quality nylon material that is flexible and comfortable to wear. It is designed with light-transmitting polymer core with 100-hour battery life to keep your dog visible at sundown when you're still out hunting for geocaching treasures. It is available in orange and red with three different sizes to choose from. You can get this dog collar from Niteize.com for $17.49.
Conclusion
These five geocaching dog collars are recommended products to keep your pawed friend visible from quite a distance at night. High quality materials used and attractive designs mean that these collars also work well as normal collars during daytime. With these products, you and your pet can enjoy day and night searching for geocaching treasures without losing each other.
References and Image Credits
Visiglo, https://www.visiglo.com/Visiglo-lighted-dog-collar.html
Hunter Nylon Collar, https://www.hunter.de/index.php?site=cms_neuheiten_Templates/tmp1_detail.php&id=47&lan=en&loc=neuheiten_produkt&useTable=cms_neuheiten
Dog eLites Sports Reflective Flashing LED Collar, https://www.dog-e-lites.com/lighted-dog-collars/nylon-classic-collection/1.htm
Spot the Dog Collar, https://www.spotthem.com/products.php?pid=1&sid=collar
Nite Dawg LED Dog Collar, https://www.niteize.com/products/nite-dawg-led-dog-collar