Which Solar-Powered Bluetooth GPS Device Best Suits Your Needs?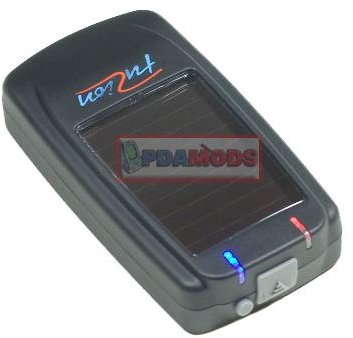 There are only a few of these devices currently on the market: The f-tech 2.3MR, the i blue757 and the Fuzion Infinity. And while each claims to be solar powered, actual use of the sun to charge them fully could take as long as a week charging 12 hours a day. While this is probably unnecessary, the charging rate and capacities of these devices substandard a short-term charge should allow sufficient use for intermittent tracking.
If you are looking to use one of these devices in an off-grid location for tracking purposes it might be better to invest in a SPOT GPS system that can upload your location as well as track it. If you are choosing a device like this to supplement an older cell phone that has Bluetooth but no GPS, then it might be right for you.
f-tech 2.3MR (3 out of 5)
The f-tech 2.3MR uses a lithium ion battery that is supplemented by an auxiliary solar power input that boosts the run time a full 50%. It comes with a 51-channel all-in-view tracking system that is WAAS enabled with a toggle to disable it if you wish. It can be used indoors and out as well. The f-tech 2.3MR starts up in 36-37 seconds with a one-second reacquisition time. The unit is accurate within 3 meters in any condition. The red and blue LED lighting indicators track both GPS fix and Bluetooth connection. The Bluetooth is Class 2 with an effective distance up to 30 meters.
i-Blue 757 (4 out of 5)
The i-Blue 757 is comparable to solar-powered Bluetooth GPS devices like the f-tech in terms of accuracy and indoor-outdoor use but outshines the f-tech by offering a staggering 100 hours of battery life in direct sun. It remains in permanent standby mode when in the sun so there is only a one-second start-up time. When it is not in the sun, the start-up time is about 33 seconds. The 32 channel GPS is accurate within three meters. It should be noted that this unit cannot transfer saved data over the Bluetooth connection; it must use a USB connection to do so.
Fuzion Infinity (1 out of 5)
The Fuzion Infinity claimed to be the first Bluetooth-enabled solar-powered GPS unit, and the specs back this up. The unit takes two minutes to start up and 8-12 seconds to reacquire a signal while only offering 30 hours of battery life with the lithium ion/solar power combination. The accuracy is only within seven meters, and there have been reports of the software in this unit failing. This one may have been the best of its time, but the time has passed.
References
fTech Corporation. https://www.f-tech.com.tw/modules/publisher/item.php?itemid=6
PDAMods.com. https://www.pdamods.com/proddetail.asp?prod=A1TTBTFZINSOL
Semsons.com. https://www.semsons.com/i757prosobtd.html
Image courtesy of pdamods.com