Top 5 Best TomTom GPS Portable Navigation Systems: Basic to High End
TomTom XXL 550TM
The TomTom XXL 550TM portable GPS, designed mainly for use in vehicles, comes with a whopping 5-inch wide screen. While nearly all GPS units give the buyer the option of whether they would like lifetime traffic and maps updates, we have always chosen the option with both. This normally jacks up the price quite a bit but with the 550TM the price is still firmly middle-of-the-road as far as GPS goes, at around $174.85.
The 550TM comes with those traffic updates, preloaded maps of North America, and boasts an "IQ Routes Technology," which is TomTom's fancy way of saying it figures out the quickest, most economical route for you. It even suggests which lane to use, which is a lifesaver when driving through congested and confusing city interchanges like Chicago's Loop.
While the TomTom XXL 550TM is lacking many trendy features like Bluetooth or an FM transmitter, reviewers actually praise the simplicity and ease of use afforded by the less-cluttered menu options. Reviewers also often say they like the TomTom's routing system better than the way other brands like Garmin route.
TomTom XL 350TM
Want a simple user interface? Not too many buttons, but just the right ones? Then take a look at the best TomTom GPS for those looking for an easy-to-use portable GPS system, the XL 350TM. This TomTom has a 4.3-inch screen, lifetime traffic updates and maps, and comes preloaded with over 7 million locations of restaurants, hotels, gas stations and more.
What you will get is TomTom's well-regarded intelligent routing system and lane guidance system to deal with hairy traffic, all on a bright, crisp screen. What you won't get is Bluetooth, a music player, or other fancy gewgaws often found in the higher end GPS systems.
The TomTom XL 350TM costs about $144.95.
TomTom XL 335TM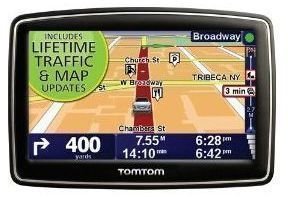 For a more inexpensive option, check out the TomTom XL 335TM for around $149. You will move down to a 4.3-inch widescreen, which is still a good size for viewing. It comes preloaded with maps of Canada and the U.S., and this model includes lifetime traffic and map updates.
Like other TomTom devices, the 335TM utilizes IQ Routes Technology to calculate a route that is a smart balance of quickest and shortest. Reviewers say TomTom has the best map system out there, and it is no surprise: TomTom has their own mapping company, Tele Atlas. The 335TM's Advanced Lane Guidance feature helps out in sticky situations, re-routing you around traffic and confusing interchanges.
TomTom GO 2505TM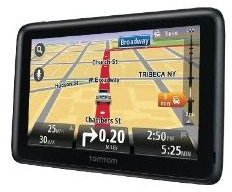 The TomTom GO 2505TM, like the 550TM discussed on the first page, also comes with a 5-inch viewscreen and lifetime traffic updates and maps. Reviewers praise these wide screen models for being easier on the eyes, especially in the summer when there is more light and glare to contend with, and for being clear with excellent graphics.
The GO 2505TM has a slimmer design than previous models and a bright, easy-to-use touchscreen. It also comes with Bluetooth enabled, which allows you to use your TomTom with your Bluetooth mobile phone. However, this TomTom GPS system does not have many other bells and whistles that some people are looking for, such as an FM transmitter, memory card slot, or music player. In spite of that, the GO 2505TM earns kudos for its intelligent routing system, with many people saying it gets them where they are going faster than any other GPS.
The TomTom GO 2505TM is about $299.
TomTom ONE 130S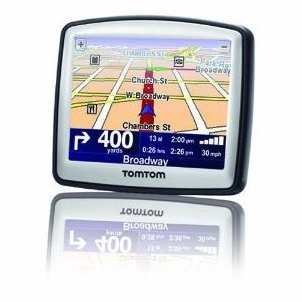 For under $100, the TomTom ONE 130S GPS system may do the trick. While it's got only a 3.5-inch screen (which just a few years ago was the standard), the ONE 130S still comes preloaded with millions of points of interest, a folding car mount, and legendary intelligent navigation for perfect routing every time.
The "S" in the 130S stands for "spoken," as in "spoken driving instruction." That is right; the TomTom ONE 130S will speak your directions for you, freeing you up to watch the road instead of a GPS system.
While reviewers are divided on the 130S's ease of use — some think it's easy to get the hang of, others think it takes a little time — they generally praise the simplicity and quality of the navigation and consider it one of the best TomTom GPS systems, albeit bare-bones.
Conclusion
Each version has pros and cons, but TomTom offers an option for whatever you are seeking.
References
Article:
Best TomTom GPS Device of 2011 - 2010
amazon.com
Images:
amazon.com