What is the Best GPS System for Cars? Guide to Top Models from Garmin, TomTom & More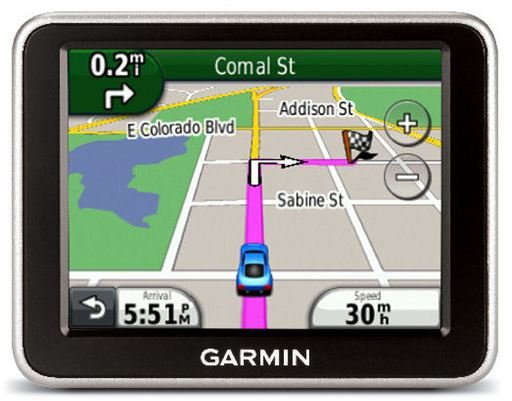 GPS Systems for Cars
The use of GPS navigations systems for cars has grown vastly over the past few years. Everyone from delivery drivers to the person who rarely leaves their hometown desires one to navigate their drive with. With the huge demand for the type of GPS systems in use by cars, the price has also dropped.
Many of the new vehicles come with them already installed. For the older models though, drivers purchase removable units that they can use in any vehicle they drive. With all of the models available, what is the best GPS system for cars? Is one brand better than another? Does spending extra money really give that many more benefits from the device? Check out this guide before buying a GPS and find out.
What is the Best GPS System for Cars by Garmin?
The Garmin Nuvi 255W is a budget priced portable GPS system that is perfect for use in cars. It features a 4.3" touchscreen, only weighs about 170 grams, and comes with a car charger and car mount, and a helpful one time map upgrade to ensure you have the most up to date maps for your GPS unit. The Garmin Nuvi 255W is easy to use and would make a great first time GPS navigation system for users new to using GPS devices.
The Garmin Nuvi 205W is a similar unit as the one listed above, but it is smaller and costs less than the Garmin Nuvi 255W model. This makes the Garmin Nuvi 205W a more budget friendly GPS unit. This model has a 3.5" touchscreen and includes the same items such as a car charger, car mount and one time map upgrade. This model can be found on sale for under $100. This makes it one of the best in value and features for the price.
What is the best GPS system for cars by Garmin? That is really a personal preference, but one of their newest GPS devices, the Garmin Nuvi 3790T is amazing. This model is slimmer than an iPhone, offers voice recognition and even 3D maps. The touchscreen for the GPS has a 4.3" display, and also comes with a charger and car mount for the Garmin Nuvi 3790T. This is the most expensive device listed here, but over time the price will drop.
What are the Best GPS Systems for Cars by TomTom?
Garmin GPS devices are really the top ranked devices right now. However, TomTom does have some strong contenders to offer into the GPS race too. Here are the best GPS systems for cars by TomTom.
The TomTom GO 740 Live is perhaps the best TomTom GPS device that has been released yet. It is also one of the most expensive options costing around $300. The price will eventually drop, but for right now, it is on the high end. The TomTom GO 740 Live features a 4.3" touchscreen, sophisticated navigation features that uses Google Local Search, and offers other helpful options such as weather forecasts, map share, IQ routes, voice commands, Bluetooth hands-free calling, real time traffic data, daily map updates and much more. For the price, you really are getting features that are worth it, if you can afford a GPS device that costs this much.
The TomTom GO 630 is another one of the best GPS systems for cars by TomTom. This device also has a 4.3" touchscreen display, as most of the newer GPS units for cars have. It also offers a map upgrade for free, and also the ability to download one from another TomTom user. This GPS system for the car also offers Bluetooth hands free calling, which is quite convenient when driving. One of the fun features that the TomTom GO 630 has is that you can download fun voices such as Ozzy Osbourne and Homer Simpson. You can find this device on sale usually at around $170. This is a great option on the mid-range of a budget and still includes many of the features that you would want out of a GPS device.
What are the Best GPS Systems for Cars?
Overall, the best system really depends on what you want out of your GPS device for the car and how much you are willing to spend on the GPS system.
Out of the systems available for Garmin, the Garmin Nuvi 3790T is the best GPS system for cars by Garmin. Out of the models available by TomTom, the TomTom GO 740 Live is the best bet.
If the prices on either of these models are too high right now for your budget, add it to your Amazon Wishlist and check up on it every few months. They go on sale throughout the year on different stores, so if it is something you really want, just wait until it is in a price range you can justify spending on a GPS navigation device for your car.
References
Faustus, Robert. "Garmin nuvi 3790T Review", https://www.brighthub.com/electronics/gps/reviews/90137.aspx
Source: author's own experience.
Image courtesy of Garmin.