GPS Speedometer: Top Devices That Are Available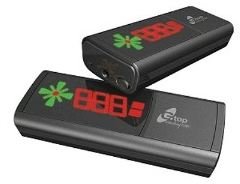 1. Globaltop HG-100 Bluetooth HUD
The Globaltop HG-100 Blu
etooth HUD is a modern and advanced GPS speedometer that has lots of positive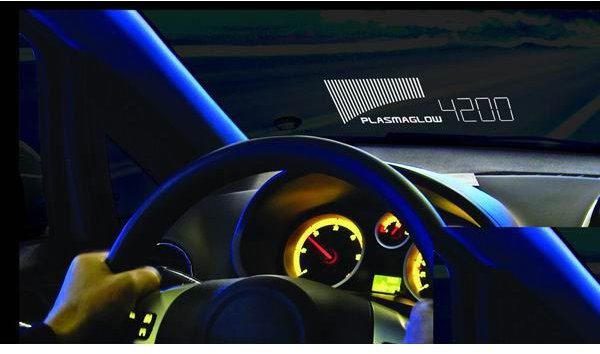 reviews and comments on the web. It has a large LED display and the digits appear very bright, and clear on the screen. The speedometer features Head Up Display (HUD). It is a technology that has mostly been used in airplanes only. What it does is that it allows the users to look at the information, without looking away from their viewpoints. Look at the picture at right and see how information is displayed in front of user's viewpoint.
Another nice feature of this device is that it is powered both internal rechargeable batteries and car's 12 volts battery. This makes it possible for users to use the speedometer away from their car to display speed information on a smartphone, or a laptop while cycling, boating or trekking. The battery life is 7 to 9 hours, which is very good. The speedometer reads out speed in MPH and KPH, and it has a function switch to set speed units and speed alerts. The speed alert function is very useful and you can configure a maximum speed when the device should alert you. The speedometer also has a compass display that indicates E, W, N, S and intermediate points. This is another plus point in the device, as this makes your navigation more precise and a lot easier.
There is a power on/off switch on the speedometer. You need to turn on the device in the car; it doesn't turn on automatically when you start the car. It would be nicer if it could power on and off with the car's ignition. There are 3 LED lights on the device. These show power, GPS and Bluetooth statuses. The installation is very easy, and is a simple do-it-yourself task. The speedometer costs US $82.99, and you can buy one at dealextreme.com.
Speedhut GR338-GPS-10
The last speedometer in our list is the Speedhut GR338-GPS-10. This is a round-shaped analog speedometer that looks similar to those fitted in most cars. It features 5 Hz update for accuracy and fast needle response. In addition to this it has an odometer, a mileage reset button, and a LCD screen in which it shows elevation and current speed of the vehicle. The maximum speed the speedometer can show is 260 MPH, and a 15-inch long antenna cord comes along with it for enhancing the GPS signals. You can easily hook this speedometer up in any car – old or new, without a problem. It is available at speedhut.com, for US $259.95, and comes with a lifetime warranty.
Garmin Forerunner 201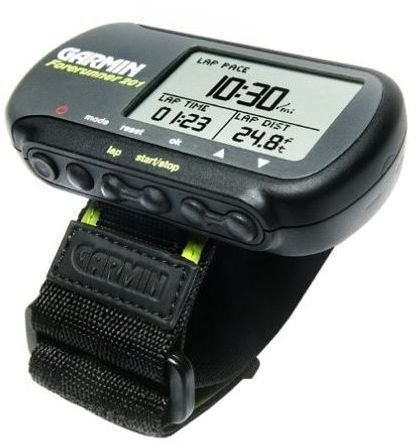 The Garmin Forerunner 201 is a great compact pedometer, especially for walkers or runners. It can be worn on an arm, and it tells you how fast you are moving, how far you've gone and what direction you are heading. It has a large LED display and the numbers appear large enough on the screen, due to which reading information while moving is very easy. The device also charts your routes as you move and points you back to the starting point.
Other features of Garmin Forerunner 201 GPS include timer mode, which displays elapsed time and distance, history mode that displays your workouts by day, week or total, and map mode which displays workouts on a map. Users can set distance, speed and time alerts, and the device also lets you download data to your computer, which appears in the form of graphs, bars on the provided software. The speedometer is durable, waterproof, and has a rechargeable battery that works efficiently. People who have used this device have given it 5 star rating because of its handy features and easy to use design. It is available at amazon.com for US $171.99. You can find more about Garmin Forerunner 201 GPS pedometer in its user manual, downloadable from this link.
Conclusion
These are some of the best GPS speedometers available on the market and really worth considering. They are great products for travelers, bikers, walkers, runners, explorers and boating enthusiasts to see speed, distance traveled, elevation, time elapsed, and other useful information. GPS pedometers and speedometers come in different prices and specifications, as you've seen above. If you will be buying one, you should choose which suits your needs and budget.
Photo thanks to cars-10.com, kaboodle.com, amazon.com, speedhut.com
References
Garmin Forerunner 201 GPS Speedometer, http://www.amazon.com/Garmin-Forerunner-201-Waterproof-Running/dp/tags-on-product/B0000CFYCH
Globaltop HG-100 Bluetooth HUD GPS Speedometer, https://www.dealextreme.com/forums/Forums.dx/Forum.13935
Speedhut GPS Speedometer GR338-GPS-10, http://www.speedhut.com/custom_gauge_description-gauge_type-Speedometer_GPS-auto_number-830.htm