GPS Cat Locator Collar: Buying Guide and Top Recommendations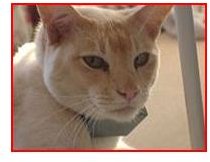 Buying Guide for a GPS Locator Designed for Felines
The top recommendations for a GPS cat locator collar meet the criteria we've developed to make them effective tracking devices for the unique characteristics of our feline friends. But in actuality, you don't have that many options since to date, there are really only two products designed exclusively for this purpose.
First off, the devices affixed to the cat locators have to be very small and light so they don't encumber the cat or provide the unfortunate opportunity to get the thing caught up or snagged anywhere the cat might travel to in its daily patrols. GPS dog collars are too big and bulky for cats. Secondly, it has to be waterproof and durable to withstand the elements. It must have a long-battery life, preferably with an easy means of recharging it so you're not hassled with constantly wondering whether it's even on. And perhaps most important of all, the device better be technologically effective in locating the cat when you're worried sick about its whereabouts. After all, you're purchasing the GPS cat locator collar to gain a little peace of mind and to keep your cat from getting into trouble, no matter how many lives it has left. Incidentally, if you want to see your non-GPS pet tracking options after reviewing the products below, be sure and read this review of the Loc8tor for Finding your Lost Cat.
Pawtrack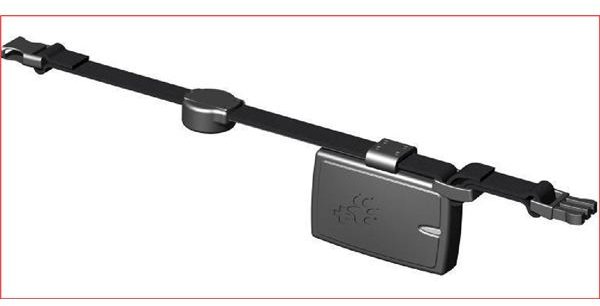 The Pawtrack GPS tracking device is durable, weatherproof, small, light, and a well-designed product made in England. The little box that goes on the collar measures 5.5cm x 3.5cm x 1.8cm. It only weighs 50 grams which is 1.4 ounces. The small receiver box on the collar contains a GPS antenna, circuit board, modem, and the battery power source. That little black box transmits a signal every ten minutes from wherever the cat is roaming on the Pawtrack website. Pet owners can log onto that website to discover approximately where little wandering Felix is at any given moment. Some users might also find it captivating to see exactly where their pet has been over a given timeframe with its history function. There's a lot of positive feedback on the effective performance of this product which was essentially the first of its kind.
It costs £99 (roughly $146) at the time of this writing, which is about a hundred less than the product by almost the same name described next. But there is also a £7 ($10) monthly subscription fee, that the next product doesn't have and if you add that fee up, they're in the same ballpark. For more details along with a link to the Pawtrack website read our review at Pawtrack the GPS Cat Locator.
PawTrax PATmicro™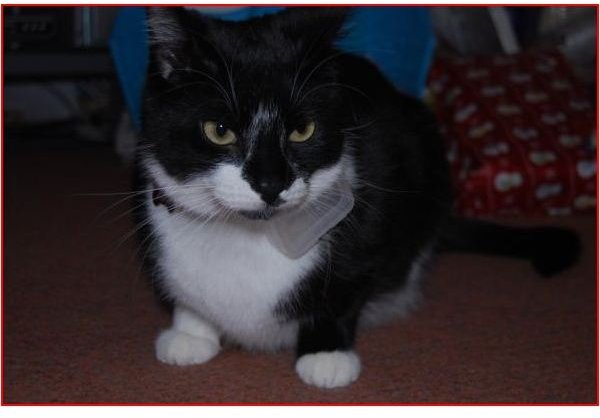 With the PawTrax PATmicro™ GPS cat locator collar, you can track your cat anywhere on your computer. The PATmicro™ is the device to go with for cats and it will work virtually anywhere in the world as long as a suitable SIM is used (2G or 2G+3G SIM). They'll have more info on that at pawtrax.co.uk. A matchbox is bigger than the collar unit as it measures 45mm x 34mm x 21mm, and it weighs just 25g - or 50mm x 40mm x 24mm, 40g with the waterproof case which slides onto the collar. It utilizes both SatNav (GPS) systems and mobile phone (GSM) technology to help you find your cat. Real-time tracking allows you to hone in on its position no matter where it is. They supply a soft neoprene pouch to slip onto an elastic safety collar for the cat.
As far as performance, this item has three locating options:
FIND operates by sending an SMS to The PATmicro™ from your mobile phone. You receive a return text with the coordinates and a Google Maps link (obviously your phone must have internet access).

TRACK is used when you're actively searching because when you send this request to the PATmicro, you'll be updated with

your cats location on your phone every ten minutes.

SECURE is used to set up a safe zone where your cat is allowed to roam and when it wanders out of it you're automatically alerted.
As for pricing, there's no subscription, which is a bonus. It retails for £169.00 which is roughly $269. For comparison, check out the prices on equivalent dog collars by reading Top GPS Dog Collars: Reviews and Buying Guide. You'll find the range runs from $75 to $430 depending upon features and coverage. We will continue to follow developments in cat tracking GPS technology and let you know when new products become available.