Top 5 PDAs & Built-In GPS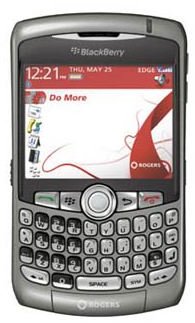 BlackBerry Curve 8310
The BlackBerry Curve 8310 adds GPS capability to the already sleek and impressive messaging smart phone. The device keeps all the messaging capabilities and the design of its previous model and adds GPS capability. The BlackBerry Curve 8310 is quite a
capable navigator, but the trade-off is that for the built-in GPS you give up WiFi. That is fine if you particularly need this PDA for navigation purpose.
The BlackBerry Curve 8310 comes preinstalled with location-based service (LBS) or GPS software. AT&T offers LBS called TeleNav GPS Navigator. The software includes local search, voice-guided driving instructions, and color maps. You can find more about TeleNav GPS Navigator in this article
Be aware that using the TeleNav GPS Navigator is not free; there are costs to run it on BlackBerry Curve 8310. Customers are allowed a thirty-day free trial to test the TeleNav GPS Navigator, and after that they have to pay. The service costs US $5.99 for up to ten trips or US $9.99/ month for unlimited trips.
The PDA's built-in GPS receiver is great for receiving through the satellite all the GPS information you need for your trips. The Blackberry Curve 8310 is overall a great PDA with GPS capability. It also supports Bluetooth and EDGE connectivity, and all the features perform extremely well. The PDA costs between US $139 and $189, and is available for purchase on Amazon.
Image Credit: thetechnotimes.com
ASUS P527
The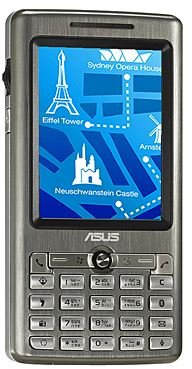 is a compact and stylish PDA that offers a lot of features including GPS, Bluetooth, and WiFi. It is not compatible with 3G but EDGE works fine for usual surfing and emailing. The phone is a touchscreen PDA by ASUS and is known for its awesome GPS functionality. The ASUS P527 looks very professional with its metal polished body and certainly appeals more to the business community than the youth.
The GPS functionality of the PDA works well. The GPS receiver is a SiRF Star III that uses high sensitivity GPS microcontroller chips for excellent performance. The PDA comes with free navigation software and one can easily find what he is looking for. The other software included with the PDA has the ability to capture images with the camera and append them to a GPS route. The ASUS P527 also features a travel log program that charts your movements using GPS. The travel log program starts drawing a line of movement, and it looks very interesting on the screen.
The ASUS P527 provides excellent GPS experience for its users; it comes with the price tag of US $568.99.
Image Credit: trendygadget.com
Garmin iQue 3600 PDA
The Garmin iQue 3600 PDA features a large high-resolution screen, fast processor, and an integrated GPS receiver that includes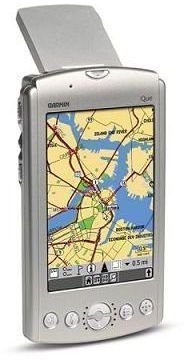 extensive and detailed maps. The GPS receiver takes special advantage of the Department of Transportation's wide-area augmentation system (WAAS) and FAA to improve the accuracy of the GPS plotting. And beyond simple navigation, the PDA's supplied software offers traffic restrictions and directions, as well as five million points of interest.
The Garmin iQue 3600 comes with lots of programs for use with the maps and the GPS. The programs are integrated with the date-book databases and the address book. When you select a contact's address, the PDA will plot a route to that location. Other applications let you attach a destination to a calendar entry, calculate travel times, distances, record your route, and find points of interest. The Garmin iQue 3600 comes preinstalled with free navigation software, so you don't have to pay to use GPS.
The Garmin iQue 3600 offers Bluetooth and WiFi connectivity, and the PDA's built-in GPS integration is very solid. If you want a PDA for navigation purpose that offers accurate and fast navigation, the Garmin iQue 3600 is for you. It has the price tag of US $545 and is a very good choice for travelers.
Image Credit: Garmin iQue 3600 PDA
Navman PiN 570
Navman is known for making the best GPS technology. The Navman PiN 570 PDA is their creation and incorporates a full GPS device. Because it is made by Navman, it is first a navigation device and then anything else! The device's GPS navigation system guides you
with high quality point-to-point maps and voice directions at the press of a button. Back-on-track rerouting, POI database, multiple route planning, and a choice of 2D and 3D map perspectives are some of the features packed in the device's navigation software. If traffic is bad, you can tell the device to change your route and keep you moving.
Navigation instructions are very easy to follow and don't distract. Different routing methods can be used such as shortest or quickest. You can even determine the amount of freeway usage, and when no speed camera warnings are included, you can set your own speed limit warning and set audio alerts to be either female or male. The Navman PiN 570 lacks Bluetooth, WiFi connectivity, but if you only need to use a GPS, this device is worth considering. The Navman PiN 570 has a cheap price tag of US $275 and comes with lots of accessories, including a leather-feel carry case.
Image Credit: fingertech.co.uk
HP iPaq HW6515
The HP iPaq HW6515 comes with a wealth of features emphasizing ease of communication, computing, and interaction. The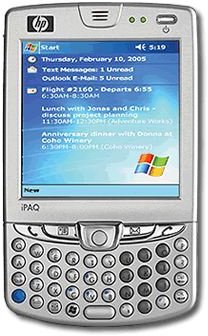 device features a comprehensive MapKing navigation application. MapKing is great GPS navigation software that offers great 3D mapping capability. Automatic redirection, turn-by-turn driving instructions, favorites list of POIs – all make for an awesome navigation experience while on the go.
The MapKing application can query a map with 9 different intelligent ways. You can query the map with town, city, keyword, latitude, longitude, crossing, index, or point of interest. This makes browsing the map very easy and fast. The MapKing offers voice assistance in 7 different languages including English, Malay, Mandarin, Cantonese, Indonesian, Vietnamese, and Thai.
The HP iPad HW6515 has regular features like Infra-Red, Bluetooth, GPRS, EDGE and GSM (Quad Band). The device costs US $489 and is a really a good choice, if you want to use it for either business or personal purposes.
Image Credit: mydigitallife.info
Conclusion
These were some of the best GPS-enabled PDAs, or smart phones if you want to call them t hat. There is a slight difference between a PDA and a Smartphone, but in this article we are not going to look at that.
Good PDAs or smart phones with GPS capability are hard to find, and not enough information is available about them. The PDAs listed above are of high quality, comprise high quality GPS receivers, and also offer user-friendly navigation software. Although all the above-listed PDAs are worth spending money on, I personally like the BlackBerry Curve 8310 more because of its decent, stylish design and reasonable price.
Have you got any of the above PDAs? How has your experience been with it? Any pros or cons? Please leave a comment below, letting us know what you think about this device…