Magic Bullet Express Review
Opening the Box: What's Inside?
Maybe you're looking for a gift for yourself or a friend, or you just want to buy a new kitchen appliance. This Magic Bullet Express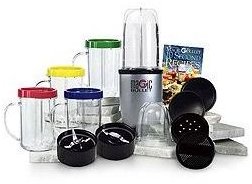 review begins with a look at what you get when you open the box. The unit is about 13 inches tall and the whole thing weighs just under fifteen pounds. Ads for this handy kitchen helper promise 17 pieces, but it actually comes with 18:
1 Power base
2 Blades
2 Bullet Cups (small and large)
4 Mugs and 4 Lip Rings
2 Tops (for shaking and steaming)
2 Lids (for storing leftovers)
1 Recipe Book
One of the blades is a cross blade that will chop, blend, and grate everything from smoothies to onions and cheese. The other one is a flat blade that whips your foods into creams or grinds coffee beans or spice seeds. Not listed as a separate part is a gasket in the bottom of each blade.
The shaking/steaming lids can be used to steam your foods in the microwave prior to blending or as a shaker food dispenser - think cheese or spices.
All parts (except the base, of course!) are microwave safe and top-shelf dishwasher safe.
The Magic Bulletin Express in Action (5 out of 5)
For our Magic Bullet Express review, let's start with the way you pack the cups. This product is unlike a blender or food processor, where the cup sits on the base and you drop the food in from the top. With the Magic Bullet Express, you hold the cup in your hand and load it, and then you screw it onto the base. The Magic Bullet Express operates best when it's used in pulse mode in eight to ten second bursts. This is unlike other processors that you turn on for thirty seconds or more.
Most people love the homemade soups they can create instantly from leftover vegetables, milk, cheese, and flavorings. The manufacturer compares the ten seconds it takes to pulse out a soup to the ten seconds it takes just to open a can of store-bought stuff.
Users rave about the smoothies: you simply drop ice and fruit into the cup, along with a small quantity of juice, and voilà! You're drinking something homemade, healthy, and infinitely less costly than a product you'd buy at a juice bar.
You can also use it to make sandwich spreads such as tuna salad or deviled ham, bean dip, flavored scrambled eggs, or - how's this for healthy and natural? - chicken and rice baby food.
User Complaints (2 out of 5)
All users loved the results they had from using the Magic Bullet Express. But be warned about almost equally dissenting opinions from consumers about this product's durability. Many complained about the plastic disk on top of the base cracking after about six to eight months of usage. Others found the gasket no longer functional.
The company, as well as satisfied users, have offered suggestions such as remembering to pulse in short bursts only (to avoid overheating), not overloading the cup, remembering to scrape or shake contents away from the cup sides during processing, and not leaving the bottom with the gasket screwed into the cup when not in use.
Since you might find it difficult to make a purchase decision based on mixed Bullet Express reviews, I visited the national website of the Better Business Bureau. The company, Homeland Housewares, based in Pacoima, California, has an A+ "exemplary" rating. In a three-year period, there were 131 complaints, all of which were answered: in 30 cases a full refund was issued; 15, partial refund; 74, company agreed to perform according to contract; 1, refused to make adjustment; and 11, refused to adjust, relying on terms of contract.
Recommendation (3 out of 5)
My ultimate recommendation is to buy this product and save your receipt. I can't give it a 5-star rating because you're buying it knowing you might have problems with it. If you experience difficulty, contact Homeland Houseware's customer service department; and if the company doesn't provide satisfaction, try the Better Business Bureau.
Image: Amazon.com (as linked above).