Ninja Food Processor: Is the Master Prep Right for You?
Features (5 out of 5)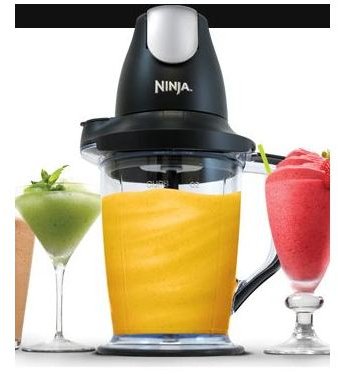 The Ninja food processor Master Prep Pro package includes three processing containers: a 48-ounce pitcher, a 40-ounce pitcher and a bowl, all with non-slip bases. Each container includes a splash guard to use while processing food and a storage lid, so that you can keep the food or beverage in the container rather than transferring it to yet another container. There are also separate blades for each container, so you can chop, blend or puree several different items without stopping to clean the blades or the container. The blades pop right out of the containers as well.
The crux of all of these objects is the power head, which fits onto each splash guard.It comes with a recipe book as well that provides ideas for beverages, deserts, dips, soups and more.
You can use the Nina food processor to blend drinks and smoothies, chop and crush ice, make snow cones, and mince or chop everything from meat and fish to cheese and vegetables.
Screenshot by author courtesy of Amazon.
Ease of Use (5 out of 5)
This food processor made by Ninja is very easy to assemble, clean and operate. All you have to do is place the items into the container of your choice, pop on the splash guard and set the power head on top. It only fits one way, so if you don't have it on correctly, it simply will not work. Plug in the power cord attached to the power head and depress the pulse button. You can use short pulses for course chopping and longer pulses for blending, mincing and pureeing. When the food has reached the desired consistency, simply let go of the pulse button and the Ninja food processor stops processing.
The Ninja food processor containers, lids, splash guards and blades are all dishwasher safe. Since the power head does not come into direct contact with food, it is easy to keep clean. Wipe with a damp cloth or sponge if necessary, dry it off and put it away.
Value (4 out of 5)
This food processor is a very good value, especially when you consider it acts as both a blender and a food processor and provides storage containers as well. The Ninja Master Prep Pro, as described in this review is available from Amazon.com costs less than $60. It is available at retailers throughout the U.S., such as Target and Walmart as well.
Overall Recommendation (5 out of 5)
As stated earlier, this product does the jobs of multiple kitchen gadgets. It is simple to use and a cinch to clean. It stores easily and the recipe book included with the Ninja Master Prep Professional offers easy and delicious concoctions that you'll actually want to make. If you are in the market for a blender, food processor or beverage maker, the Ninja food processor should not be overlooked and is highly recommended.