ShamWow Reviews: Should You Buy a ShamWow?
The Pitch (4 out of 5)
Whether you want to buy or did buy a ShamWow, you have to love the commercial. Spokesman Vince takes us on an awesome ride showing spill after spill, mopping up cola from a rug, and even demonstrates the ShamWow as a towel swimmers cans use to dry off—or if you get caught in the rain!
Is it true that "you'll say wow every time you use the ShamWow," or do the ShamWow reviews say different?
ShamWow Features (3 out of 5)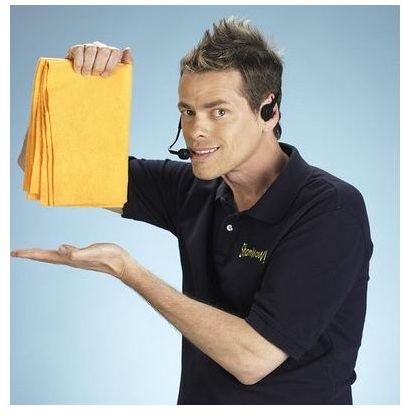 First off, I researched a few ShamWow reviews and some were full of praise where others offered mixed reviews. The ShamWow website lists the features as:
Hold 12 times its own weight in liquid
Can remove cola, wine and pet stains
Washes, dries, and polishes any surface
Doesn't scratch any surface
Machine washable and bleachable
Guaranteed to last for ten years
A pretty good pitchman
Image Credit (BeerCrusher)
Quality of Use (2 out of 5)
Instead of purchasing a ShamWow–I borrowed one from my neighbor to see what it really does. Even though most ShamWow reviews claim it will indeed mop up cola (as seen on TV), it doesn't completely remove all droplets of the cola, but it does pick up most—from a carpet scenario. If you spill cola, wine or some other wet substance on a tile or wood floor, you're better off using some paper towels. This sort of dispels the 12 times its own weight claim, because tests of cola pick up on rug still left me grabbing for a paper towel to finish the job, however, the cola stain itself was removed. Not so on pet urine stains for me though.
As far as washing and drying any surface, I also feel the ShamWow falls flat here. Because it does have a sandpapery consistency (I'll get to that later), I really didn't want to try it on an LCD screen or other surfaces such as a wood floor. It's not as effective on tile or countertops either—use a paper towel. It does perform well on carpets when it comes to drying, but washing and cleaning—I say no.
If you're a swimmer or you're wet from rain, I agree with the ShamWow reviews out there. You can dry yourself off in seconds, even your clothing, but the ShamWow is sandpapery, so it's tough and not for those who have sensitive skin.
I like that you can throw the ShamWow into the washer and the ten year guarantee is awesome. Pitchman Vince (no matter what trouble he's been in) is also fun to watch.
Value (2 out of 5)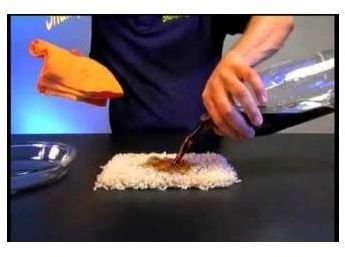 You can check the ShamWow website, but they usually offer the same deal. You get two mini ShamWows and two large for around $20. Most of the time, they offer a free giveaway like a ShamWow mop or other clean up tool, but you must pay separate shipping and handling. The initial shipping and handling for the 8 ShamWows is $7.95 and if you want that free mop, you must pay another $7.95. If you live in Alaska, tack on $2.00 more.
I couldn't find out the size of the mini and large ShamWows from the website, but if you want to use what they call, "a sponge, a chamois, and a towel—all in one," it's really great for carpets, drying yourself off, and use for boats or campers. I wouldn't want to use it on my countertop or delicate stainless steel appliances, however.
All in all, getting 8 ShamWows for $28 is a bunch of money to shell out and if you add the additional shipping for the free mop, you're really paying around $36. I'm pretty sure you can find something that is competitive in consistency and performance at Wal-Mart for a lot less.
Screenshot by author courtesy of ShamWow.com
Overall (2 out of 5)
I agree with most of the ShamWow reviews as far as its performance on carpets and it's probably something I'd use in the garage, on a 4-wheeler, boat or RV. I'd skip household appliances, delicate surfaces and your wood floor. It's cool to keep in the car in case you do get caught in the rain and if you want to clean the kids up fast after swimming, the ShamWow is a good tool.
As far as using the ShamWow for other purposes, even the video on the website shows Pitchman Vince only dragging up a spill on a tile floor. Sure it looks like it works, but why not pick up the ShamWow here Vince and really show us what it really can do? For tile or wood surfaces, it simply misses the mark.
If you absolutely must have a ShamWow, wait for your next home and garden show—they'll probably have a demonstration and you may even get a bargain price that doesn't require shipping and handling charges.