The Magic-Pro ProMini 2.4GHz Tiny Wireless Keyboard (Built-in TouchPad/Laser Pointer) Review & Buying Guide
Introduction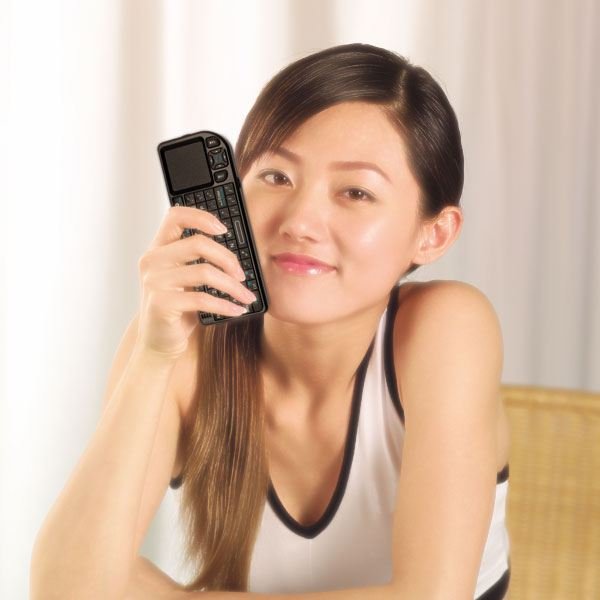 There are three key features I want to see in an HTPC keyboard:
1. Portability - the smaller the better, all-in-one or at least a keyboard and mouse in one.
2. Durability - it needs to last me a while.
3. Usability - easy to use and fast to setup.
I have tried several small keyboards that are supposed to be - according to the manufacturers - well suited for a HTPC. Finally, I have now found a product I can recommend. The Magic-Pro ProMini Wireless Keyboard, sold by Pyramid Distributions. This keyboard also works great as a wireless presenter.
Features / Specification / System Requirements
Features:
Three-in-one multi-function wireless keyboard (keyboard, touch pad, laser pen)
Uses 2.4G wireless transmitter / receiver
Built-in backlight
Multi-media control keys
Built-in rechargeable lithium battery
Full-featured mini-QWERTY keyboard
Buckle-in mini receiver
Specifications:
Dimensions: 151mm x 59mm x 12.5mm
Weight: 100g / 0.22 pound
Operating Temperature: -10 ° C - 55 ° C
Battery: Built-in lithium battery
Standby time: 500 - 700 hours
Scope of work: 30 m / 100 ft
Transmit power: Max +4 dBm
Operating Voltage: 3.3V
Operating Current: <80mA
Charging voltage: 4.2v - 5.05v
Charge current: <300mA
System requirements:
Windows 2000 / XP / Vista / 7
Mac OSX 10.5.8 or below
Linux (Debian 3.1 / Redhat 9.0 / Ubuntu 8.10 and up / Fedora 7.0)
The Wireless (3 out of 5)
The working of this wireless device is bad. However, this keyboard works in the 2.4 GHz spectrum. This spectrum is extremely full with everything from microwaves, wireless routers and wireless phones broadcasting in that spectrum. I had some problems using this device in my home; with me being a geek, we have several wireless devices. Sometimes the keyboard would not respond or respond slowly. Luckily, this keyboard comes with a way to switch the channels, this circumvented most of the problems I had. Magic-Pro has rated the wireless range to be up to 100 ft.
The Keyboard (4 out of 5)
The keyboard on the Magic-Pro ProMini is back-lit. This is one of my favorite features; there is no need to turn on a light to see what key you're going to type next. Typing on this keyboard is done by "thumbing", using only your thumbs to type. While I find this comfortable to respond to short messages, use Twitter, update my Facebook status or do a media search, for typing more than 100 words this keyboard is not ideal. I also found myself switching from my thumb to my index finger on my right hand. The touch-pad makes it so that you are reaching over it with your right thumb. Some of the keys are too close together making it difficult to hit CTRL+X for instance.
The Magic-Pro ProMini is missing some of the F-Keys and only goes up to F8. It does have a function key that gives extra features to some of the keys. All of the K-Keys have double function. This allows the keyboard to have media-keys, which one of the keys doubles as an RF key to switch channels. The page-up and page-down keys are under the up and down arrow. The backspace is also the delete button. CTRL is also a windows key and FN-ALT is used to change rotation of the touch-pad. The CTRL-ALT-DEL is under the enter key.
The Touch Pad (3 out of 5)
The touch pad is great for casual tracking and is a little on the small side. I have a dual monitor setup, so moving windows from one to the other is not suitable for the Magic-Pro ProMini. If you are using a big screen then you may also be out of luck. Tracking from one side of the screen to the other can take several times of repositioning your thumb or finger. There is an option to rotate the touch pad, this is more for people who are wanting to use the ProMini as a wireless presenter. For use in the HTPC situation this is really useless.
The Battery Life (5 out of 5)
The battery life is good, but the manufacturer's claim of 500-700 hours of battery life in stand-by is an exaggeration. In stand-by mode, using the keyboard every night on my HTPC, the battery lasted for 60 hours. Charge time by using the mini USB port on a computer is 4 hours. The charge time might be less if you use a normal USB wall charger.
Conclusion
The Magic-Pro ProMini is great for use with a HTPC. As a wireless presenter, it will do great. I can really recommend this keyboard if you only do some casual surfing on your HTPC. For more serious work, I would not recommend this keyboard. The Magic-Pro ProMini keyboard is sold in the US by Pyramid Distribution and costs $69.95. For that price, it's a great buy.
Buy The ProMini from the Pyramid Distributions website.
Images