WOW Containers: Unbiased As Seen on TV Product Review
Introduction
WOW containers are a unique food storage system. Each piece in the set can be used as a bottom as well as a top, and also gives you an option to mix and match between the different-sized containers.
Design (5 out of 5)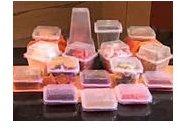 A typical set of WOW containers comes with 40 complete containers in 4 sizes: small, medium, large and extra-large. They all stack together and take up less room than a standard-sized blender, so you will eliminate some of the clutter created by having many different types of storage containers. You can mix and match the various pieces to create the perfect container for your food. The Deluxe Fresh Lock Tabs are supposed to prevent spills and also help to keep odors out and flavors in, while still being able to open the containers easily. An added bonus to this product is that they are dishwasher, freezer and microwave safe. You can store and reheat leftovers in the same container.
Image Credit: https://www.asseenontvvideo.com/images/160x120/511678.jpg
Performance (5 out of 5)
Some report that this product works as advertised. Others say that they are junk; they are made from an inferior plastic and after a short while the interlocking tabs break and/or cracks start appearing in the sides of the containers. It seems to me that if you use the containers according to the manufacturer's instructions and treat them properly, then you should not have any problems. For example, people need to understand that you should not take any type of container full of hot food and place it immediately into the refrigerator or freezer; the sudden temperature change may weaken or damage the container.
My experience, thus far, has been a positive one. It is much easier to store delicate and/or odd-shaped foods (such as a piece of cake) with the WOW containers mix-and-match system. It also helps being able to cut down on the number of dishes that need to be washed because you can store and heat food in the same container.
Value (5 out of 5)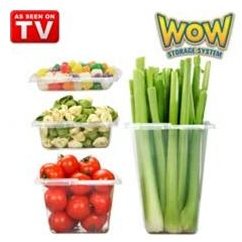 If you place your order at the official website, for $19.95 plus $7.95 processing and handling (P&H) – and an additional $7.95 P&H for the "free" set of containers – you will receive:
40 small-sized containers
20 medium-sized containers
16 large-sized containers
A bonus of 4 extra-large-sized containers
To some, a total of $35.85 may seem kind of pricey for a set of food storage containers; however, you should consider that these containers are durable, versatile and do not take up much room in your cabinets. Also, you are getting a total of 80 containers – that is more than most people probably actually need. If you treat your WOW containers right, they should last for quite a long time.
Image Credit: https://www.asseenontvofficialsite.com/v/vspfiles/photos/WOW101-2T.jpg
Overall (5 out of 5)
As I stated before, the reviews for these containers are mixed. If you decide you would like to purchase some, my recommendation would be to see if you can find a smaller set on the Internet or in a store and try them out for a few weeks. Then, if you like them, you can buy more. Do not do as the commercials have advised and throw all of your old containers out until you are sure the WOW containers work for you and your particular situation.