Ab Sonic Electric Ab Belt Review: Does it Really Work?
How the Ab Sonic Works
The makers of the Ab Sonic Electric Ab Belt promise that their electromagnetic stimulation (EMS) device is a replacement for sit-ups and that it will provide faster results. The 2 pound belt is worn by the user to help strengthen and tone their abdominal muscles, and purportedly build abs fast. The Ab Sonic can be used any place and anytime; it requires very little effort on the part of the user. It can also be used to tone other parts of the body, such as the thighs or the arms. As long as you can secure the electric massage belt snugly around the area you want to work on, both women and men can use it. Does this product really help build abs fast, though? Here is a review based on my experience.
Design (2 out of 5)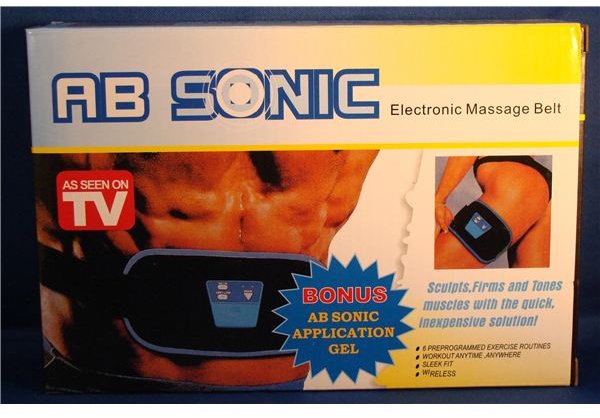 When you purchase the Ab Sonic, the package includes:
An adjustable waist belt
A small adjustable belt for the legs and arms
A neoprene centerpiece
2 lithium batteries
Instructions
6 exercise routines programmed into it
The electric massage belt is wireless and portable, so you can wear it under your clothes while completing other tasks and build lower abs without anyone knowing. It is adjustable, but if you need to lose a significant amount of weight you may not be able fit the belts around the area you want to work on. Also, the belts are made out of a flimsy plastic that can be uncomfortable and may not fit correctly. To prevent skin irritation, chafing and burns you need to use a water-based gel that you have to purchase separately. Users of this product who have an electric implant, such as a pacemaker, should be careful and consult a doctor first because the belt can cause interference and other complications.
Image Credit: https://www.simplyasseenontv.com/popup_image.php?pID=29504649&s=e65a6f97754c92ba7d4c1e1a5b774abb
Features (2 out of 5)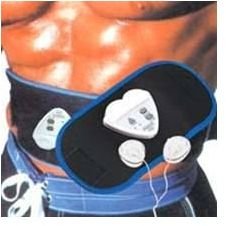 This product comes with 6 exercise routines already programmed into it. It only has 10 levels of intensity, though, so experienced body builders looking for a stronger workout probably will not get much use out of the Ab Sonic.
Image Credit: https://healthpsych.psy.vanderbilt.edu/AbSonic.htm
Performance (1 out of 5)
Be prepared to buy lots of extra batteries, as this electric massage belt uses them up quickly. It really does stimulate the muscles, especially in the arms and legs, and it will feel like you have had a really intense workout when the recommended 10 minutes of use are up. Most people – me included – do not really find a noticeable difference over time in the muscle tone and strength, though. If you are looking for a quick weight loss program, you will not find it with the Ab Sonic.
Another problem in performance with this product is the potential to get burned if you don't use some kind of water-based gel or the gel dries up. The gel is needed to help your body conduct the electric pulses properly. Without it, you can suffer nasty burns and some people have even reported organ problems.
Finally, the Ab Sonic seems to get weaker after a short time of constant use and eventually it stops working altogether. Some users have reported problems with the batteries too; if you move around much, they can pop out enough so the belt will not work. You constantly have to stop, push them back into place and then start your workout all over again.
Overall (2 out of 5)
This Ab Sonic Electric Ab Belt is a cheap imitation of products that really work and it preys on people who are looking for a quick weight loss program and to build lower abs, along with other muscle groups. While the documentation that comes with it does mention that for best results you need to develop and follow a healthier eating plan and a cardiovascular workout routine, it does not give you any information on how to go about doing so. It is not better than any other similar product on the market and in some cases it is worse, since you can receive electric shocks and burns from use.
It should be noted that the Ab Sonic is not approved by the FDA and you could be risking your health if you choose to use it.