Peek Review: E-mail and Texting Made Easy
Introduction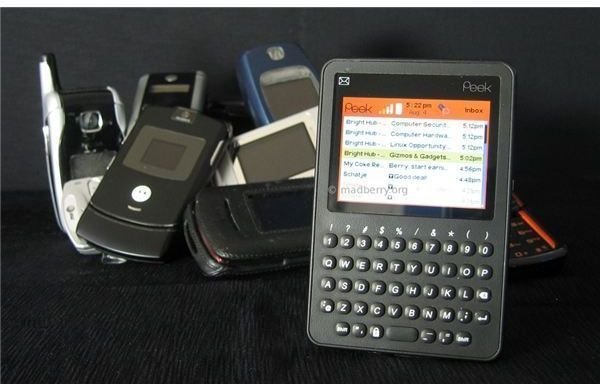 Do a calculation for me. Figure out what you spend per month on your phone plan. If you have kids that have their own phone you need unlimited texting plans. Maybe you work from home and you figure out you hardly call anyone from your cellphone, instead you spend most of your time using e-mail and text features on the phone. Data plans for phone services through a provider is still expensive. If you want e-mail on your phone you need to pay for a data plan. These days you cannot buy a smartphone without a data plan. Luckily data plans are finally cheaper you can get a data plan starting at $15. Look at the average phone plan with unlimited texting, unlimited minutes and a unlimited data plan this plan will cost you $79 dollars. Now if you don't call that much because you are either at work or at home then why pay for a phone plan?
What if I told you that you could get unlimited text and e-mail for $15 dollars a month? Or even better you could buy a device with lifetime service for $249.95? Whether you choose to pay for the service per month per year or decide to buy the lifetime service, your bill will be lower than your current phone bill.
Most teenagers I know never call everyone on the cellphones they own. Why not get them a Peek with lifetime service and pay less for your own phone bill? No more family plans with add-ons for kids. Okay, now that I have sold you on the service, is the Peek really worth the money?
I was able to test the Peek for over a year. I put the first device I got through hell. I did end up having to buy a different device.
Features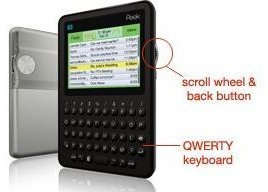 There are really only two big features; the Peek e-mails and texts and does it extremely well. The Peek works through cell GPRS from T-Mobile. The server offers the following features:
No contract
No hidden fees
Unlimited email
Unlimited texting
Service plan prices are as follows:
Standard Monthly $19.95
Quarterly 3-months $49.95 ($16.65 p/m)
Annually per year $179.95 ($14.99 p/m)
Lifetime $249.95
There are two flavors of Peek (devices).
Peek Classic:
Quick and easy setup. Up to two e-mail addresses. Unlimited e-mail. $19.95
Peek Pronto:
Quick and easy setup. The Peek uses true push e-mail. This means when an e-mail is received it's immediately pushed to the Peek. You can have up to 5 e-mail addresses. Texting and e-mail is unlimited. $59.95
Personally I think it's worth it to pay the $59.95 for the Peek Pronto.
You can either use e-mail from your employer, your own domain or any of the popular e-mail services out there.
Hardware Features for Classic and Pronto
Full QWERTY keyboard for fast, responsive input
Up to 2 to 3 days of Battery Life with normal usage*
Bright 2.5-Inches LCD screen with a resolution of 320 x 240 pixels
Measures 2.7 x 4 x 0.4 inches (WxHxD); weighs 3.85 ounces
* Normal usage meaning full five bars of reception. If you do have bad reception than you battery life may vary.
Working of the Device
I had a few concerns before the device came in. The keyboard and screen on the pictures of the Peek I had seen made them look small. My concern was that my big fingers would press multiple buttons at once. Also I wear glasses, and even though I am near sided, I was worried I might not be able to read the screen clearly without wearing my glasses. Non of these concerns where proven true.
Setup & Activation (5 out of 5)
Setup and activation takes approx. five minutes. The steps are:
Pull out of the box.
Activate your Peek.
Switch the device on.
Follow the wizard and login to your e-mail.
Start mailing.

Classic or Pronto? Upgrade Yourself? (4 out of 5)
I have used the Classic and decided to upgrade to Pronto as soon as it was available. I did this myself using the cable Peek offered in the Peek Boutique. It was really worth it to upgrade to Pronto because of the Push e-mail functionality. I must say that the newest Peek software makes upgrading easier than it used to be. If you are not comfortable upgrading yourself you can contact Peek Care and they will help you in getting the Peek upgraded to Pronto.
The Keyboard (5 out of 5)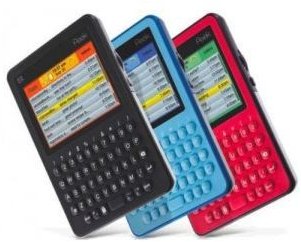 The keyboard is extremely comfortable to type on. I mostly thumb it which is the most comfortable way to type on the Peek. You will be an e-mail and texting pro in no time on the Peek. The haptic feedback from the keyboard is great. The keyboard gives a click when you type on it. This click cannot be turned off as it's a hardware feature of the keyboard. Although some might find this annoying I don't have a problem with it at all.
New Message Alerts (4 out of 5)

The Peek has three ways of alerting you that there is new mail. It vibrates, makes a sound and lets a blue envelop on the device flash. The Vibrate and sound functions have several option for controlling loudness or vibration. One of the options for both functions is off, you can also choose to have only sound or only vibrations. My only problem with the sounds function is that they are often not loud enough. If you work in a noisy environment you will have a problem with this.
The Screen (5 out of 5)
The Screen is very clear and easy to read. The Peek offers the option to switch the font to bold making it even easier to read. It's a good size for every e-mail I read on it. The Peek has the ability to display attachments. Peek supports DOC, PDF, pictures.
Quality of Service (3 out of 5)

We live in a black hole for cellphone service. Our apartment has such terrible cellphone reception that you can't receive any phone calls. If you are lucky you can use your cellphone to text and that is about it. As a result of this my cellphone never had reception in this apartment. My Peek however has always had 2 bars. Texting and e-mail works great.
In the year that I've had the Peek, the service did have a few outages. However, every time this happened the service was restored in a quick manner.
With Peek you are not locked into any contract. If you decide you don't want to use your Peek anymore, then just cancel service. That is how simple it is.
Peek Apps
You have the ability to sign up for Peek Apps.
Peeksocial will let you add Facebook and Twitter to the Peek. Although these services are still being developed by Peek and cannot be called reliable yet.
Peekmaps is another great way to make sure your teenager is where they say they are. Peekmaps allows you to see on a map where the Peek with Peekmaps enables is at all times.
Peekfeed can send RSS feeds from your favorite website to your Peek. This is a great way to get your news fix.
AskPeek brings you on-demand weather, traffic, news and directory listings.
Non Peek E-mail Services
There are a lot of e-mail services you can sign up for to get different things accomplished with your Peek. Below I only mention a few but if you do a search you can find much more.
There are many more services out there all you have to do is find them. Most websites and blogs also offer e-mail alerts.
Where Can I Buy the Peek?
The Peek is currently available in the US, Europe and India use the URLs below.