Sony Reader Touch Edition Review: You Might Want to Buy a Different eBook Reader
Sony Reader Touch Edition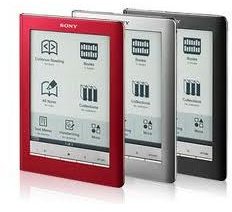 The Sony Reader Touch Edition is an eBook reader that packs in a lot of features but still fails at delivering an extremely comfortable reading experience. It almost has everything to be a great eBook reader but it falls short with the most basic characteristic an eBook reader should have: an eye-friendly screen. In this review, we'll discuss the pros and cons of the Sony Reader Touch Edition.
Design (2 out of 5)
The size of this eBook reader makes it more compact than most popular eBook readers, giving it an edge in portability. The design of the Sony Reader Touch Edition is definitely sleek, complementing its touchscreen display and elegant frame. However, the eBook reader's biggest problem lies in its touchscreen display. There is too much glare on the screen that reading an eBook might become a difficult and uncomfortable experience. This design flaw causes eye strain, which may prove to be its undoing. The touchscreen makes this flaw somewhat bearable if you are not a heavy reader, but if you are constantly reading eBook after eBook, the intuitive navigation provided by the touchscreen display may not be enough to distract you from the fact that it's almost impossible to read comfortably with the constant glare on the screen.
User Interface (4 out of 5)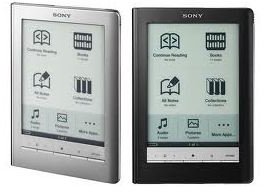 The touchscreen interface gives you an intuitive way to turn pages by either flicking the page. The option to set the direction gives you the choice of flicking forward or backward, whatever is more comfortable for you. It doesn't have a flashy interface, which is fine because its main purpose is to let you read an eBook and not be pretty. Swiping, flicking and tapping on the touchscreen makes navigating the user interface a breeze.
Features (3 out of 5)
The Sony Reader Touch Edition has a built-in dictionary that is not very exhaustive, but still pretty useful in most cases. It's very handy too since you can use it as you are reading a page without losing your place in the eBook. Just tap on a word and this feature kicks in. Double tapping a page calls upon another feature which is bookmarking. Double tap a page and it becomes bookmarked. Double tapping it again removes the bookmark. It's a very handy feature that is easily accessed. Its features, although simple, are quite elegant and handy.
The features common in modern eBook readers, like audio playback, support for additional memory, and note-taking capability, are present in the Sony Reader Touch Edition. What's absent is a dedicated online bookstore. In its place is the reliance of the eBook reader to a computer connection for the transfer of eBooks.
Performance (3 out of 5)
The battery life of the Sony Reader Touch Edition is one of its strengths. You can use it for up to 11 days before its battery gives out, which is a great way for regular readers to enjoy this device on a regular basis without the hassle of charging it every once in a while.
Conclusion (3 out of 5)
For its price, the Sony Reader Touch Edition is a good deal. It has nice features, an intuitive user interface and a sleek design. The screen glare on its touchscreen display is the single most devastating blow to its quality, which is a shame. This eBook reader is worth $153.98 at Amazon.com.
You may also want to check another popular eBook reader review: Kindle 2.