Top 10 Cool Camping Gadgets for Car-Campers: The First Five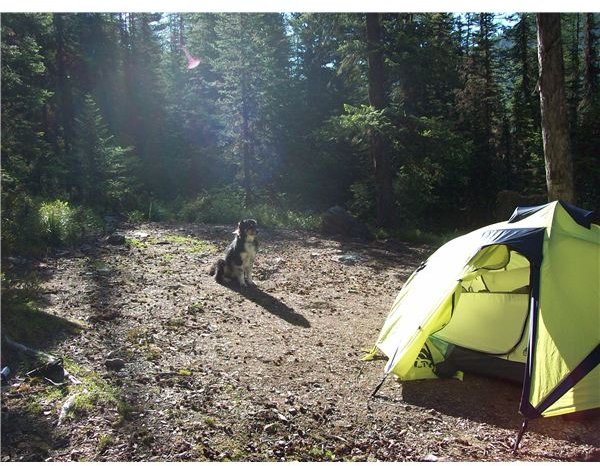 We've got a lot of ground to cover so let's jump right in. Every last one of these cool camping gadgets gets a thumbs up.
Princeton Tec EOS LED Headlamp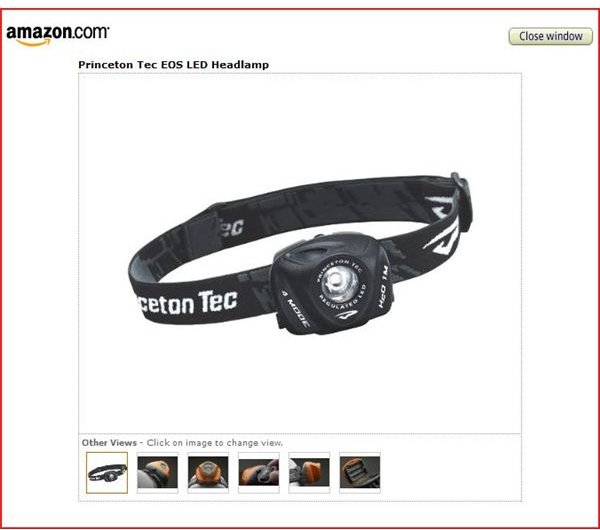 Once dusk disappears into the blackness, you'll need a light for everything you do, and nothing beats the hands-free capabilities afforded to you by a good headlamp. This is an item that tops both gadget lists in this two-part series dedicated to cool camping gadgets. The Princeton Tec EOS LED Headlamp is an excellent choice, yet you can't really go wrong with any Princeton model. It retails for $35 at Amazon.com. At 3.7 ounces, it's comfortable on your forehead and you can swivel the beam up or down, depending upon what you're doing. The Tec EOS is nice and bright thanks to a 1 watt Luxeon LED which runs off of 3 AAA batteries. You have three different brightness levels to choose from, and it's rugged and water resistant. If you're going to be operating around water a lot, and want the added security of knowing your headlamp is waterproof down to a meter, perhaps you should choose the Princeton Tec Tactical Quad LED Headlamp, which also has interchangeable red, green, and blue lenses (also available from Amazon.com).
Coleman Free-Standing Tent Fan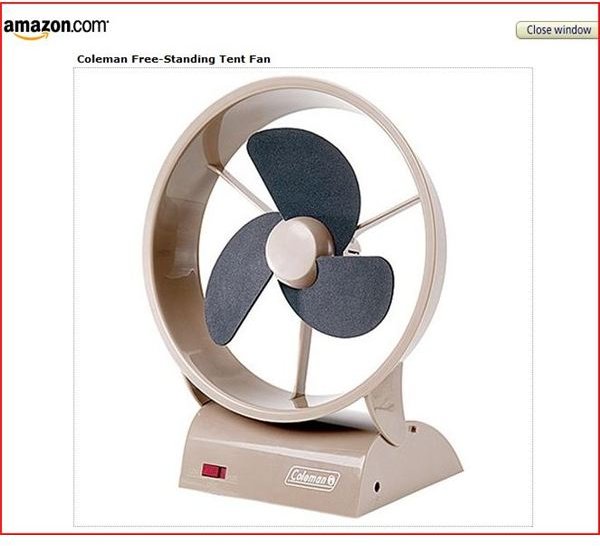 The Coleman Free-Standing Tent Fan is included on this list for those of you taking friends or relations on their first camping trip in the summer time. By the way, do you need an excellent tent that can withstand all of the elements and keep you comfy and mosquito-free? Read this review of the Kelty Radiant 2 for a terrific option. You don't want them to have a bad experience, so this air moving gadget will serve two purposes. First, it will keep cooler air from a tent vent circulating in the tent. Second, the noise from the fan will hopefully preclude the new camper from saying "what was that" every time there's an unidentifiable rustle or snap outside. It operates on 4 D batteries for 21 continuous hours and it has two speeds. It only cost $14 at Amazon.com to keep new campers cool and happy.
Leatherman Super Tool 300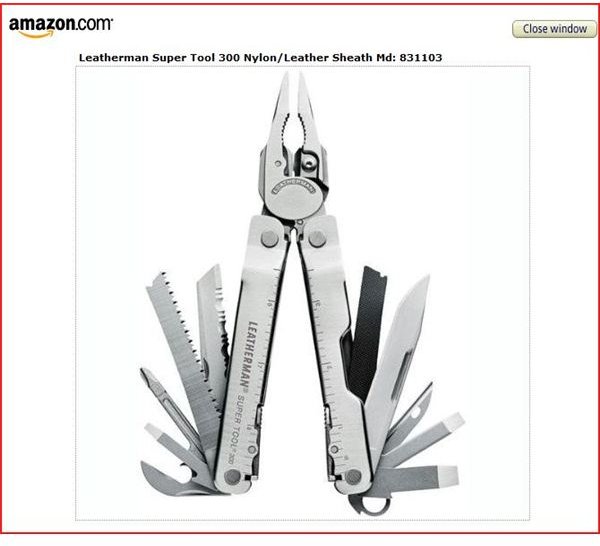 A Leatherman makes both lists of cool camping gadgets because having a multi-tool is important in so many situations. But since weight and size aren't such an important consideration for the car-camper, the Leatherman Super Tool 300 is listed here instead of the Skeletool CX. The 300 gives you more tools with a straight edge knife, a serrated knife, needle nose and regular pliers, wire cutters, screwdrivers in several sizes, a wood/metal file, a saw, and both a bottle and can opener. It even has and awl with a thread loop. You have so many options that you may want to break something around the campsite just to demonstrate to your friends that you can fix it with this thing. Amazon.com has it at a bargain for around $56.
Black Diamond Apollo Lantern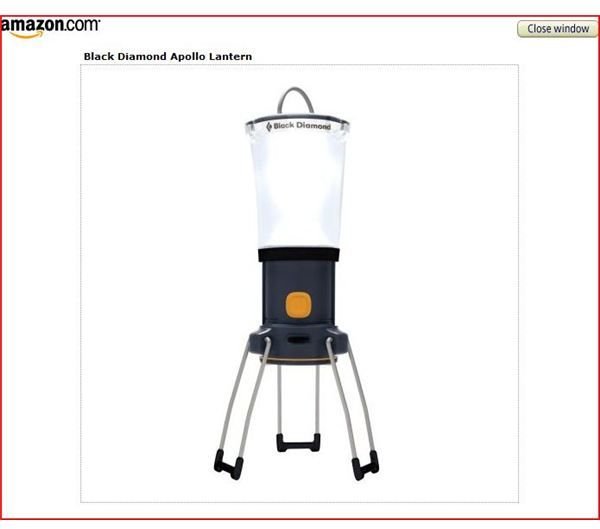 This is another phenomenal product that makes dealing with messy, smelly gas a thing of the past. The Black Diamond Apollo Lantern provides a 30-foot radius of bright light, yet it's not obtrusively blinding. Its 3-watt LED is powered by 4 AA batteries with a 60 hour max burn time. It has a dimmer switch and a low battery indicator. You can use a Black Diamond Recharge Kit too (can be recharged using a solar unit too). Although it's on our car-camping gadget list, since it weighs 7.8 ounces and breaks down to a compact size, it could also be on the backpacker gadget listing, which is in the other article of this series. Here's one at Amazon.com for $44.
Etón FR600B Solarlink Self-Powered Digital AM/FM/SW/NOAA S.A.M.E. Weather Radio with Flashlight, Siren, Solar Power and Cell Phone Charger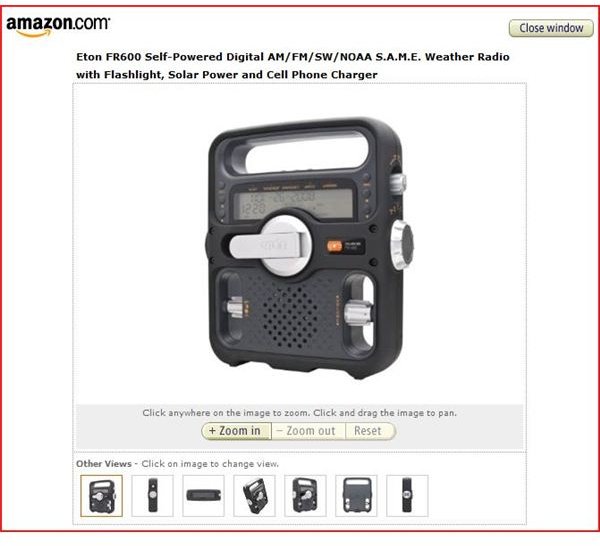 Well, the title kind of gives it away here. Etón products of this sort have been passed out by the Red Cross in emergencies when folks no longer have power to use radios. This multi-purpose radio can be hand-cranked for power or by leaving it out in the sun. The object is to keep you connected and aware of changing weather no matter where you are. It weighs just less than 2 lbs. and is very durable. For more information and to purchase one for $80, visit Amazon.com.
Meade 0610-03-10 ETX -LS Telescope with ACF Lightswitch Technology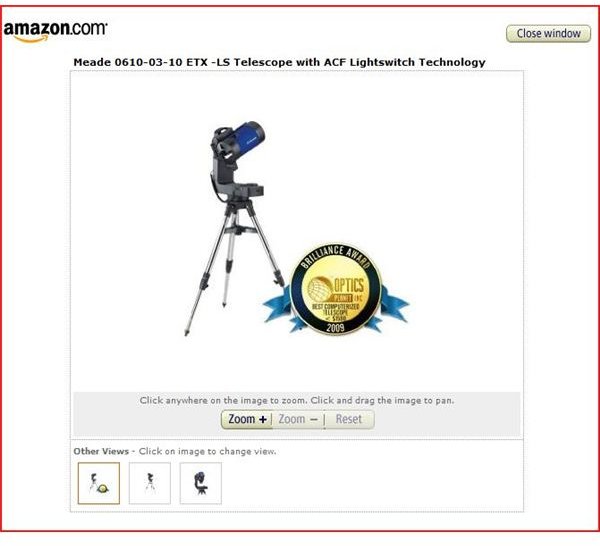 Are you an avid star gazer? Want to get the kids interested in constellations? Are you not averse to shelling out $1400 for a telescope? Then the computerized Meade 0610-03-10 ETX -LS Telescope with ACF Lightswitch Technology might be an awesome gadget to have around when you're out camping far away from the lights of cities and towns. This easy-to-use product takes all that fiddling around, adjusting, and figuring out what's what out of the process. Be advised that it weighs fifty pounds. This nifty telescope self aligns and orients itself. Its computer incorporates GPS technology, a digital compass, and pattern awareness to immediately find predetermined objects in the sky. Hence, it's supposedly as easy as flipping on a light switch. Carefully check out the reviews to glean some of the downsides. On the other hand, it did win a prize for being the "Best Computerized Telescope" for 20009. At Amazon.com it is on sale for $1400.
Whistle Creek Survival Kit in a Sardine Can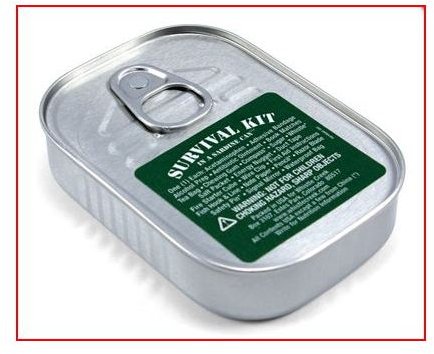 You must always abide by the number one rule in survival which is to keep your head and not panic. This novel item is so uncanny (figuratively, not literally) that it should make both lists of cool camping gadgets in this series. In an emergency situation, or for the duration of your uneventful camping experience, this gizmo should be prominently displayed on a picnic table for all to see. The lightweight, waterproof Survival Kit in a Sardine Can, will keep things light-hearted even in a tense situation. Although there are no smelly, oily sardines, this kit has 25 items including medical supplies, a fish hook and line, a fire-starter, reflective signals, safety pins, a whistle, and more. For a mere ten dollars, you'll have peace of mind and an item guaranteed to bring about a few laughs. Here's one available at Amazon.com.
Grandpa's Fire Fork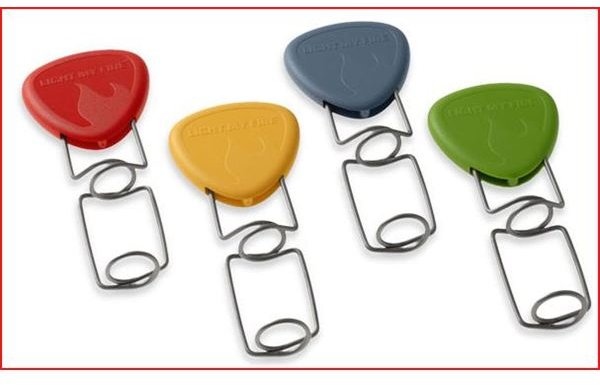 So in many ways, camping is a tribute to our elders and our ancestors. They survived and thrived in conditions and places that make us look like sissies in comparison. Aside from being a lot of fun and getting away from the busy, terminally plugged in world, camping teaches respect for our predecessors. Having Grandpa's Fire Fork, the perfect utensil for cooking over a fire, will help do that. For 10 bucks on Thinkgeek.com: stuff for the smart masses (Grandpas love a tinge of colorful language), you'll have a durable fork to cook yummy stuff over the fire.
OHSO Pocket Toothbrush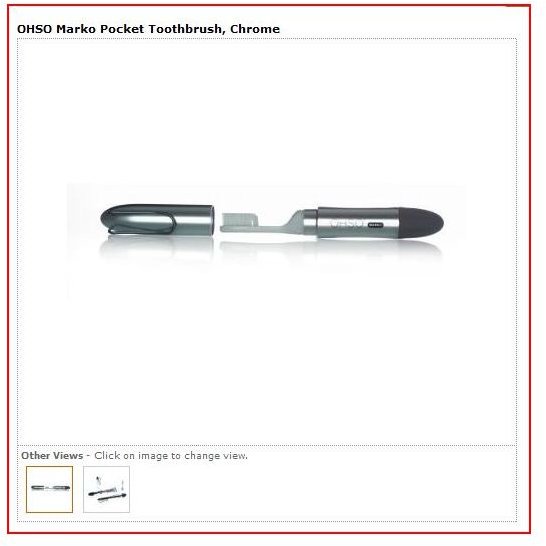 The OHSO Pocket Toothbrush stores your toothpaste in the handle for convenience. It's watertight and mess-free. Also include are replacement bristles and Colgate toothpaste to make sure your breath won't offend your fellow campers. At Amazon.com it costs $17.
Swedish Fire Steel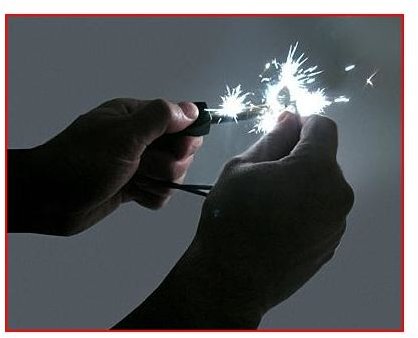 Who needs a boring lighter or outdated matches when you can use Swedish Fire Steel? This exotic item creates a 3,000 degree spark to make lighting a fire in any conditions quick and easy. It even works when wet. Show off its capabilities while grunting caveman style and you'll be sure to please all those around you that are eagerly anticipating the warmth of a camp fire. Thinkgeek.com has it listed at $16.
This post is part of the series: Great Gadgets for Camping
Looking for nifty gadgets for camping trips that are both useful and intriguing? This two-part series highlights ten items for backpacking campers, and ten selections for car-campers. Beyond utilitarian purposes, these ingenious doodads will also amuse and delight fellow campers.