Bright Hub's Aluratek Libre eBook Reader Pro Review: Compatibility, Connectivity, and How it Works
There are a lot of eBook readers available, compared to the choices a year ago. Consumers are also expecting a lot more from them. While a few, like the Kindle, have been around long enough to become a household name even for non book readers, Amazon developed a couple of new and improved Kindle models. Barnes & Noble also brought out the Nook. Some of the choices popped up their heads, were reviewed by a few tech sites, and then promptly sank from view - somewhat deservedly.
An eBook reader is an investment, and it is meant to make life for a reader easier. Many flash in the pan eBook readers did not take actual readers into consideration when they designed their reader. Aluratek did.
Compatibility and Connectivity (4 out of 5)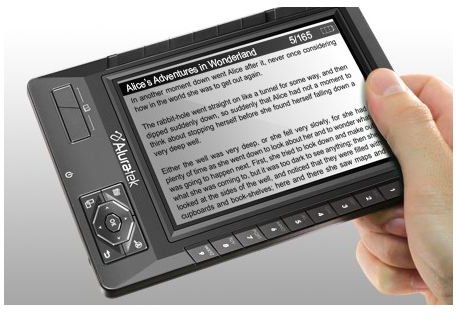 The Aluratek Libre eBook Reader Pro is compatible with more eBook formats than any other currently available eBook reader. It can handle: PDF (Adobe Digital Edition DRM/non-DRM), TXT, FB2, EPUB (Adobe Digital Edition DRM/non-DRM), MOBI (non-DRM only), PRC (non-DRM only) and RTF electronic book formats.
It can also allow you to view BMP, JPG, GIF, and animated GIF picture formats, and listen to MP3 files through its built-in player for background music while you read.
It is not Wifi capable, and nor does it connect to a 3G network. I have not found that to be a problem, because it comes with a 2GB SD card (upgradable), and a USB cable to move books stored on your computer to the reader. You can move books directly through the USB cable to the SD card or the internal memory of the reader, or you can put the SD card into a card reader on your computer and move books directly to the card.
Image of product from Aluratek site.
How it works (4 out of 5)
There is a navigation area at the bottom right of the reader, with a button which gives you access to menus referring to the book you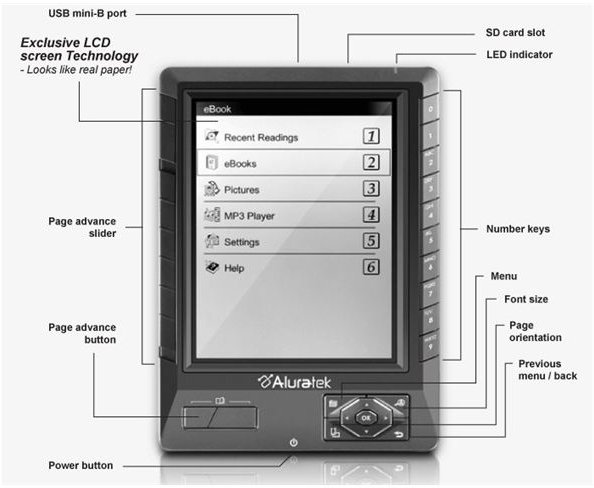 currently have open, and another button giving you access menus for the reader itself. The bottom at the top right of this area allows you to increase font size, and the button at the bottom left of this area changes the reading material from horizontal to vertical orientation. In the center is the 'OK' button, used to confirm instructions. Surrounding the 'OK" are four arrows to move your cursor point.
Menus accessed by the button in the upper left corner are for the book you are currently reading, and menus accessed by the enter button on the bottom right of the navigation area are for general eBook reader functioning and global settings. If you click on the image, you can see the parts of the reader labeled with their functions.
The hardware for the Aluratek Libre ereader Pro is identical to that of the Etaco Jetbook (not the lite), but they have completely different firmware and different abilities. The Jetbook doesn't have as large a range of formats it can read, although it does have a simple built in dictionary, and support for a number of different Eastern European languages. It comes with a copy of the CIA Factbook rather than the 100 books on the supplied Aluratek SD card.
If you click on the image, you can see the parts of the reader labeled with their functions.
image of product from Aluratek site
Features (5 out of 5)
The Aluratek Libre eBook Reader Pro has a five inch reading screen. In the font I usually use to read, this is about 4/5 of a paperback book page. The dimensions of the reader itself are 4.25" x 6". It can be used in either portrait or landscape mode, with the tap of a button. Font size can also be increased through five levels with the tap of another button. The reader automatically shows the book you select to read on its screen, whatever the format.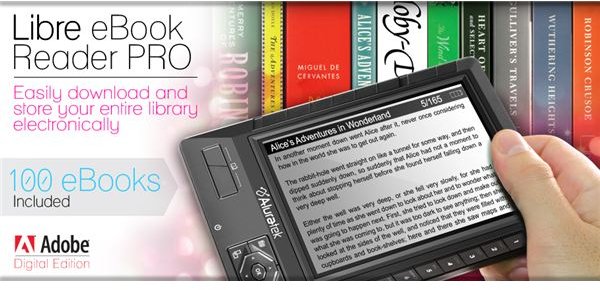 Books you open to read are linked to the recent readings page, and when you select the book, it will open at the page it was at when you left the book last. It will keep several books in recent readings, so if you have been looking at two or three different books, you can select the one you want to continue with. They all start where you stopped and closed the eBook file the last time.
One of the features I found most convenient was the reflow ability in reading PDF documents. When you have it turned on, the text on the page of the PDF realigns itself to fit whatever size font you have selected. It does not extend reflow from page to page of the original PDF, so as you read, the page number may not change for a couple screen refreshes, and then you may get a page that is only partially filled with text, as it is the last of the text from that particular PDF page. When you page forward again, the new page of the PDF will then reflow to fit your screen and font choice as well. If you want to view illustrations or diagrams in a PDF, you need to go in and turn off the reflow option on the menu, so that you can view them properly.
It has an LCD TFT screen, which they sometimes refer to as e-paper – as opposed to the e-ink in the Kindle and Nook. As you click to turn the page in the eBook you are reading, there is no black flash such as you see in the Kindle and Nook e-ink readers. Instead- you look at the screen while you press the button. and suddenly, without discernible movement, there is new text on the page. I also like this feature, as the black flash when you change a page in the e-ink readers bothered me when I tried them out.
Like the Kindle and Nook screens, the Aluratek eBook reader can be easily read outside in full sunlight without any eye strain. While it is not a color eBook reader, it does show pictures in 16 shades of grey, so viewing a picture you load on the reader is similar to looking at a black and white print, without quite as smooth a shade gradient. You can also listen to music while you read if you load your reader with MP3 files, and use the included headphones.
You can set up any sort of file hierarchy on the SD card, to organize books by genre, author, title, or whatever method suits you best. It is actually a good idea to break up books into multiple folders. I had all my books in one huge file when I first put them on the SD card, and they took a noticeable time to load. When I broke them up alphabetically by letter, and then into three larger files of A-H, etc., opening books happened almost instantly. It was an impressive difference, and only the 2000 page grammar book I mentioned above took noticeable time to load.
It does have a feature which allows you to set pages to turn automatically at set intervals, but I found it frustrating to use. I could never get it quite right for my reading speed. It was also slow to get the reader to go back if a page went by that you had not finished reading. This is probably my least favorite feature.
Another feature I do appreciate is the ability to set a time for the reader to shut down if nothing happened for a certain amount of time. This saves battery life. So, if you fell asleep reading, you would not wake up and find it had been on the whole time. There are several settings to select from for how quickly it should turn off.
image from Aluratek product page
Ease of use (4 out of 5)
Although, for some reason, the instructions for my Aluratek Libre arrived in French, the diagrams were clear enough and the controls intuitive enough that I was able to get started very easily. I did have a few questions, and I was also able to go to Aluratek's site, where they have both automated and live support. My French is rusty enough that there were definitely explanations I did not grasp until they were explained to me. Once explained, I found it a pleasure to use. I was able to explain how to use it in about 10 to 15 minutes to my sister and my father, and by the end of my instructions they were pulling the reader away and telling me they remembered how to do that!
Aluratek help and support (3 out of 5)
I am not able to give as high a rating to the site as I wish I could, as several of the pages I visited were out for modification when I checked them. They do have live and automatic support on-site, and the live person I spoke with was quite helpful. Once they have return the page for downloading the user manual and the page for specifics on the warranty, I will reconsider this rating.
Price - and what you get for it (5 out of 5)
The Aluratek Libre eBook reader Pro was originally released in 2009 at $199, a good price for an eBook reader when most were going for $259 or more. Since then, the MSRP has been dropped to $179. However, you should never need to pay anything approaching that price. At the end of July, 2010, Borders Bookstore will be selling it in the eBook reader section of their store for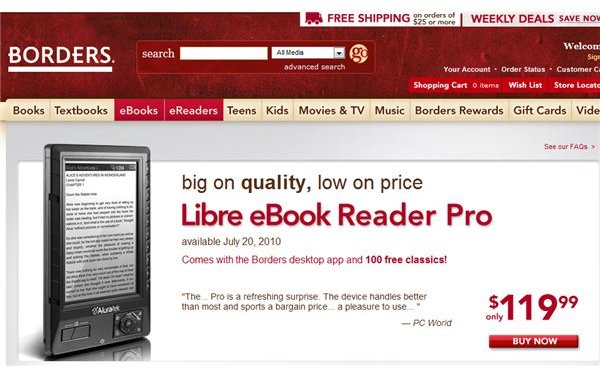 $119..
In recent months, there have been sales on it as low as $80 - although that online price was available for less than a day, because the site ran out of stock. I got mine at Sears, on sale at $100, although their normal price is $159. Oddly enough, since the black and white versions of the reader are identical, NewEgg has been keeping one on sale for $119 or $129, and the other anywhere from $159 to $199.
Amazon sells it at prices ranging from $119 to $159, again with different but inconsistent prices for the colors. Part of the Amazon price range is because it is being sold both directly from Amazon and from Amazon Marketplace sellers.
The 2GB SD card includes contains 100 project Gutenberg classic books to get you started with something to read. While many are classics that you expect, there was also a book on Grammar from the 19th century – not as out of date as you might expect – of 2000 pages. I mention it specifically, because I did notice a wait while that book opened, and other books were opening almost instantly.
The reader comes with a foam pouch with Velcro closure and a strap for the ereader – nothing fancy, but it is protective enough if you put it in a pocket or purse. While it obviously does not have a large screen for reading on, an advantage of that is it really does fit into a jeans pocket. Included are a set of earbuds. They are not fancy, but work about as well as the ones that come with small MP3 players.
There is a wall charger, and a USB cable to go between the ereader and your computer. You can actually charge your Aluratek through the USB cable, although it will take over twice as long as charging from the wall.
image from Borders.com eReaders webpage
User reviews and support (5 out of 5)
I would like to recommend the Ectaco jetBook/Alurtek/ forum on the site mobileread.com, which is filled with people who have learned many things about the reader, and are happy to share their experience, or try to help you find a solution. People who have chosen the Aluratek as their ereader can often be passionate about its virtues, even as they suggest a tweak or change they would like to see in the next firmware update.
Overall, the users are happy with their purchase, although they can be impatient with the Aluratek support. Many of them seem to be of a gadget freak / hacker mindset, and have moved firmware between the Aluratek and its physically identical ereader the Ectaco Jetbook, while others have figured out ways to add a font or other tweak to their reader. Note they are aware this invalidates their warranty- but it doesn't deter some. Users are excited, and proselytize – something I have been guilty of myself. My Father and my sister have informed me of their specific Christmas present wishes, and my Aluratek narrowly escaped being kidnapped from me.
Supplies (5 out of 5)
The ereader can use SD cards up to 32GB to augment your library. The Kindle, by comparison, claims you can store about 1500 books on the 2GB internal memory which is all it has. Assuming you do not fill a lot of space with MP3 files, you should be able to carry about 25,000 books around in your pocket on the Aluratek. That is at least twice, maybe three times as many books as I have in hardcopy. Those books line the walls of my entire house, and it can become difficult to find the one I want. Ahhh, eBooks. Where have you been all my life?!
You can use class 2, 4 or 6 SDHC cards in the reader. The speed of the card makes no difference to your reading, but moving material over the USB cable is affected by the speed of the card. Keep an eye out for a sale and be aware you can use microSD cards in a holder as well.
eBooks are becoming more and more common, and between project Gutenberg, Google books, Amazon, B & N and the new Borders store, it is easy to find almost any book you are interested in reading.
Conclusion (5 out of 5)
If it were possible to give a rating of 4.5 of 5 on this e-reader, I would. It has a number of excellent features. I really like mine, and I am very impressed with the way they use the LCD TFT technology to provide a seamless reading experience. Add that to the fact that you can increase your library up to 32GB with an SDHC card, and read outdoors in Bright sunlight, and you have an exceptional eBook reader. The size of the e-reader and the included cover means you can literally slip it into a pocket, giving you a hugely portable library.
Navigation though the functions of the e-reader is fairly intuitive, and very quick to learn. You can set hierarchies up in the folders to allow you to organize your books, and the ability to read the Adobe Digital format means you can borrow books from your local library. It has a truly impressive list of formats that the reader handles, and if, as rumor has said, a future firmware update will allow you to read B & N books, the options include almost everything but propitiatory Kindle and Apple formats. It is easy to read using the screen for hours upon hours, and the battery life is great - at least in part because it doesn't have Wifi.
However, the 5" screen is on the small size (although, perhaps not for people who have been using e-reader apps on their smartphones), and I would like to be able to fit a page of text equivalent to a paperback book on my screen at once, without needing a font too small to comfortably read.
I had severe problems using the autoturn feature for pages, and the fact that the intervals which could be selected increased by 10 seconds after the first 5 second interval meant that you really needed to fiddle with font size to find a usable combination to set the autoturn function. Then, going back to a previous page seemed almost to make the reader freeze. Setting up hierarchies to organize books for anyone who owns more than a 100 or so eBooks is essential, or the time required to load new content is aggravatingly slow.
It doesn't have Wifi, or the ability to browse to buy books online. Because of the lack of Wifi, it is an eBook reader, not anything else, and doesn't comfortably give you the ability to read newspapers and other non book digital publications. It would also be very difficult to read anything but a book on it, because of the size.
As a dedicated eBook reader, I heartily recommend it. It doesn't pretend to be anything but an eBook reader. It is not for those who want fresh daily news, and it is not for those who need to use large fonts to read comfortably. However, if color is important to you, this is not the reader for you.
After 5 weeks of ownership, I am still delighted I bought it for myself. If you want a dedicated eBook reader, and can be happy with the size - get one.
image from Aluratek site product page - white frame