VTech V.Reader Review: Is This eBook Reader for Kids Worth Buying?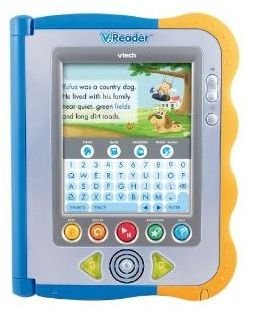 The VTech V.Reader is specifically designed to help children learn to read via the emerging technology of eBook readers. Unlike eBook readers for adults, though, the VTech V.Reader offers a more child-friendly interface and features. It appeals to children with its colorful and vibrant design and user interface, which is important to keep things interesting for children who are quite notorious for having short attention spans. Does the V.Reader really offer a viable way to teach children how to read while introducing them to emerging technologies? Let's find out.
Design (5 out of 5)
The VTech V.Reader has a colorful and vibrant design that features a full color display, straightforward and colorful buttons, and an easy to handle form. Its shape is quite important because the primary user of this device is a child, after all. An easy to grip body prevents accidental dropping and scratching of the surface. Its full color display is large enough to allow graphics to be seen clearly and text to be read easily. It also has a headphone jack so children can enjoy playing with the device without distracting people around them. The device includes a stylus, giving children the full eBook reader/PDA feel. This stylus has a triangular shaped as opposed to the usual circular ones, providing a better grip for users. The flip cover protects the display screen from scratches and dirt. In storybook mode, the child can still navigate through the pages using the navigation buttons even while the cover is protecting the screen. We give it a perfect score.
User Interface (5 out of 5)
Primarily a learning tool, the VTech V.Reader offers a superb interactive user interface that keeps children entertained and educated at the same time. Storybooks can be read while the device voice reads words aloud. It lets children follow along with the reading as the currently read words are highlighted. Children don't just listen to voice as the story is read to them; they can also interact with the characters and elements in the pictures as components of the display can be pressed. Pressing on these elements give different results. Let's say a child clicks on a dog on a story page, the dog will actually produce a barking sound. Pretty neat. Plus, if the child doesn't know the meaning of a word being read, they can click on it to view a definition of the word which is also read aloud by the device voice. Not all words are clickable, though, but this is an extremely useful tool to teach kids new words while learning how to read. For the user interface, we give it a score of 5.
Features (5 out of 5)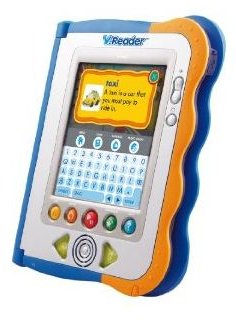 As previously mentioned, children have short attention spans. Some shorter than others. Children may not be able to finish really long storybooks, so the VTech V.Reader provides a bookmark feature that lets the device remember where the story was stopped when the child decided to do something else. The VTech V.Reader comes with a built-in game called Word Whacker. In this game, children can learn the alphabet and spelling. Parents will particularly be happy about this feature since it entertains their kids while teaching them basic spelling.
The VTech V.Reader has an impressive download library which includes more than 100 storybook titles. Storybooks can be downloaded into the VTech V.Reader via USB connection with either a Mac or a PC. Other than storybooks, you can also download other things like themes and avatars for V.Reader customization purposes.
There are also parent-specific features like reading certificates and progress reports. For an eBook reader designed for kids, the VTech V.Reader surely blurs the distinction between it and eBook readers for adults in terms of features. It gets an excellent score for the features.
Performance (3 out of 5)
This is where the VTech V.Reader slightly goes astray. Turning pages may sometimes feel sluggish, and for children with extremely short attention spans, this can be a major problem. Some animations cause screen lag, which is another reason why the V.Reader may not be for children who do not want to wait. This device uses batteries, and it uses up a lot of power especially if it's in constant use. You may need a lot of extra rechargeable batteries if your kid is using the V.Reader a lot. For performance, it gets a lackluster rating of 3 out of 5.
Price to Value (4 out of 5)
You can get the VTech V.Reader for $59.99. It's almost worth the price if not for its lackluster performance. Its feature set is definitely something that can attract children and parents alike. As for our initial question of whether this device is a viable way to teach children how to read, the answer is yes. It's one tool, yes, but it's not something that can replace traditional learning from paper books. Overall, it gets a good rating.
Recommendation
The VTech V. Reader is made for children from age three to seven years old but it depends on the child's attention span on how much fun and learning he will acquire from this educational gadget. The alphabet activity and animated stories are great for 3 to 4 years old kids because they can simply watch and listen, but if coupled with the screen lag problem, this for sure will turn down the interest of this age group. However, when it comes to spelling, read-along story book, reading and matching word games, this eBook Reader for kids is recommended for children between 5 to 7 years old because they already have a bit of background on recognizing words and they have longer attention span and patience to deal with screen lag.