Cool-er eBook Reader Review: Is This eReader Worth Buying?
Cool-er eBook Reader
The Cool-er eBook reader is priced within the average range of most popular eBook readers available, but does it match up with the reading experience those other eBook readers offer? In this review, we're going to see if the Cool-er eBook reader is worth your money.
Design (4 out of 5)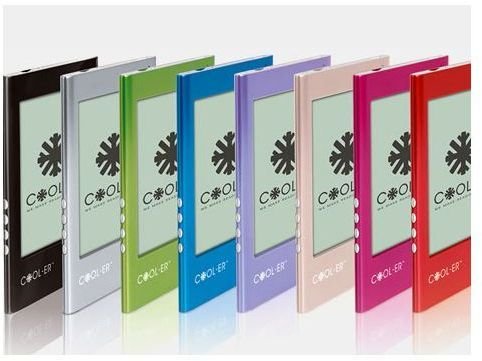 The Cool-er eBook reader has a very compact and lightweight body. It's almost the size of most paperback novels which will feel natural when handled. It may seem bulky, but it's slim enough to provide a comfortable reading experience. It comes in eight colors: black, red, blue, cool pink, hot pink, violet, green, and silver. Different color option may appeal to people who are looking to get a stylish eBook reader that fits their personality. The design of the Cool-er eBook reader gets a good score.
User Interface (3 out of 5)
The Cool-er eBook reader's user interface is pretty basic and simple. It can be a little awkward to use in the beginning, though. You can only control the navigation through the scroll wheel which is on the lower right side of the device. It's not a very natural-feeling of turning pages and scrolling down on a page. It gets more awkward because if you choose to read an eBook in landscape mode, you will have to use your other hand to control the navigation. The interface is not very intuitive despite its simplicity. Its straightforward yet not very intuitive user interface gets an average score.
Features (3 out of 5)
The Cool-er eBook reader doesn't have advanced features that you can't find on other eBook readers, but it does have the capability to support eBook formats that some of the more popular eBook readers do not. It supports PDF, text file and EPUB file formats that are usually used by most free eBooks. This gives the user a wider range of choices in eBooks instead of being confined by a few online stores. It supports audiobook playback through SD card support. Actually, it can play all kinds of MP3 files even if they're not audiobooks. This lets you listen to music while you're reading an eBook, but you can't control both features at the same time. The barebones set of features of the Cool-er eBook reader gets a rating of 3 out of 5.
Performance (4 out of 5)
Loading times in the Cool-er eBook reader is noticeably slow. The screen is not very responsive when flipping pages, which can be a drag if you're a speed reader. It has an internal memory of 1GB and you can expand it up to 4GB via SD cards. The battery is removable and its battery life is considerably long. That's probably the best thing about the Cool-er eBook reader. For performance, it gets a good score.
Overall Rating (3 out of 5)
If you're looking for an affordable eBook reader that can contain a lot of eBooks and has minimal power consumption, the Cool-er eBook reader is a decent choice. However, if the actual eBook reading experience is more important for you, which is usually the case for most people, you can do better than this reader. It gets an average score and you can purchase it for $249.
You may also be interested in reading the Kindle 2 eBook Review.