Amazon Kindle DX Review - Is Amazon's Large Display e-Reader Worth Its $500 Price Tag?
What's New in the Kindle DX?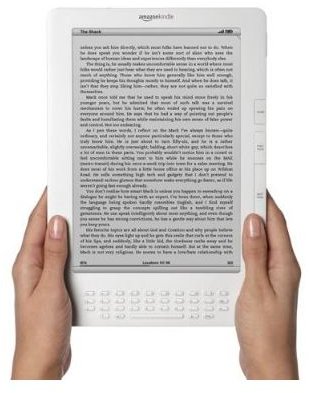 Since the original Kindle was released by Amazon in late 2007, the market for e-readers has soared with Amazon and Sony models leading the pack. February of 2009 saw the release of the upgraded Kindle 2, which sported some significant design changes and a few new features but retained the 6" display. Now, the Kindle DX is on the streets with a 9.7" display (about 2.5 times larger than that of previous models) and has even more capabilities.
Here's a quick summary of the capabilities and specifications of the Kindle DX:
10.4" x 7.2" x 0.38" in size
18.9 ounces in weight
4GB storage (3.3GB available for user content)
Battery life up to 2 weeks if wireless turned off
Native Supported Formats: AZW (native Kindle format), PDF, TXT, Audible (formats 4, Audible enhanced AAX), MP3, unprotected MOBI, PRC
Formats Supported via Conversion: HTML, DOC, RTF, JPEG, GIF, PNG, BMP
9.7" diagonal E Ink display
Auto-detect portrait/landscape viewing capability
Text-to-speech conversion (unless disabled by publisher)
Free 3G wireless connectivity
Now, let's look at these features a little closer and see how the Kindle DX performs.
Design (4 out of 5)
The Kindle DX is slightly smaller than a standard sheet of notebook paper and about as thick as a magazine. So, even though the larger display size dictates that the unit as a whole must be bigger, it's still small enough to be considered portable and not at all cumbersome. With a weight of 18.9 ounces, the Kindle DX can still easily be held in one hand by the average person, but it's far more comfortable to use both hands when reading from the device.
Display
One of the main attractions of the Kindle DX over other e-readers is its larger display size, about 2.5 times larger than that of other Kindle models. This larger screen area makes the Kindle DX much more similar to a real book in terms of the amount of content you can see at one time. The E Ink display is nice and crisp and, in general, reading from the device is a pleasure.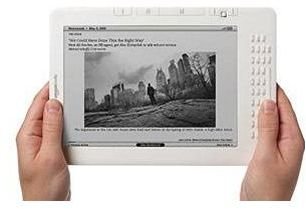 One new feature introduced with the Kindle DX is the automatic portrait/landscape viewing. You can turn the device on its side and it immediately senses the movement and switches from portrait to landscape view, allowing you a better view of images in the widescreen format.
While some others have mentioned a bit of oversensitivity with this feature and stated that the viewing mode changed with only a slight tilting of the screen, I've had no such problems. In fact, at least for me, the Kindle DX seems to have mastered the sensitivity level in this area. The only time that I've "accidentally" switched to landscape view is when I lowered the Kindle as I was reaching for a glass of water. Even then, it only took a moment to reposition the device again and switch back to portrait viewing mode.
Keyboard and Navigation
As far as the keyboard on the Kindle DX goes, it's not as bad as I thought it would be, but it's also not as good as I want it to be. However, I'll be the first to admit that everything pales in comparison to a full-size keyboard to me, and I generally detest keyboards on all portable devices. With that in mind, I feel that the layout of the keyboard on the Kindle DX is "okay" but it could be improved.
For instance, because of the size of the DX, I tend to hold it with my hands at the lower sides of the device – very similar to the image in the previous section – and type with my thumbs. This worked great for me on the smaller Kindle. The problem with typing this way on the larger Kindle is that it is so wide, my thumbs can't reach the two columns of keys in the middle. However, there is quite a bit of unused space on either side of the keyboard area, so I would love to see the keyboard separated in half with each half shifted more toward the sides of the device to make it easier for this form of thumb-typing.
Read on to the next page for more of Bright Hub's review of the Kindle DX.
Storage and Organization (2 out of 5)
With 3.3GB of storage available for user content, Amazon estimates that the Kindle DX can hold about 3,500 books and documents. That should be more than enough room for almost anyone, even researchers and scientists who want to carry an entire library of academic PDFs. So, what more could you ask for?
Well, it would be nice to have some decent way to organize the material for one thing. In terms of organizational abilities, little has really changed since the introduction of the original Kindle. You can choose to sort your content in three different ways on the Kindle DX – Most Recent, Author, or Title – but there is no mechanism that allows you to create special folders or organize items by like content.
Considering that Amazon has really been pushing the electronic textbook potential of the device, this seems to be a major flaw. What good is carrying around 3,500 books and documents if it takes forever to find what you're looking for or you can't have related items located "nearby" as you browse for titles? Casual readers may not be so bothered by this, but anyone who uses the Kindle DX as a major reference source is likely to become frustrated fairly quickly.
Supported Formats and Content (4 out of 5)
Finally, we have a version of the Kindle with native PDF support. Granted, this support still doesn't allow you to zoom in and out on PDFs, but it's much less of a hassle than the previous method of emailing files to Amazon for conversion. As a bonus, since more and more software applications are offering some type of convert-to-PDF capability these days, you can perform your own document conversions on your PC and transfer them directly to the Kindle DX without worrying about using Amazon as the middle man.
Even with this inclusion, the Kindle DX is still highly dependent on Amazon's Kindle bookstore, which may be fine for those who traditionally shop with Amazon anyway, but is a bit discouraging to those who like to shop around. Jeff Bezos has intimated that the Kindle will support additional formats in the future, but the questions of how far in the future and which formats will be supported are anyone's guess.
Text-to-Speech Capabilities (3 out of 5)
The Kindle DX does have a built-in text-to-speech converter that will read any item on the device, assuming that the copyright holder of the material has agreed to permit this feature. There's been some controversy over this feature, with some authors and publishers claiming that this built-in utility would lower sales of audio books. But trust me, the Kindle's text-to-speech functionality is no replacement for an audio book.
An audio book is narrated, usually by professional voice actors, and listening to one is similar to having the book read to you by a talented storyteller. The Kindle's text-to-speech converter is…. well, it's a text-to-speech converter. The words are often choppy or pronounced badly, and the flow of the content is discontinuous, to say the least. Sure, it will do in a snap if it's the only alternative, but it's hard to imagine any audio book lover voluntarily choosing this option.
With that being said, as far as text-to-speech converters go, the Kindle's is about average. It's not entertaining, but it is intelligible – for the most part, anyway.
Price to Value (3 out of 5)
The Kindle DX is currently priced at $489, about $190 more than the smaller Kindle 2 (Amazon recently lowered the price of the Kindle 2 to $299). It's hard to compare this price to that of other e-readers because of the DX's current niche in the market. Plastic Logic plans to release an e-reader that would rival the Kindle DX in terms of features some time in early 2010, but there's still no word on the expected price range of that device. However, the competition between the two e-readers is likely to affect the price to some degree.
Overall Rating (4 out of 5)
While the price may seem a little higher than warranted and the keyboard could use some rethinking, the Kindle DX tops my list as the best e-reader available on today's market. This opinion could quickly change as new models are released by other companies – in particular, I'm still very curious to see the performance of the finalized Plastic Logic device. But for now, if you can stomach the price, the Kindle DX definitely is ahead of the competition.