LEGO Mindstorms NXT 2.0 Review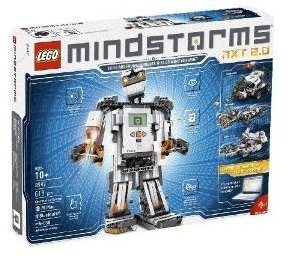 LEGO Mindstorms NXT 2.0 is a building kit that combines LEGO parts and programming software which allows you to build your very own robot in a matter of hours or even minutes. This building set is designed to promote learning and fun at the same time as you program the behavior of your robot that includes the way it sees, speaks, moves and feels. If you are interested in robotics as a hobby or if you want a fun and easy introduction into more serious robotics concepts, this is the way to do it.
The Mindstorm Kit (5 out of 5)
Included in the package is the heart of all your robotic projects. The central brick part of the robot runs on six AA batteries and it is
basically the processor and the mind of the robot. It contains all the information that the robot needs in order to function. It can be connected to your computer using a USB cable or a Bluetooth connection. Aside from acting as the heart and brain of the robot, this brick can also communicate with other LEGO robots via Bluetooth connectivity. This gives you the opportunity to build a community of robots with several Mindstorms kits.
The other pieces of hardware included in the package are three servomotors for users to control the robot's angular motion; Sensors for sight, feeling, motion and color detector capability; 619 construction elements which includes the gears, wheels and tracks; connector cables; and robot's functionality test pad.
Lastly, the NXT 2.0 software is included in the package. You can install and run it on a Windows machine or a Mac OS X machine. Everything you need to program your robot is included in this software package that involves a visual drag-and-drop user interface instead of text. This kind of user-friendly interface makes programming a lot easier especially for younger and inexperienced users.
Design and Features (5 out of 5)
Basically, the kit gives you different parts that you can make move and parts that act as sensors for sight and touch. The features of this programmable robot kit lies in the programming software. Aside from having the ability to program how your robot moves, you can also set its sensor parameters that are provided by an ultrasonic sensor, a color sensor and two touch sensors. These sensors basically give your robot the ability to detect and differentiate six basic colors and measure light intensity.
The advanced robot building kit provides all the parts and instructions that you need to build the four basic robot projects, namely, Alpha Rex, Shooterbot, Color Sorter and Robogator. The Alpha Rex robot is a humanoid robot that can do things like walk, dance, close and open their hands and even detect different colors. The Shooterbot can shoot colourful balls. The Color Sorter robot can sort different colored balls into groups as it name suggests. Finally, the Robogator looks like a techno-alligator that lunges and snaps its mouth which can be a lot of fun to interact with during slow and lonely nights.
They aren't the only robots you can build with this kit. You can modify these basic robots using your creativity and programming skills or you can even build a new robot from scratch. Your creativity and imagination is the only limit when using this robot kit.
Difficulty Level (4 out of 5)
The kit includes a programming guide, an installation guide and other pieces of information and documentation regarding the use of the kit's contents. It even has a step-by-step instruction guide for building your very first robot. If you already have some experience in programming or robotics, you may find this kit quite easy to use. However, if you are letting younger people use it, they may find it a little bit challenging even with all the included documentation. You can consult the official technical support hotline or online forums filled with other fans of this educational toy, but ultimately, you or your kid will have to work for it before you find your rhythm and comfort in using this robot kit.
Verdict (4 out of 5)
LEGO Mindstorms NXT 2.0 may seem to be too complex and sophisticated for young children, but it is actually appropriate for kids as young as nine years old. Kids younger than that age may find this LEGO toy difficult and complicated to handle. For kids in the appropriate age range and even for adults who want an engaging hobby, this robot kit can not only help them learn robotics and programming concepts, but it can help them to have fun doing it as well. It can be a little expensive at $256.95 if you consider it just a toy, but it is not. So that price tag is actually a good value for this high tech piece of educational toy. You can purchase this from Amazon.com.
References
Photo Courtesy of Amazon.com