Detailed Sony Reader Daily Edition Review
Introduction
The Sony Reader Daily Edition offers great improvement from the other Sony devices for electronic reading. This is mostly because of its capability for wireless connectivity via 3G and WiFi connections.
Design (4 out of 5)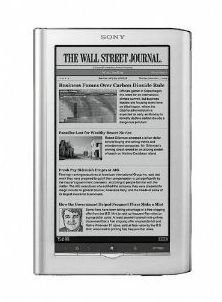 This device looks easy on the eyes thanks to its minimalistic look and its large seven inches E Ink display screen. Like most people who are familiar with e-book readers, E Ink technology brings a paper-like feel to the whole reading experience using devices that have it. It prevents glare from ruining the reading experience and it also minimizes stress to the reader's eyes. However, this device also uses resistive touchscreen technology, which brings down the contrast of the E Ink display and makes it murkier. Other than this minor annoyance, the design of this device is pretty satisfactory and it gets a good rating.
User Interface (4 out of 5)
This device makes good use of its seven inches screen thanks to its capability to display two pages side by side in landscape view. There is nothing really attractive about its user interface given that it is in black and white, but in terms of navigation, it does provide a an easy way to flip through pages and to the different menus.
Even with a touchscreen display, the device still offers manual button controls on its body for flexibility. Most of the navigation controls are still accessed through the touchscreen display, though, so you must be ready to touch your screen with your fingers or your stylus if you are going to use this e-book reader. It has four main buttons that correspond to Home, Store, Applications and Settings. These buttons are pretty explanatory so navigating through the device and its features is quite intuitive.
Features (4 out of 5)
It supports 3G wireless connections that make downloading books and newspapers fast and easy, eliminating the need for physically connecting the device to a computer. The amount of content you can download to this device can go up to 1.6 GB which is its internal memory capacity. If you need more, you need not worry because you can easily expand its memory capacity with the SD card and Memory Stick Duo slots. Its wireless connection capability also allows it to play wireless radio. This wireless connectivity includes WiFi connectivity, which lets you use your existing Internet connection at home or in your office to purchase and download content without using up your allocated data usage from your 3G service provider.
It supports ePub, RTF, TXT, PDF, JPEG, BMP, GIF, PNG, MP3 and AAC e-book formats. It has a 3.5 mm headset jack and a mini USB port. If you don't want to turn on wireless connectivity, you can still use the old fashioned way of connecting your device to your computer via cable to transfer files between them. All in all, it has a range of features that can satisfy casual e-book readers and people who want more out of their e-reader devices.
Performance (4 out of 5)
Generally, E Ink displays have slow refresh rates. This device puts an emphasis on that thanks to its resistive touchscreen technology that requires more effort from the user for the navigation to go smoothly. This means the responsiveness of this device is not ideal especially for people who are used to the speedy response time of devices with capacitive touchscreen displays like most modern mobile phones. Other than that, this Sony reader provides clear and non-glare screen display giving users amazing reading experience. Users can select and download digital books and journals wirelessly from the Reader™ Store. Users won't have the chance to get bored on adding new and deleting old titles because this e-reader can store up to 1,500 e-books using its built in memory capacity or it can be expanded up to 50,000 using compatible external memory card.
In terms of battery life, this device offers a considerably long one. It can last to more than one week, up to 22 days to be precise, even with constant use. However, it depends on what features you have turned on. This more than a week battery life can only be achieved if you have wireless connectivity turned off. Having it on will only give you a battery life of one to two days. This requires you to plug it in for recharging every few days if you want a constant wireless connection.
Price to Value (3 out of 5)
This device offers a relatively great reading experience and features mostly common to other brands, but with $299.99 price tag, it proves to be expensive when compared to other devices such as the Kindle 3G at $189 which is an inch smaller yet has no touchscreen feature. But for users who is willing to spend a $100 more for a touchscreen capability, then this Sony device may be worth its value.
Overall Recommendations (4 out of 5)
With an elegant design that focuses in simplicity and usability, and a set of features that is headlined by wireless connectivity, it may seem that the Sony Reader Daily Edition is a great buy. However, compared to its biggest competitors in the e-book reader market, it is simply more expensive. Other recommended brand with the same features, price and size as the Daily Edition is the NOOK Color E-book Reader Tablet but with more special features including its color touchscreen and additional interactive features such as Internet surfing, games and music.
References
Daily Reader Edition: SonyStyle.com
Photo Courtesy of SonyStyle.com