Sony Reader Pocket Edition: Is It a Good Deal?
This eReader is one of the most portable and cheapest e-book readers in the market today. It has simple design and created with basic features which attract users with minimal expectations or those who are simply focusing on its e-reading function. Seeing its affordable price may rush you to adding this device in your shopping cart, but before you do that, read this whole Sony Reader review starting from its design.
Design (4 out of 5)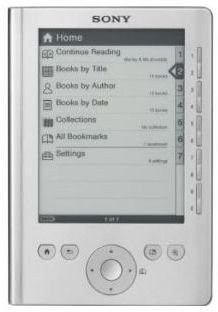 Let us begin this review by taking a look at the Reader's appearance. It has a lightweight design that weighs in at around 7.76 oz. It measures 6 1/4 x 4 1/4 x 13/32 inches and it features five inches E Ink Vizplex display screen. All in all, it has a professional looking body that is both elegant and stylish. It is small enough to fit in your pocket but it is attractive and easy to handle enough to be used in public. If you are not looking for the large screens that take up too much space like those of tablets, this compact device is your perfect solution for easy on-the-go reading experience. It gets a rating of four out of five for its design.
User Interface (4 out of 5)
The Sony Pocket Edition provides a clear and consistently easy to read display even in different lighting conditions. It allows users to adjust the font size with three size options, providing a more comfortable and personal reading experience. It displays a light background, bold and clear text, no distortion of any kind that may distract from what you are reading. Using the E-Ink technology, users will have no problem with glare in bright environments. It presents a friendly, straightforward, organized and easy to navigate user interface. Its controls are very intuitive and has a responsive touch screen. For this, it gets a good rating.
Features (3 out of 5)
It supports a variety of e-Book formats such as TXT, BBeB, RTF, PDF and the ePub open format. That last one gives this eBook reader a wide range of selections that include the classic and other types of public domain books. You can manage both free and premium eBooks using the included Reader Library software that can be installed in different computer platforms. This gives you total control over what books appear in your Sony Reader especially if you have hundreds of them. The device lacks support on image and html files, therefore expect that all are displayed in plain text format.
You must also remember that it can only carry up to 512MB worth of books on its internal memory. It does not have expandable memory so you will have to manage which books you will include in the Sony Reader if you have a lot of them. You can only do this via USB connection. The upside to connecting your Reader to your computer via USB is that it charges the battery while it is connected. However, take note that this only works for Windows machines. As far as other features like media playback go, you will be out of luck because this is strictly an electronic reader. Its very basic feature set gets an average rating.
Performance (3 out of 5)
The Sony Reader Pocket Edition has a crisp and clear screen display performance of its 800 x 600 resolution and E-Ink Pearl 16-level gray scale display. It presents the common display as seen in other e-book readers such as Kindle and Nook, which also support the latest E-Ink Technology but come in higher price tags. The Pocket Edition also has a nice and fast touch screen performance especially when turning the page. Its basic features and touch screen capability makes the reading experience more natural like reading a traditional pocketbook and by easily touch swiping the page for a quick next page view. It offers a great battery life as it can last for up to two weeks even with constant use or continuous 7,500 page turns in one battery charge. For reading collections, the Sony Pocket Edition is integrated to Sony Store and online Google Books, which you can choose from unlimited titles in the library for premium and free downloads. The major drawback is its lack of WiFi capability making the e-book download a little complicated since you cannot access the stores right away. It requires the users to download the eBook Library Software from the Sony's official website, which you can use for selecting e-books through your computer. Transfer of downloaded files is done by drag and drop method from your computer to your USB connected pocket e-reader device. For this major downside, its performance only gets average rating.
Price to Value (4 out of 5)
We take a look at its price. You can get one for $102.50. Considering this price, you can see why its basic set of features and its smooth performance are well worth the price. You can purchase this portable e-book reader online from Amazon.com.
Overall Recommendations (3 out of 5)
To wrap up everything, the Sony Reader Pocket Edition is a good buy for its price giving you a good reading experience when it comes to screen display, easy navigation, e-book collections to choose from via computer, and a lightweight and compact device which you can easily slide down on your pocket or purse. Though, It might have been a very good e-book reader if it has additional features such as expandable memory or even just a built-in 1 GB internal memory for more books to store. However, users who prefer to download books easily on air may be turned off of its lack of WiFi feature. If you want to spend extra bucks for a built-in WiFi feature, you may choose the NOOK eBook Reader at $129.76 or the Kindle WiFi at $139.00 from Amazon.com.
References
Photo Courtesy of Amazon.com