Kobo Wireless eReader Review
Borders has decided to join the eReader market by releasing the Kobo in 2010. The market is becoming overly saturated with eReaders such as the iPad, Nook, and Kindle. The Kobo wireless eReaders price seemed to be fair, coming in at $149, but this seemed to be one, if not the only reason to buy the Kobo. Let's take a look and see if the Kobo can really compete with the others and shine on its own.
Features (1 out of 5)

Being that the Kobo is an eReader, the main features of this product is reading books digitally. Other readers such as the Nook and iPad enable users to do much more than just read electronic books. This is not the case with the Kobo. All you can do is view your digital bookshelf and pick from books and magazines that you would like to read. There is no wireless internet access available for the Kobo at this time, which means to download books you must plug it directly into your computer.
The fact that there are no extra features with this product makes it dismal to some. There is a plus side though, for anybody that wants a simple and inexpensive eReader then this is the perfect choice for you. Still Kobo is going to lose the competition when it comes to the Kindle. Kindles current price is $139 for a better, lighter, and more efficient eReader that does come equip with wi-fi internet access.
Unfortunately the Kobo does not come with a screensaver. This is a problem when it comes to having your Kobo on for a long amount of time. The home screen will leave a burn mark into your Kobo if the eReader is on for a long period of time. A good feature that the Kobo and other eReaders have followed is using the e-Ink platform. Reading on the Kobo is made easy because of the e-Ink making the screen look as if the writing were printed onto it.
Battery life is a big deal for people that are traveling and would love to read a good book. Thankfully the Kobo comes with a battery life that should last any casual reader about 2 weeks only off of one charge. A reason for the battery lasting so long is the fact that the Kobo does not have to connect to the internet, which drains a lot of battery on any electronic.
Design (3 out of 5)
Most of these eReaders look just about the same with their designs (besides the iPad of course), but the Kobo is smaller than the Kindle, nook, and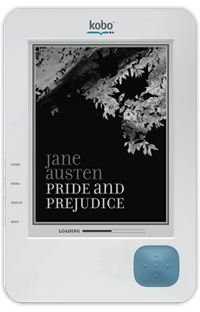 iPad. Measuring in at 7.2 by 4.7 and only being 0.4 inches thick, makes the Kobo the smallest and most thin eReader on the a market today.
The Kobo can only display 8 shades of gray, which is only half the amount that other eReaders are enabled to do. This isn't that big of a turn off for the product since all users are doing is reading, so it is not like they need a bunch of different shades of gray.
Luckily the Kobo designers researched their users and knew that they wanted a grip on their eReader. There is a sticky grip located on the back of the Kobo, which helps readers not lose hold of their eReader in the middle of a good book. This also makes it simple to sit in a blanket and not worry about your Kobo sliding away because it has a grip on the back. Gelaskins are made solely for the Kobo and act as a cover to the device. They are made of rubber and increase the grip, as well as enabling users to customize their eReader.
Final Verdict (2 out of 5)
I would have to say that I am really not impressed by any means with the Kobo eReader. It does not stand out amongst the large e-book reading market. Other eReaders have more features that come included with color and wi-fi, and are cheaper than the Kobo. People are looking for more than just to read books on their eReader, they also are looking for instant satisfaction, which you do not get with the Kobo. Waiting around for a book to download onto your Kobo, and not even being able to browse books directly from the device, is a turn off to many. Personally save your money up and buy an iPad or Nook in my personal opinion. Or even pay less than you would for the Kobo and buy the Barnes & Nobel Kindle, which comes included with internet access and more features.
References
Resources:
Pictures: