Yahtzee Electronic Game: Detailed Electronic Game Review
The Yahtzee electronic game is a portable version of the classic and very popular dice game that everyone, both young and old, really enjoys. It is a one-player game that is pretty simple yet it can get very addictive, thanks to the high score system. Let us see its features and benefits as well as the downsides of this highly enjoyable and portable game in this game review.
Design (4 out of 5)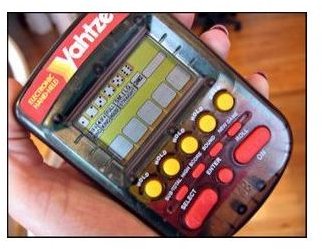 Its compact design makes it very portable and easy to carry, which is a huge plus since it is a handheld game after all. The buttons are pretty big so you will not have any problems with pushing the wrong button. The screen features crystal clear visuals so it is quite easy on the eyes. However, the glare from the shiny body of the game can cause some discomfort and inconvenience in certain types of lighting conditions and angles. Other than that little design quirk, the unit is a very practical entertainment device that you can take comfortably anywhere. The design of this toy earns it a good rating.
Features (3 out of 5)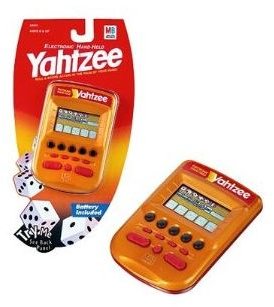 It uses the same rules as the original game with dice throwing involved. However, unlike the original game where you can play several games at once, you can only play one game at a time here. For people who are used to multiple games at a time, this can get quite boring quickly. There really is not a new groundbreaking feature that sets this toy apart from the non-handheld version of the game except that it is electronic and keeps score. However, for a simple game, the lack of features actually helps it to be more addictive by letting the user focus on the game instead of other bells and whistles. For a minimalistic set of features, this toy gets an average score.
Performance (3 out of 5)
Its batteries last for a long time so you can play a lot of games without having to change the batteries constantly. The main issue with having to change the battery is that it resets the game's memory, therefore deleting all high score data. That means if you have a very high score record, you will have to suck it up and accept that you will lose it once you change the game's batteries. Other than this memory problem, the toy performs pretty well. It gets a three over five score for performance.
Conclusion
This Yahtzee electronic game may not add something new to the classic game but it does not matter. The classic game is addictive enough as it is, and if you put it in a convenient package and have it keep high scores, albeit temporarily, it is more addictive than ever. There are some issues with the permanence of the high scores, but other than that, there are no other serious downsides to the game except for the fact that it is extremely addictive. You can get this electronic handheld from Amazon.com for $79.99.
You may also want to check out another electronic game review: Electronic Scrabble Game: Scrabble Flash.
References
Amazon, https://www.amazon.com/Hasbro-Yahtzee-Electronic-Hand-held-Gold/dp/B000WFUIXM/
Walmart, https://reviews.walmart.com/1336/882970/yahtzee-electronic-handheld-reviews/reviews.htm?sort=rating&dir=asc
Photo Courtesy of Amazon.com