Velocity Micro T301 Cruz eReader Review
Cruz Android 2.0 Tablet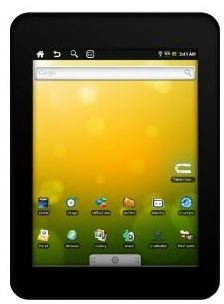 The digital book reader market has boomed in recent times with a number of low-end to high-end models introduced by various manufacturers. For a new customer, it may become difficult to make the right choice matching needs and wants when so many options are available in the marketplace. This Cruz eReader review should help prospective buyers evaluate the pros and cons of a mid-range eBook Reader that is neither at the bottom end of the market, and nor at the top end, but falls somewhere in-between. The Cruz Android Tablet from Velocity Micro serves a dual purpose as an eReader as well as a feature-packed tablet PC device.
Photo Credit: Amazon
Technical Details of the Cruz eReader (4 out of 5)
The Cruz Reader runs on Android 2.0, which enables it to double both as a color eReader and a tablet. Android apps can be installed but the unit does not come with the Android Market. It comes with the "Cruz Market" which is a relatively limited source, but it includes links to other app markets. This enables the user to customize the device as per choice. It has a Kindle app that lets the user download eBooks in color from the Kindle store.
Design of this Cruz tablet is sleek, it weighs slightly less than a pound, and fits easily in one hand. The display screen size is 7-inches diagonally with a TFT LCD color touch screen. Screen resolution is 4:3, 800 x 600. The screen is capacitative, which is an improvement over the resistive screen in the previous versions of Cruz. With this ultra responsive screen, the user can pinch-to-zoom and multi-touch for apps. The unit includes WiFi and full browser support. The internal memory capacity is 4GB.
Product Features of Cruz Tablet (4 out of 5)
This Cruz eReader review also gives prospective buyers a glance of its multiple functions and features. This is a portable, Android-based multi-media device that performs much more than just book reading. The user can play music and movies on this tablet. The pre-installed apps include an Internet browser, instant messenger, apps for displaying pictures and slideshows, built-in dictionary, astrological service, calendar, alarm clock, notepad and OfficeSuite. The built-in Kindle eBook Store application allows the reader full access to more than 700,000 eBooks.
Sending and receiving mails, and social networking over Facebook and Twitter becomes easy with this WiFi enabled device. It includes a built-in, tilt-activated accelerometer that automatically flips the page display from portrait to landscape and vice versa when the device is tilted. The device supports multiple formats for documents, audio and video files. Storage capacity is expandable through SD and USB card slots. The unit comes with a user-replaceable Lithium-Ion battery with an extended life of up to 10 hours on a single charge, with 24 hours on standby.
Value for Money (4 out of 5)
The T-301 Cruz 7-inch Android 2.0 Tablet by Velocity Micro competes with the top-of-the-line eReader models on the market in terms of features. It is sold by Amazon at a discounted price of around $220. This seems to be a reasonable price considering the prices of other Android based tablets in the marketplace. Amazon ships this product for free with its Super Saver Shipping offer. Each Cruz unit comes with Velocity Micro's expert support within the U.S. The Cruz package includes an AC adapter, 4GB SD card, USB cord, stand, carrying case and user's guide.